El Nido, Paradise on Earth

El Nido ("the nest" in Spanish) is a small town located at the north end of the island of Palawan in the Philippines. Ideal starting point to visit the archipelago Bacuit. The cluster of islands is said to be the inspiration of many movies including "The Beach". But truth to be told this is very popular pitch that locals try to sell you all over Asia. The best parts of the area can only be reached on day trips, known simply as Tour A, B, C and D.
But truly El Nido is breathtaking. I can't begin to count how many times we said "how beautiful!" when we saw something new. If we ever go back, we'll simply go on all the tours since this time we ran out of time to do them all.
With one ice cream break our drive from San Vicente to El Nido was a pleasant one with beautiful landscape and one short rain shower. We've decided to stay on Corong-Corong beach which is about 5 min motorbike ride from El Nido town. With kids this was a much better option from the hectic place that El Nido is.
The local government of El Nido standardizes the tour operations in the town. Boatmen and travel agencies must abide by the rules and guidelines that they set in order to provide a smoother and more consistent service to tourists. Since all the boat trips around town are fixed this also was not a factor for choosing Corong-Corong. Another big asset, as we learned the first evening, is the view of the sunset here. Yes, we are suckers for pink skies:)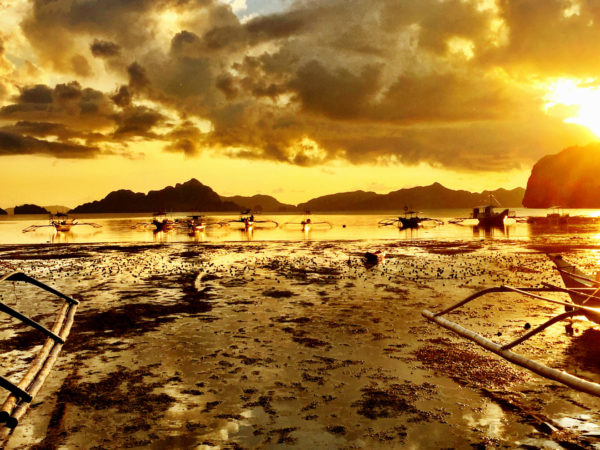 El Nido Mahogany resort was the place that we called home for the next four nights. It's a lovely new resort with only seven cottages/villas and a nice pool that kids enjoyed on our returns from the day trips (TA review).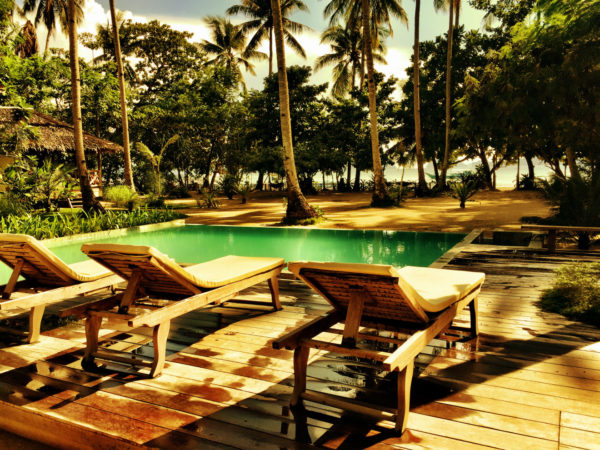 El Nido has several small lagoons, big lagoons and even hidden lagoons. Nonetheless, you may kayak your way to one of these hidden lagoons amongst the towering limestone cliffs. Below are July 2016 tour prices all including BBQ lunch and non-alcoholic beverages. The boatmen will prepare lunch on one of the stops during the tour. Lunch is composed of the following: grilled fish, grilled pork or chicken, rice, vegetables, and fruits (usually bananas, watermelons, or pineapples). You have to add 200 PHP / 4,3 USD Eco-Tour Fee (Govt') which is good for 10 days and multiple trips. All tours start at 9am and end between 4pm-5pm depending how much time you spend at each location.
1200 PHP for the tour A (25 USD)
1300 PHP for the tour B (28 USD)
1400 PHP for the tour C (30 USD)
1200 PHP for the tour D ( 25 USD)
If you're visiting El Nido for a few days, you're probably wondering which tour is the best to take. If you ask most people, it's a toss between Tours A and C so we did both. Boatmen are more likely to cancel Tour C during inclement weather, while Tour A remains calm most of the time.
 TOUR A:
Small Lagoon and Big Lagoon on Miniloc Island, Simizu Island, Entulala Island, Payong Payong Beach, and 7 Commando Beach (we made a stop on the Papaya Beach which is just a stone throw away on the right side of 7CB and our boat was the only one there).
Tour A takes you around the limestone paradise of Miniloc Island and its iconic lagoons. The sights at Miniloc are usually the ones perfectly captured in the postcards. There are a couple of beach stops: one in Simizu Island and another at the 7 Commandos Beach in mainland El Nido.
Big Lagoon:
The Big Lagoon on the El Nido Tour A is all about cruising. For me, this was the best part of the day. The whole tour was great, but the water in the lagoon was just breathtaking. There wasn't a ton of sea life besides the giant sea urchins, it was more about the turquoise water surround by dark jagged limestone cliffs. The lagoon is extremely shallow and the deck hand (the boy on the left of the boat) sat off the bow of the boat helping the captain miss rocks our entire trip in the lagoon.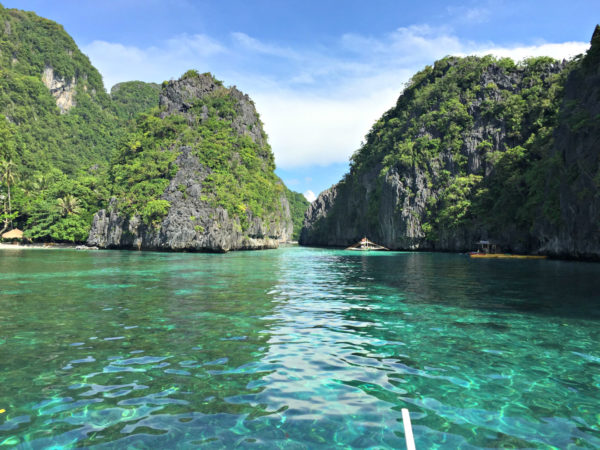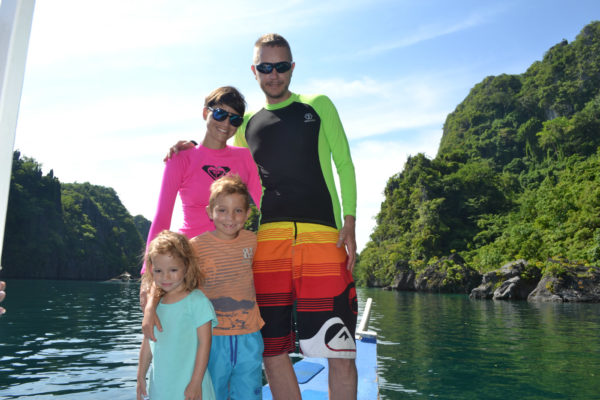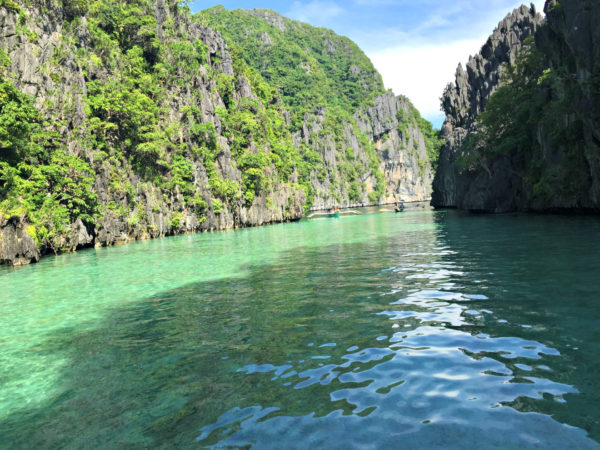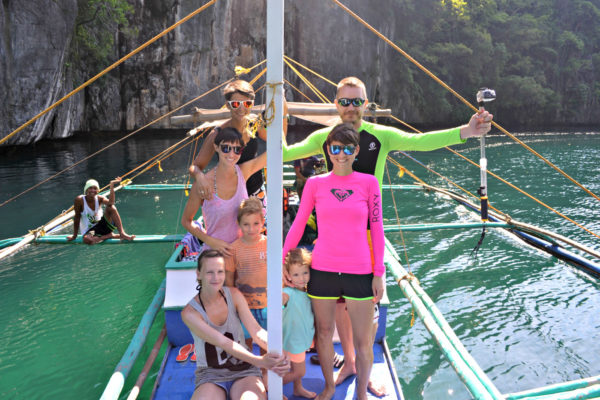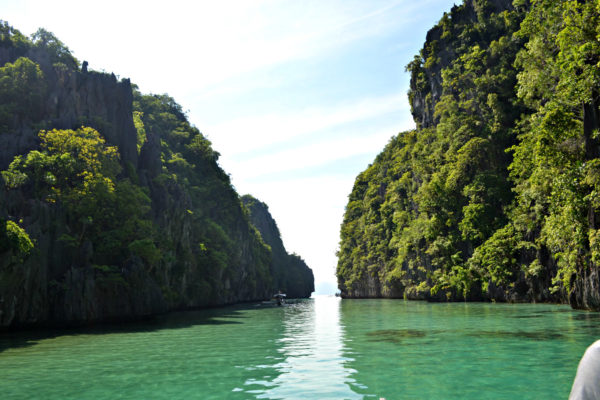 Small lagoon:
After a short ride throughout the bay you stop at the small lagoon. On the northern end of Miniloc Island lies an open top cathedral of limestone. Vertical stone walls form a lagoon of shallow water in nearly a perfect circle. We went into kayaks and start paddling deeper into the lagoon.  You have to go through a very narrow entrance to get into lagoon itself. Once inside, staring up at the imposing walls, it starts to look like a very alien landscape. You can also go in the water and swim which we didn't do since climbing on with Nia and Svit on board would be a bit difficult.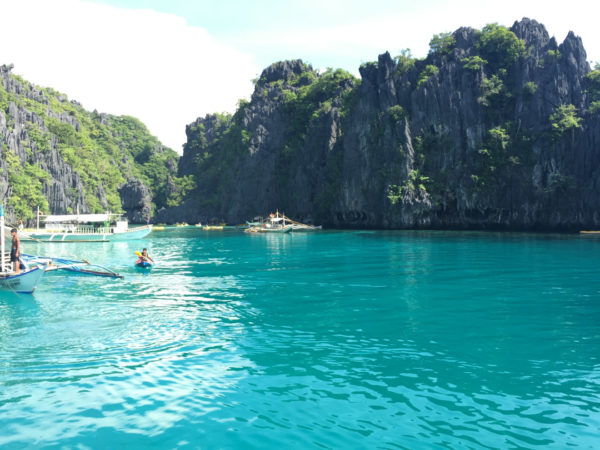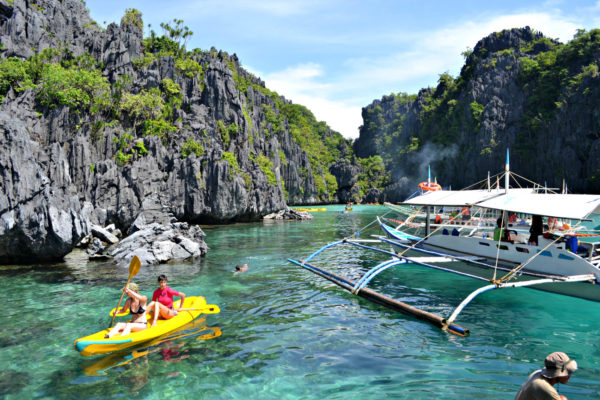 Simizu Island is the usual lunch stop. But if it gets too crowded, the boatman picks an alternative, usually Payong-Payong Beach. The lunch stop today was on yet another ridiculously beautiful island. One can almost get tired of looking at such amazing scenery, it made our eyes hurt and made us never want to leave. Lunch on El Nido Tour A is grilled fish, pork, salad, fresh fruit, and a bunch more. The most striking feature of the island was this outcropping of rocks a short walk from where we docked the boat. Out of the sand stuck a razor thin blade of the black limestone found all over El Nido. This piece reminded me of the top fin of a fish, and it made me wonder how it just stood straight up in the bright white sand. This place is just amazing.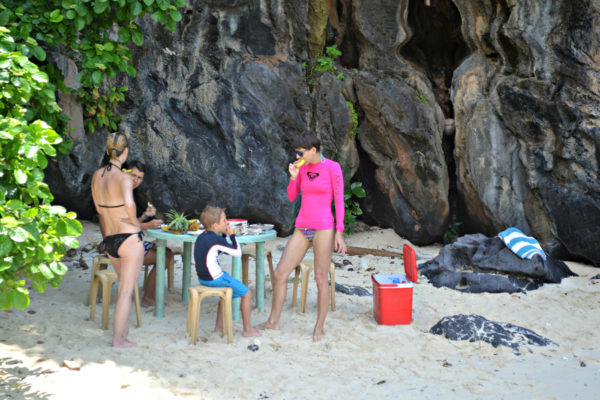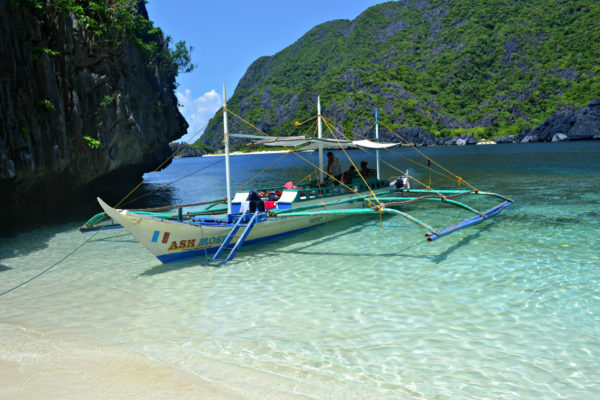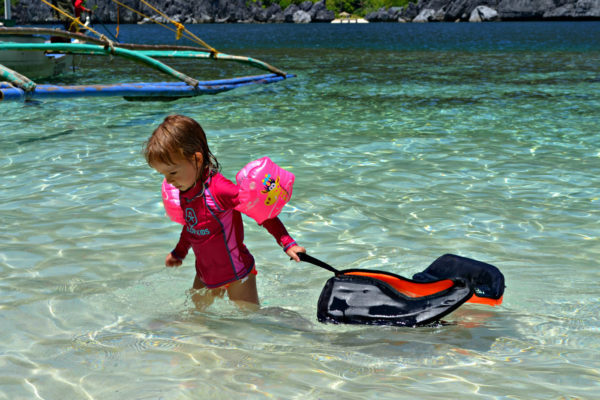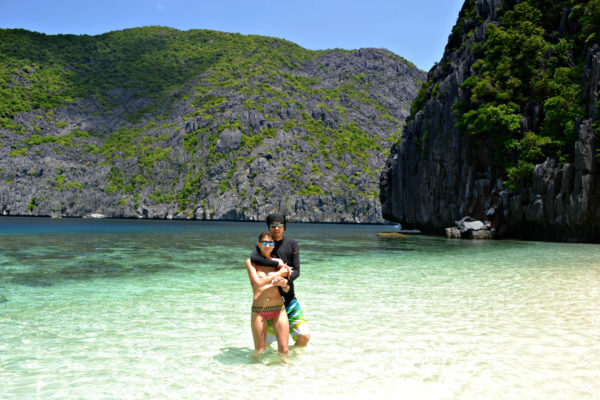 7 Commandos beach – Papaya beach
As legend goes, 7 Japanese commandos took refuge here during WWII, and ended up living here (actual information is cloudy at best, but that's what the guides tell us). Our guide decided to stop at another beach off the mainland for our last activity. It's called Papaya Beach. On our opinion it's prettier and less people stop there. Actually we were the only boat docked at the time. While Nia and Tina were playing in the water, our guide took Edita, Svit and me snorkeling because there were some turtles there seen just before. Of course no luck there so we played a bit with the ball on the beach after.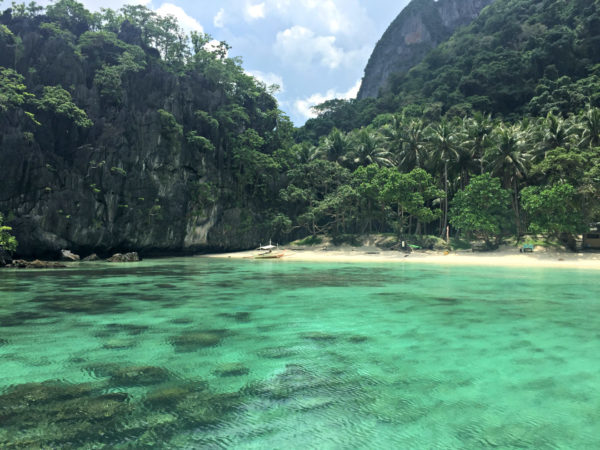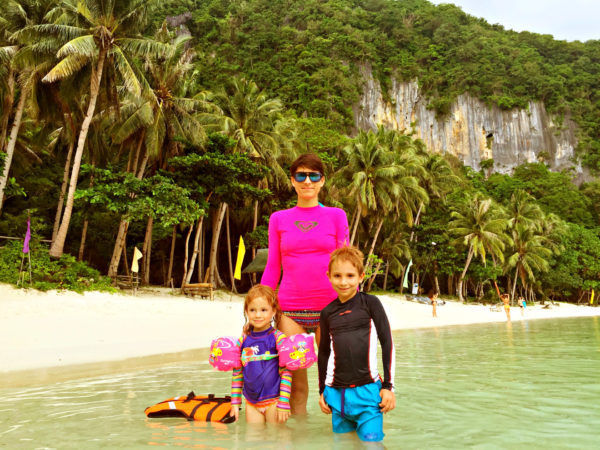 On the way back to our place we were surprised with a storm but thankfully it didn't last long.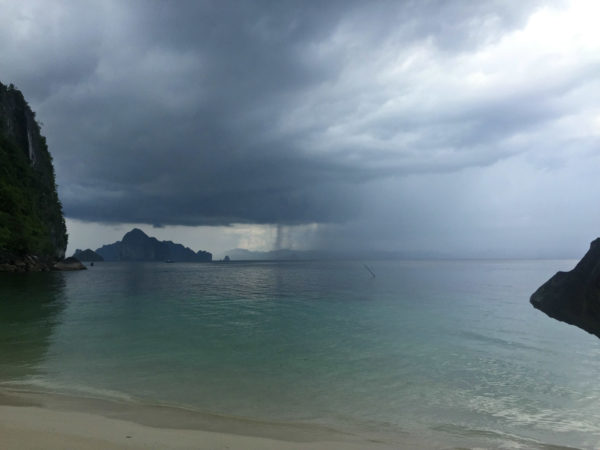 TOUR C
Similar to our first day, we left the Mahogany after breakfast. We kept our tour guide from the tour the day before. Tour C will take you to El Nido's secret beaches and will end at the Helicopter Island. After introductions and prepping our gear, we were off.
Secret Beach:
These days it's more special than it is secret. You will find a mess of boats jockeying for position while their passengers jump out to swim the hole in the rocks that leads to the secret lagoon. Thankfully we were the first on the scene so we had this gorgeous place only for ourselves. Well for a little while at least. When we got there, a set of tourists was just leaving so we had the place to ourselves. The highlight of the trip is the Secret Beach, a hidden pocket of fine sand enclosed by towering karst cliffs. It is accessible only via a small opening that requires visitors to swim through it.
The scenery is stunning and it's one of the shortest rides, and of course, it has the secret lagoon as its ace up its sleeve. You can see school of fishes while you swim through the entrance which was pretty cool for Svit and it took at least a bit of his annoyance for wearing a life west off him.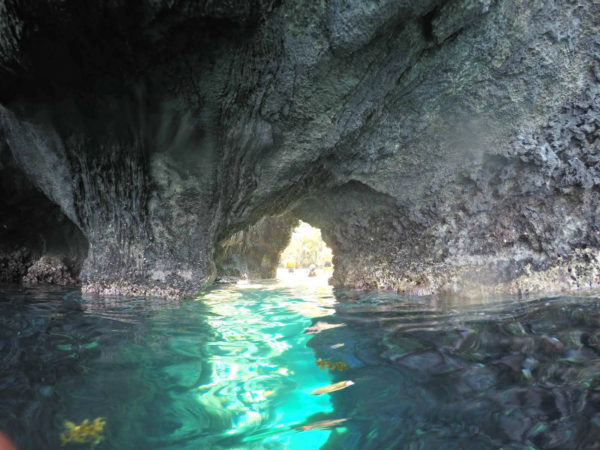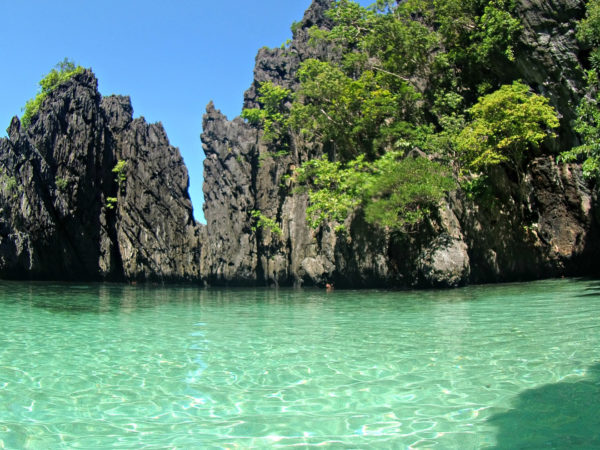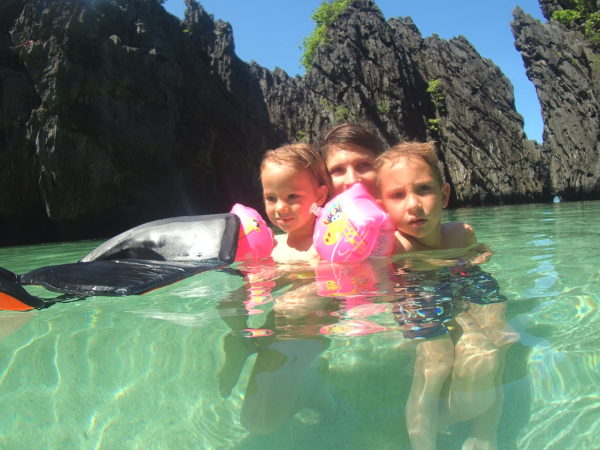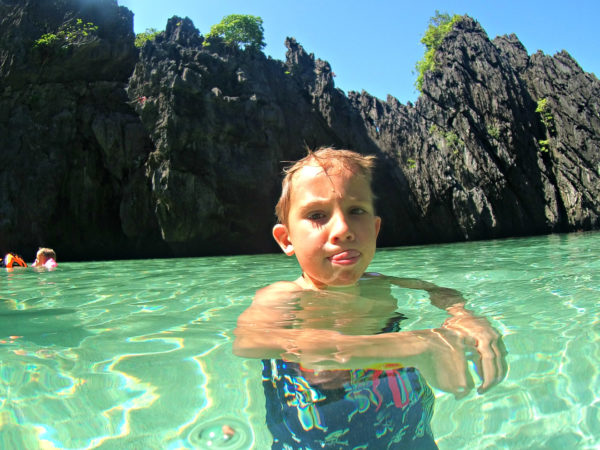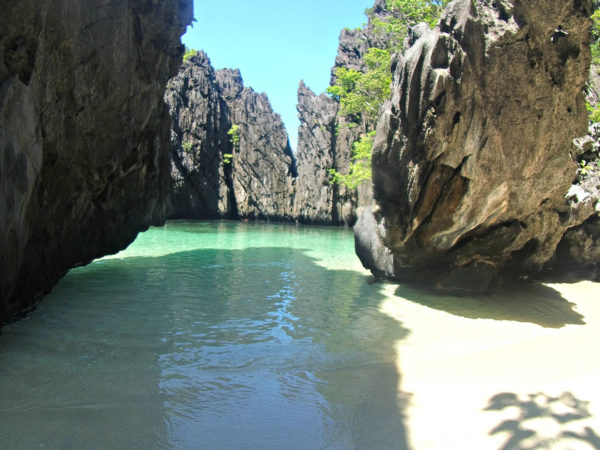 After our delicious lunch and a bit of downtime, we headed on to the Hidden Lagoon. The hidden lagoon is exactly what its name implies. You will not see the beach from a boat. You access is first by swimming and then walking through shallow waters surrounded with the lime stone cliffs.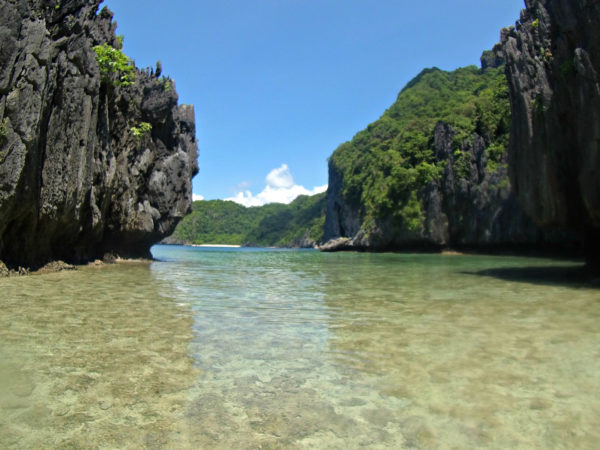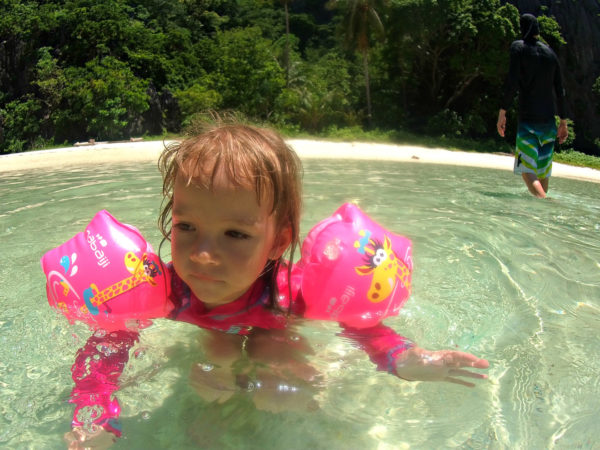 I love how stunningly beautiful this place is. We asked if we could stay here for a while and our guide agreed. We had the place to ourselves for a good 30 minutes before another group arrived. They did not stay long, so after they left, we were left with the quietness of this beautiful place.
Secret Lagoon:
This place is also completely hidden from the outside since you have to climb in through small natural window in the cliff wall that surrounds it. If there is a lot of boats in the area in that time you can be in for wait since you can only enter it one by one.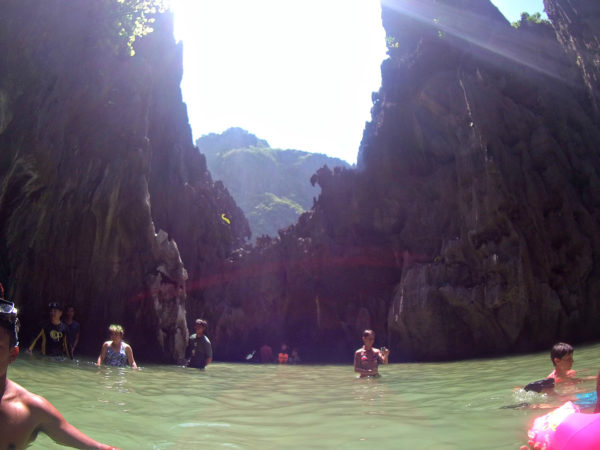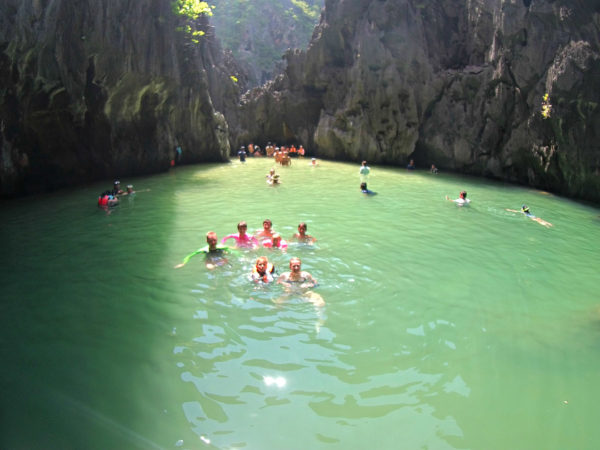 Matinloc Shrine is an abandoned property situated in a heart-shaped island. I saw some pictures of the place in its heyday and I lamented the disrepair the place has been left in. Even at the state it was in, you could easily see how majestic this place used to be. But since there were really a lot of people there we've decided to skip this one and went to another gorgeous beach where we did some snorkeling and had lunch.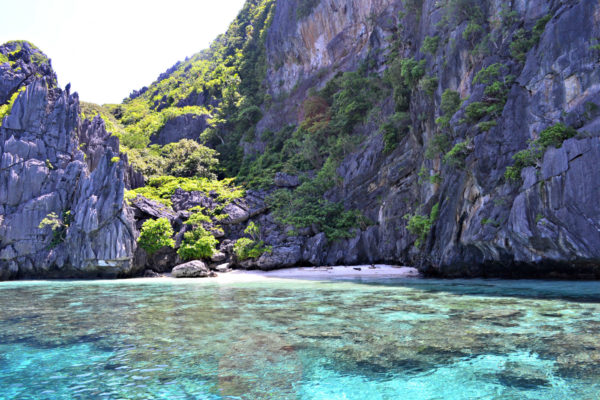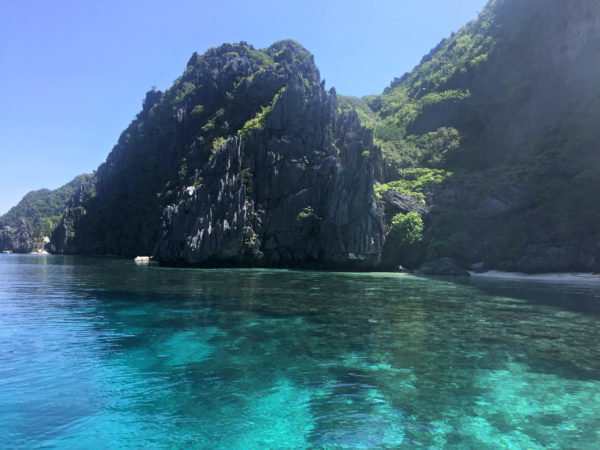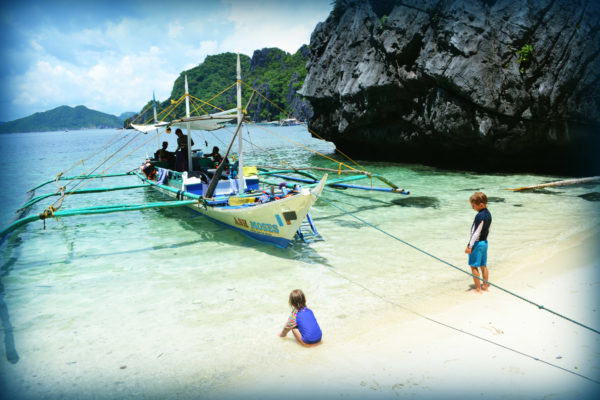 Our last stop was Helicopter Island, which we passed by the day before when we went on Tour A. Helicopter Island offers great snorkeling. The water is clear and marine life is lush but I guess you could say that for all of El Nido. Since Nia felt asleep in my lap we stayed on the boat while the rest of our group went in the water for about half an hour after which we headed back to our resort full of life lasting impressions.
Nacpan Beach and Calitang Beach / Twin Beaches
Beside the beautiful beaches and coves that you can see on the boat trips, area on the top of the Palawan Island abounds with them. The one that stands the tallest among them is Napcan Beach. You can go there on a daily trip with jeepney from El Nido or you can do it by renting a motorbike as we did.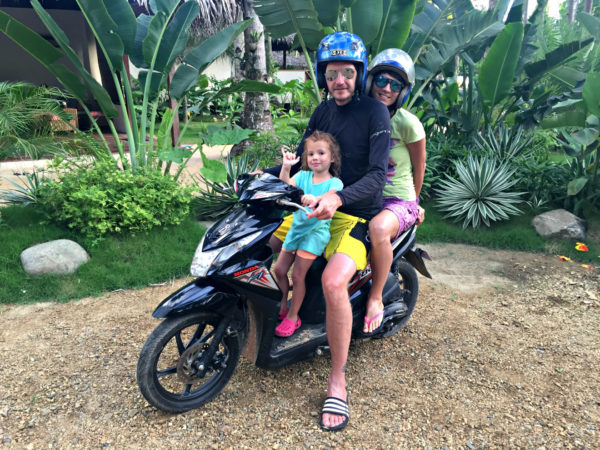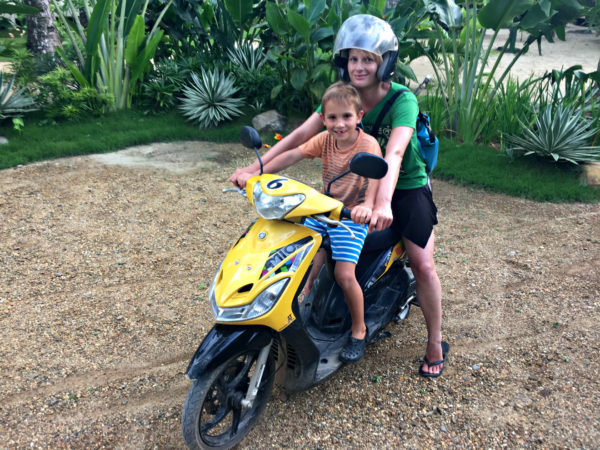 The first part of travel was a breeze, beautiful countryside views and paved road. After 40 minutes, the road turned rough and dusty. The roads are not for the fainted hearted though. But since we were traveling with bike from when Nia was still in a sling of course we took this opportunity for another adventure. With the ride adopted to kids it took as around one and a half hour easy drive from Corong- Corong.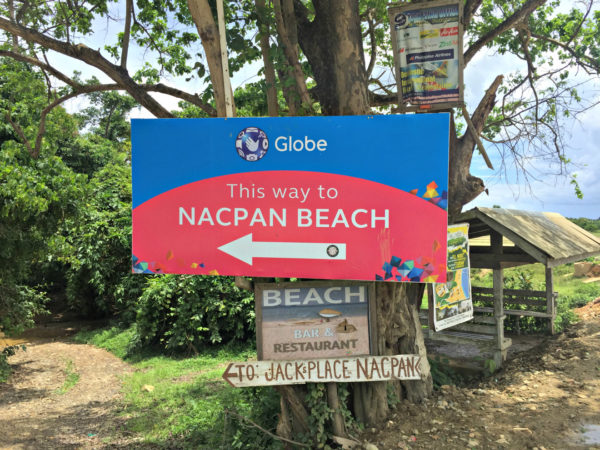 You have to pay fee at the entrance in the village that then leads to the beach.
A very long beach lined with coconut trees was the first sight that greeted us.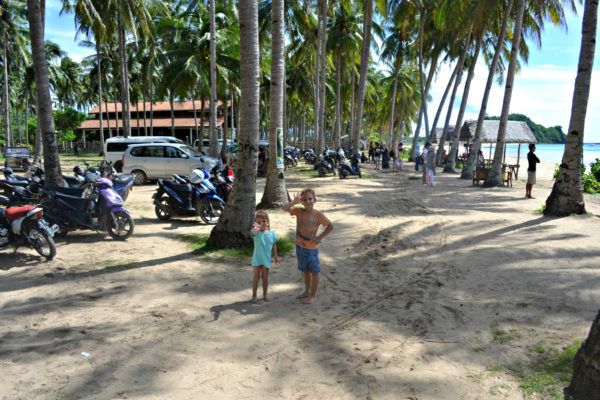 Then the breeze touched our face and our feet touched the white and fine sand which led to the crystal clear and tranquil blue water. We were just all smiles, because it was perfect!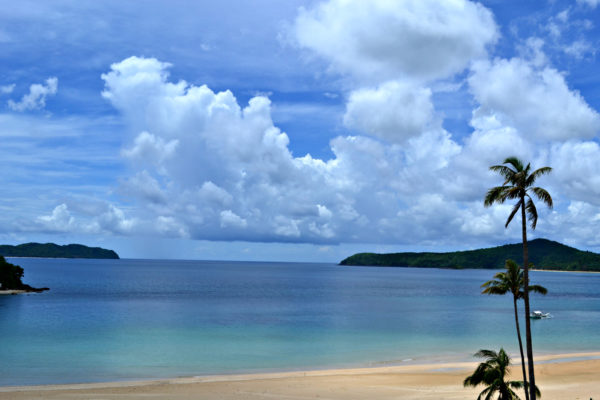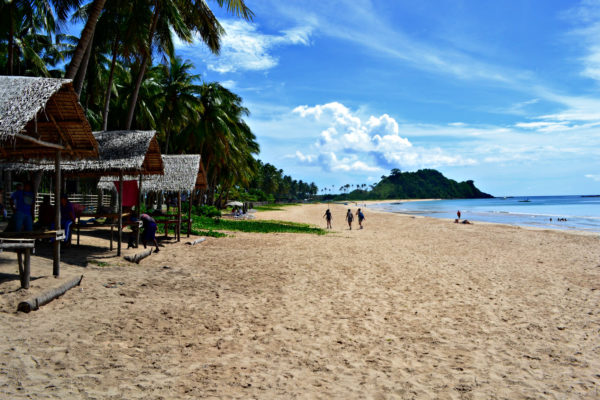 The beach itself is gorgeous, shallow for about 50 meters which was great for Nia and Svit. There is also shaded area around where you leave your bikes so if you don't prefer the sun you can stay there. A 10 min stroll on the left of the beach will lead you to a small hill where you can do some scenic pictures of this area. Since we were playing with the kids in the water Edita volunteered to do the hike, so probes to her for the photos. If you don't mind the stroll you should really take this walk but do bring a bottle of water and, if you have, sneakers rather than flip-flops. The view from the top is amazing and since majority of visitors don't bother climbing up, you can have the view almost all to yourself and believe me it will not disappoint.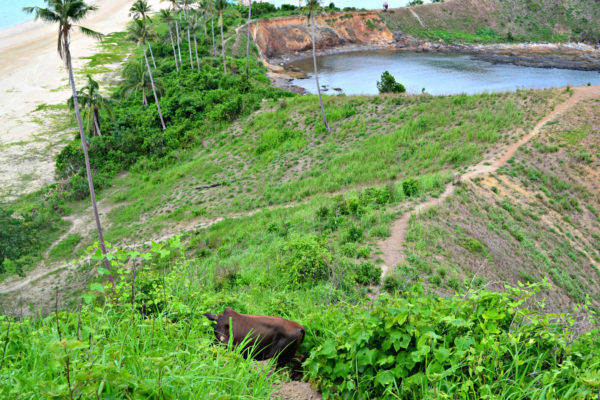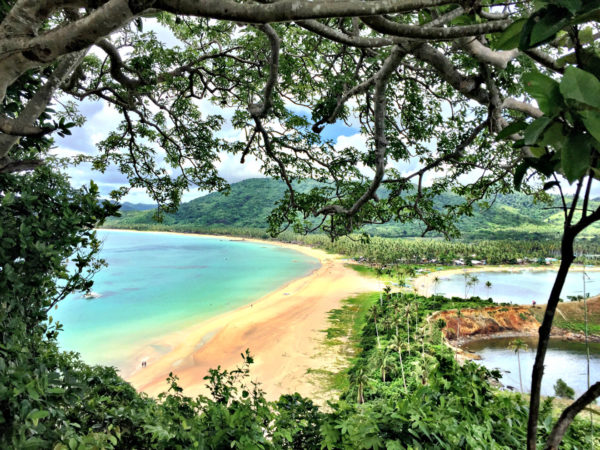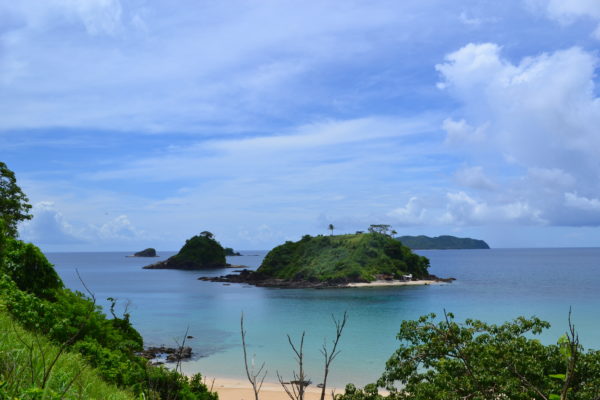 There are few places on the beach where you can grab some food or refreshments. Nia and Svit tried banana and mango shake which are really a must try while we stayed at our standard option. Yes you've guessed it … Red Horse again:)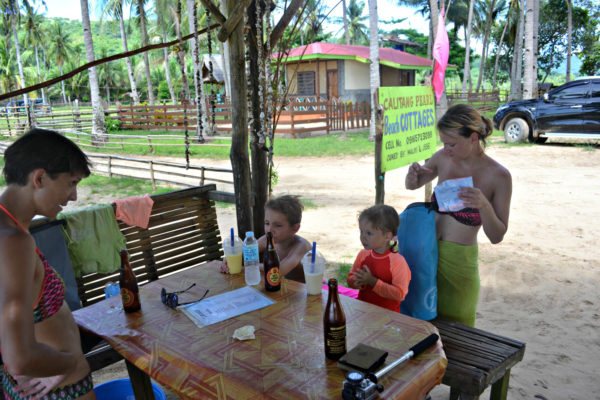 We could easily stayed in El Nido for two more days because this area is really spectacular and we don't have any wonders how Palawan was voted best island in the world for two years in a row. We will be back for sure to explore Coron area since we were advised not to cross the narrow strait between El Nido and Coron on boat during monsoon season due to rough seas. We got a confirmation that we made a wise decision later on in Cambodia when we stumbled on a Slovenian family (that we first met last year on Siquijor). They said that they took this route last year at it took them 9!! hours of let's say very unpleasant boat ride.
Looking back at the photos now, if we could travel back in time to re-live this places again, we would enjoy it even more. You should be more than 100% present at any time. Future will take care of itself anyway. Time is something that you can never buy back.