CAMBODIA, THE LAND OF TEMPLES AND SMILES
Cambodia and Angkor Wat precisely was on our bucket list for quite some time now. This year we decided to take a flight from Manila to Siem Reap (Cambodia) and combine our main destination (the Philippines) with this beautiful and friendly country.
We landed in Siem Reap as it is known to be a gateway to Angkor Archaeological Park where you can see Angkor Wat, the most iconic temple in Cambodia and one of the seven wonders of the ancient world. Angkor Park includes over 100 spectacular temples, some of which are older than one millennium. There are also many other temples and monuments in the close vicinity. It used to be a small laidback town until the temple complex became so popular. Nowadays, Siem Reap is attracting hundreds of thousands of visitors annually and boy they have plenty to see and do around here.
The Airport can easily be an example for many bigger SEA airports. We had our e-visa arranged prior to arrival so we went through immigration control smoothly. You have a few ATM machines so that you can get your USD which is preferable currency here. You can (must) pay everything/everywhere in dollars and you also get them in return (only amounts smaller than 1 USD will be returned in their national currency which is Cambodia Riel).
The free hotel shuttle was already in front of the Airport so we were set to go. On our ride we've noticed how clean the roads in Siem Reap are and how well maintained the buildings they have. It was not comparable to the Philippines and it was a pleasant surprise. We stayed at La Niche d'Angkor Boutique Hotel (TA review) and it was perfect little spot. They were very helpful with arranging the excursions to the temples and getting us tuk-tuks when we needed it. And also for a very reasonable prices too. Ride to Pub Street/Night Market was 1 USD and one day trip to the Angkor Park small tour was 30 USD.
The next morning after breakfast our tuk-tuk driver was already in front of the hotel and our adventure could begin. Svit and Nia were really excited about the tuk-tuk ride and even small worries that they will get bored visiting temples soon evaporated.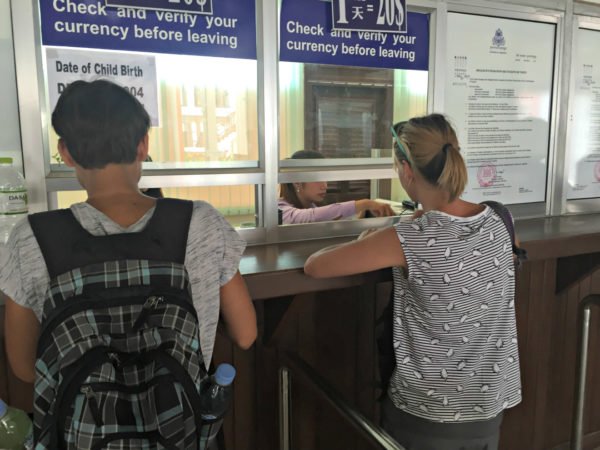 The Angkor Archaeological Park is said to vast (around 400 square kilometers) and there are a lot of temples that dots the area. After purchasing our day tickets for the small tour (20 USD/adult, free for kids) we made the plan with our driver which temples we'll be visiting. It usually takes two full days of temple hopping before you experience the so-called "temple fatigue". So go slow and go for quality over the quantity of temples you visit. Time limited we decided on so called "small tour" which includes the following sites: Angkor Wat, Angkor Thom, Ta Keo, Ta Prohm
You can start off with the most famous one, the Angkor Wat, then move on to other smaller, but not less impressive ones.
Angkor Wat:
Angkor Wat is the biggest, most magnificent temple in Siem Reap. It was discovered by a French explorer looking for butterfly and to his surprise, he just found a lost city. Angkor Wat was built by King Suryavarman II and it took 300,000 people, 6000 elephants and 30 years to build it. King Suryavarman II is often referred to as King of the Barbarian due to his strong small stature, his bare body filled with tattoos and mid length shorts he'd always worn. Angkor Wat was designed as the gate to heaven and build for astrological purpose as well.
Come during sunrise (be there by 5.30). Our guide said that sunset is amazing. If you come during sunrise, don't sit around at the outside, the best view is from the inside.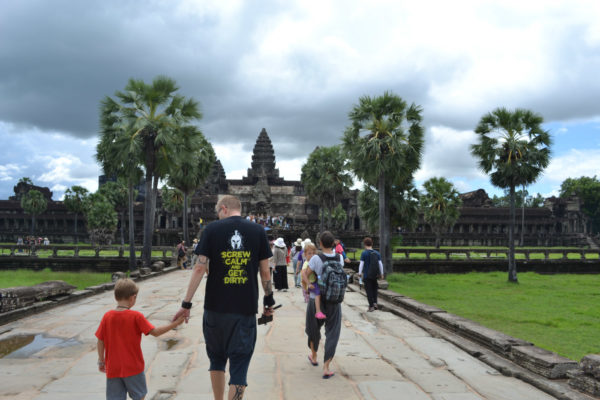 We arrived here around 10 am and it was already getting very hot so bring plenty of water and do wear sunscreen lotion. There is always huge crowd of people at Angkor Wat so be prepared for that too. If possible you can also start with other temples and you leave this beauty for the end of your day.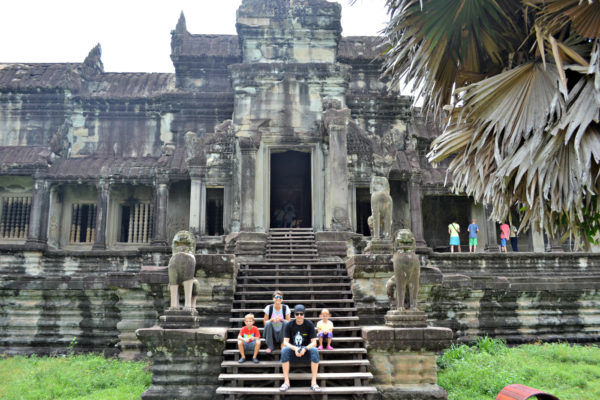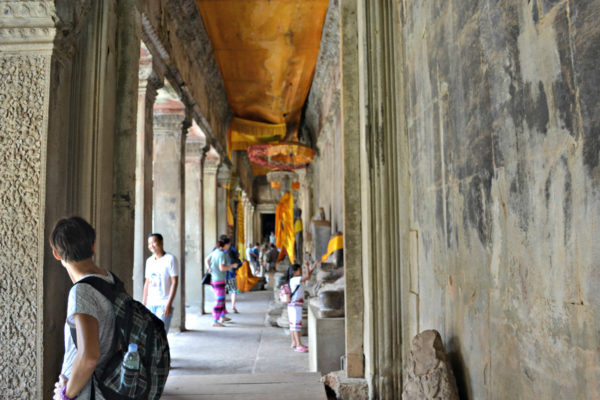 You have to take the famous picture of Angkor Wat with the small pond in front in which the building reflects. With some clouds or red sun light you can take some amazing pics here.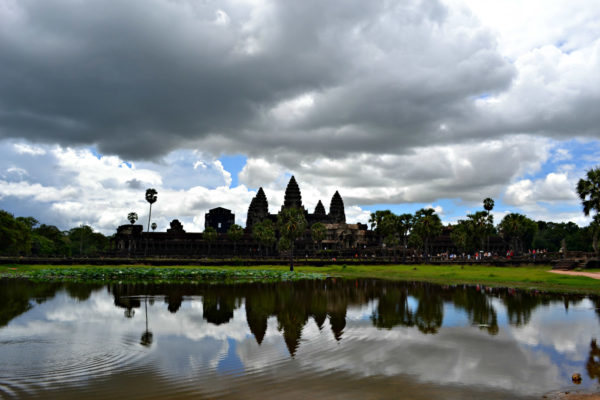 2. Angkor Thom – a 3 sq. km walled royal city built in the 11th century which stood proud as Capitol of Angkorian Empire. There are 5 entries/gates to the city. We entered through the South Gate.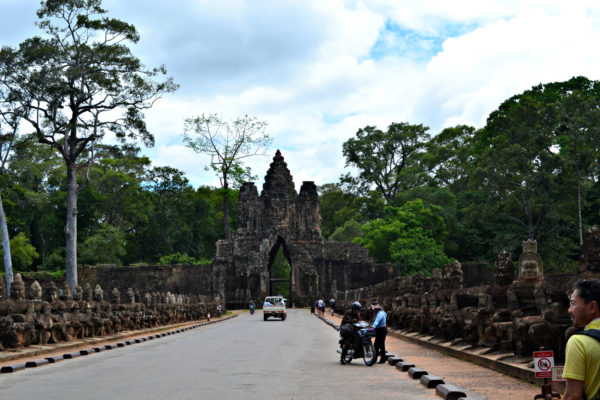 The temples inside are not in such a great shape than in Angkor Wat but their beauty is unmatched. There are a multitude of faces etched into the stone temples of Angkor Thom in a variety of expressions. If you're lucky you may see some traditional dancers wandering the grounds or see Cambodian monks clothed in their orange robes.
Bayon:  main Angkor Thom Temple
If you see only two temples, Angkor Wat and Bayon should be the ones. The giant stone faces of Bayon have become one of the most recognizable images connected to classic Khmer art and architecture. The Buddha Face will make a great photography.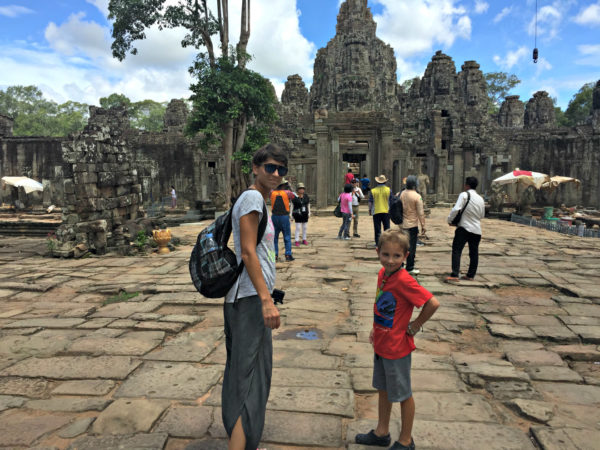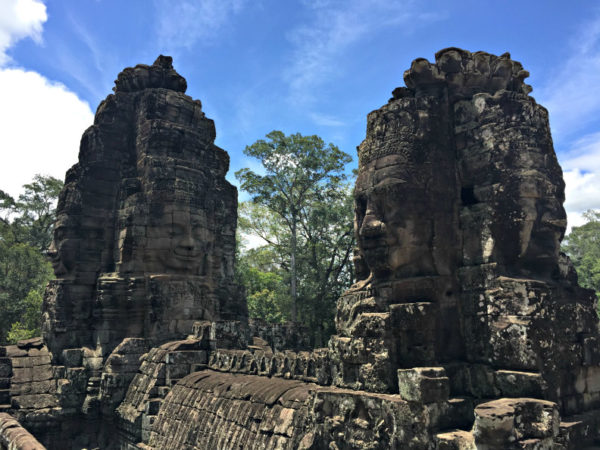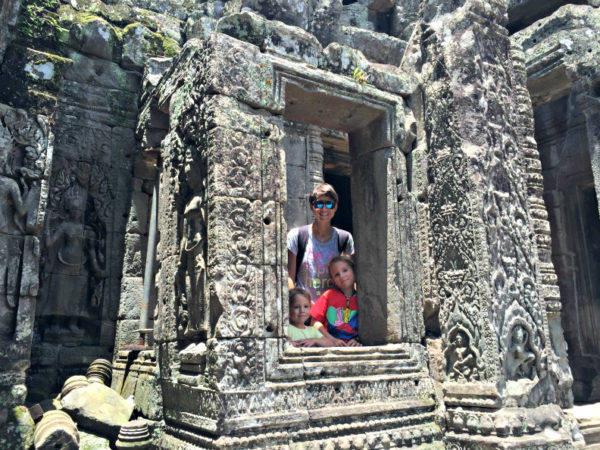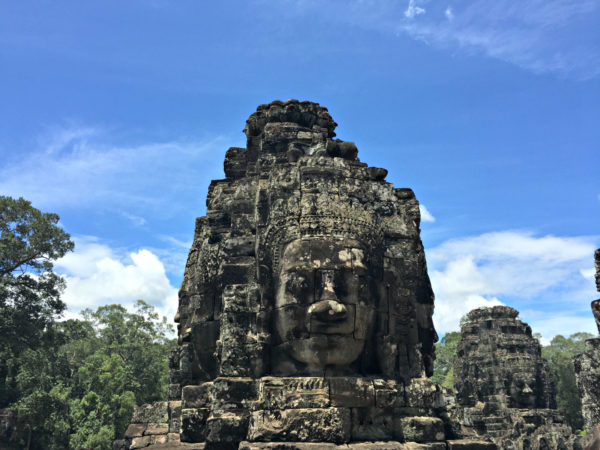 Bayon was built under reign of the last Cambodian king who was a Buddhist. When the last great King passed the concubines were all massacred as to follow the tradition. The next in line was his nephew. Due to all the violence he had witness he had turned Angkor Wat into a Buddhist temple as a way to repel the sin of the Kingdom. That is why so many Buddha statues are built in Angkor Wat which was then destroyed by the Khmer Rouge leaving only a single Buddha remains. Bayon is one of the legacies left behind by the Buddhist King. People of Cambodia gravelly disapproved this change of religion and gradually left the great Angkor Thom complex.
Ta Keo
The temple is enormous, rising over 20 meters, making it one of the tallest buildings at Angkor. It's towering but plainly decorated temple-mountain dedicated to Shiva. Known in its time as 'the mountain with golden peaks.' Kids really enjoyed this one because they could climb (be a bit careful though because the stairs are very narrow at some place) and pretend that they are explorers and archeologists.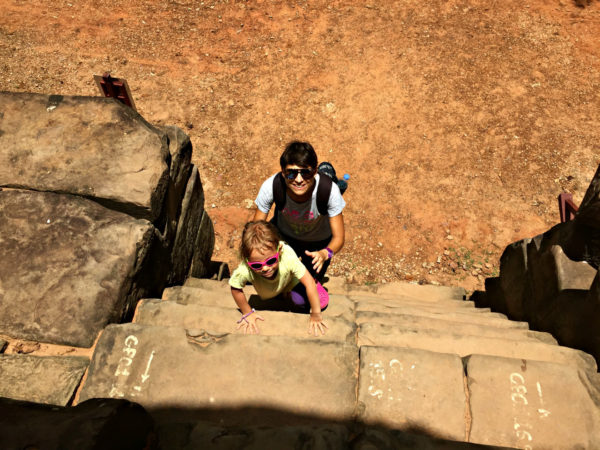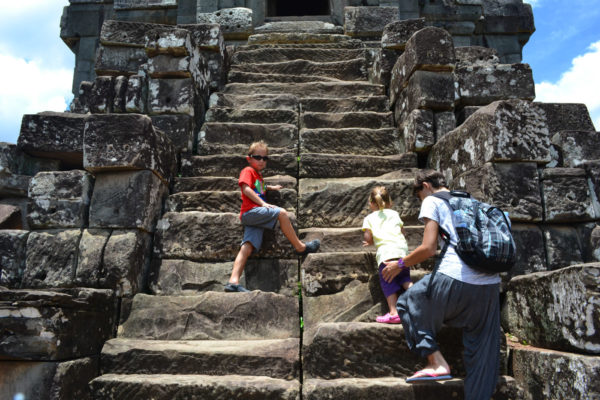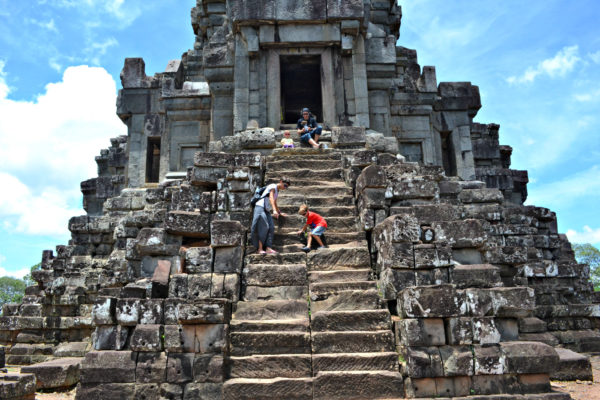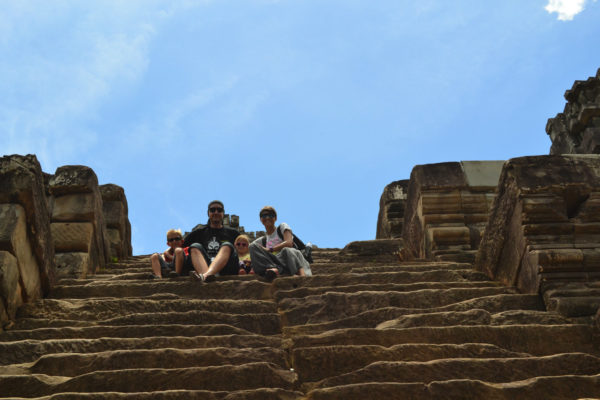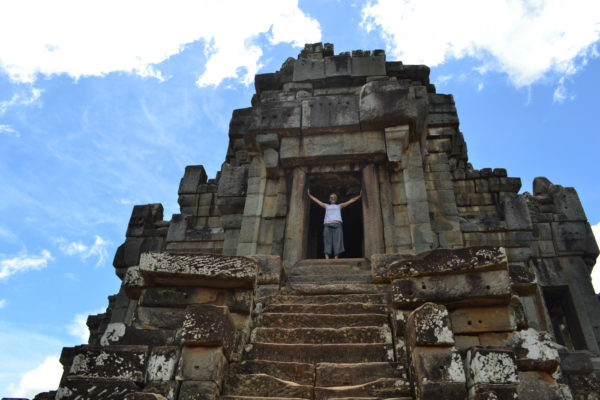 Ta Prohm
This temple is also known as Jungle Temple. Ta Prohm's popularity has soared in recent years along with the rest of the Angkor complex, but especially because of its appearance in the movie "Lara Croft: Tomb Raider".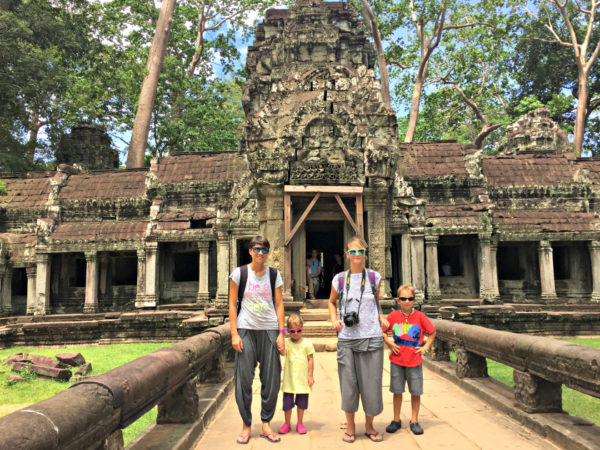 This was one of our favorite place with lots of greens and the giant tree roots. Ta Prohm was originally constructed as a Buddhist monastery and was enormously wealthy in its time, boasting of control over 3000 villages, thousands of support staff and vast stores of jewels and gold.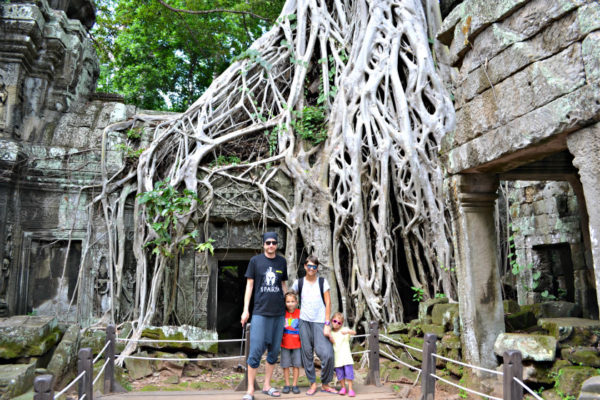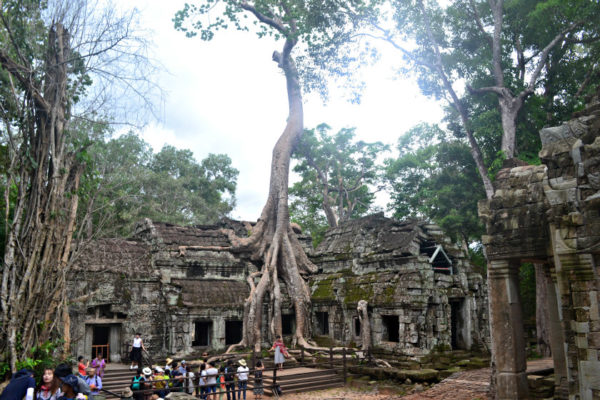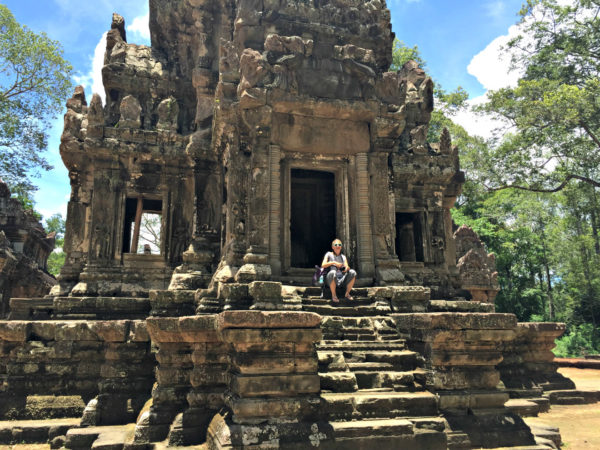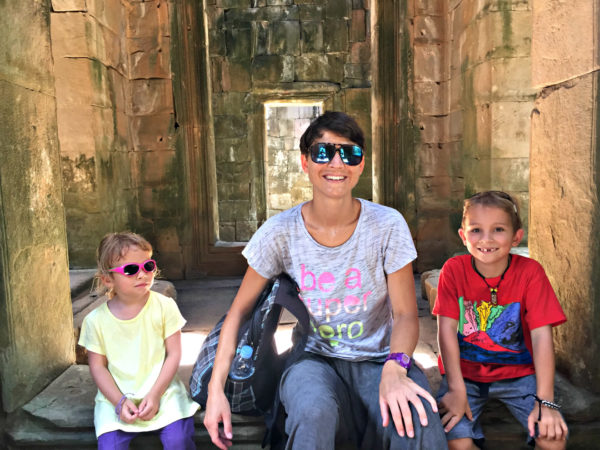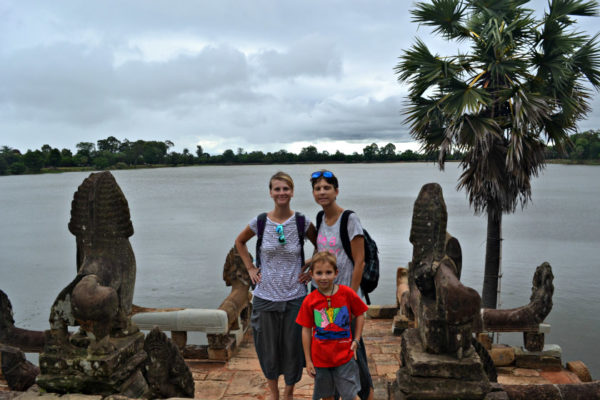 Beng Mealea
Beng Malea is a far-away temple that we visited the next day. Unlike Angkor Complex, this temple is far from touristy. The temple is largely overrun by vegetation and very lightly touristy giving it an adventurous, 'lost temple' feel. The natural state of it made us feel like we were in Indiana Jones movie. It is located about 60km east of town and it took us about 2 hour tuk-tuk ride to get there. During these two hours we experienced two storm showers and plenty of sun, so there was not a dull moment on the road.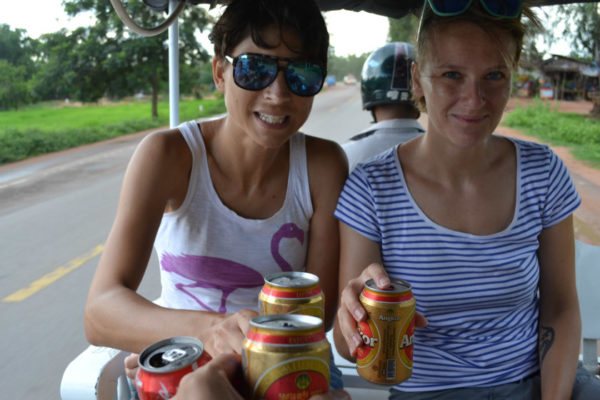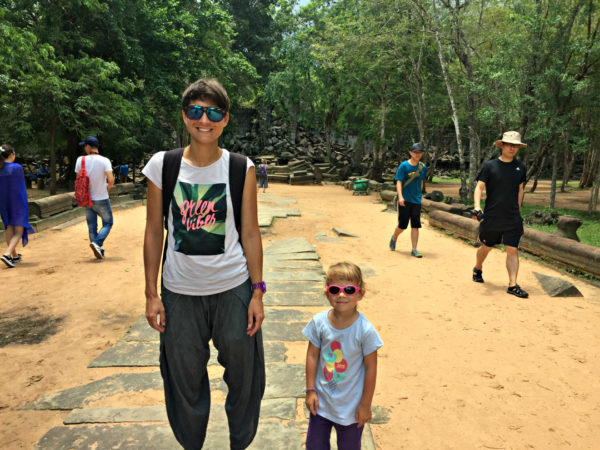 This was one of the most authentic ways to experience the life outside hustle and bustle of the city. The open air of a tuk tuk allows you to soak in the culture with all of your senses.
Regular admission tickets are not required but there is a separate $5 entrance fee.
During the years Beng Mealea was abandoned, nature took its course and the whole site has been overrun by plants. Trees grow out of stone, vines are wrapped around gateways, and roots have stretched through walls. Combined with the parts of the temple which have collapsed from neglect, it creates a sense of romantic rustic ruins.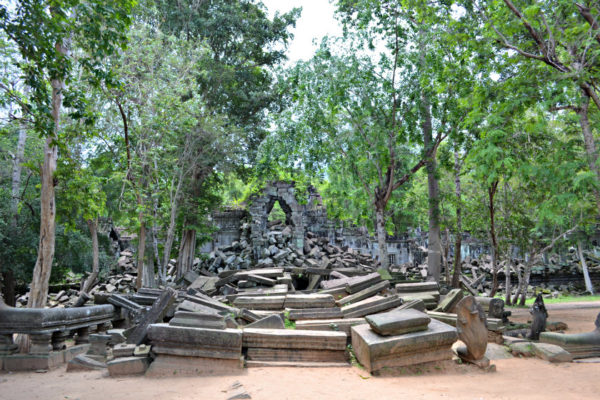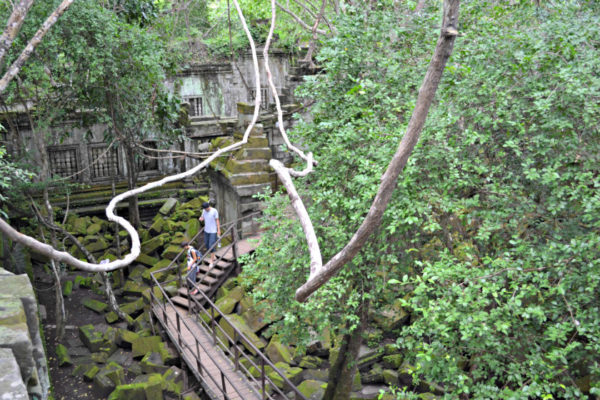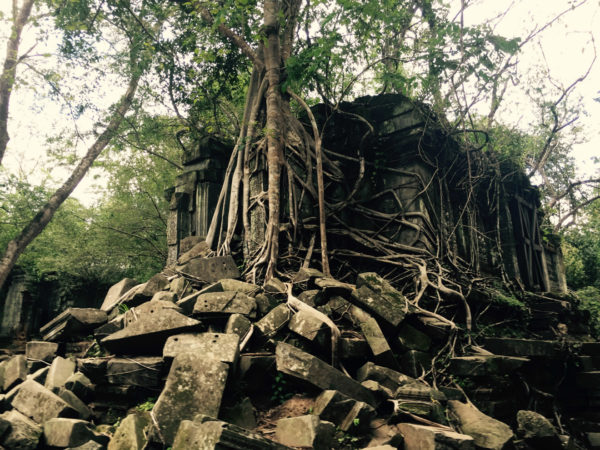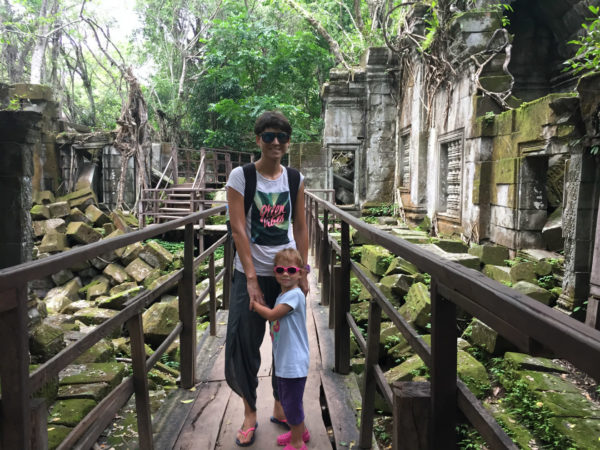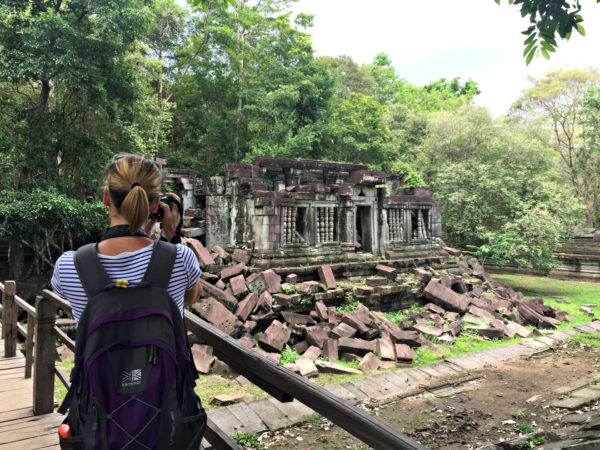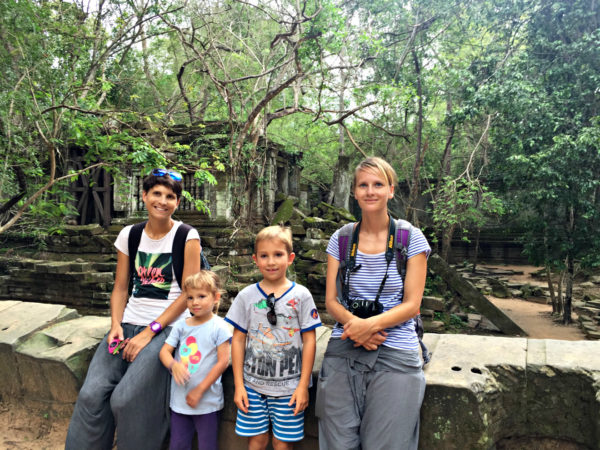 It's without a doubt worth a relatively long trip out here, though. The road will almost certainly become more travelled as the temples around Angkor get more and more crowded and the discerning tourists look for more peaceful alternatives.
Siem Reap things to see and do:
From the Cambodian scarves and cheap T-shirts that you will see in many local shops, to wooden masks and silverware, Siem Reap is a good place to learn more about the rich tradition of Cambodian people. Some places like meat market may seem unappealing at a first glance, but don't let be fooled because you may blow your chances and miss a really authentic experience in the heart of the country.
Go to the Night market. It costs 1 USD with tuk-tuk to reach most destinations in city center. Drop by the market near the Siem Reap River to buy souvenirs. Bargaining is expected so don't be shy to ask for a better deal. As a general rule whatever price was asked I would start by offering half the amount and stallholders would generally meet me somewhere in the middle. Prices were set low to begin with so it's not necessary to bargain hard like on Khao San RD in Bangkok for example. You can also enjoy light snacks there, and even full meals. It's also close to other restaurants along and around Pub Street where you can find may different cuisine options.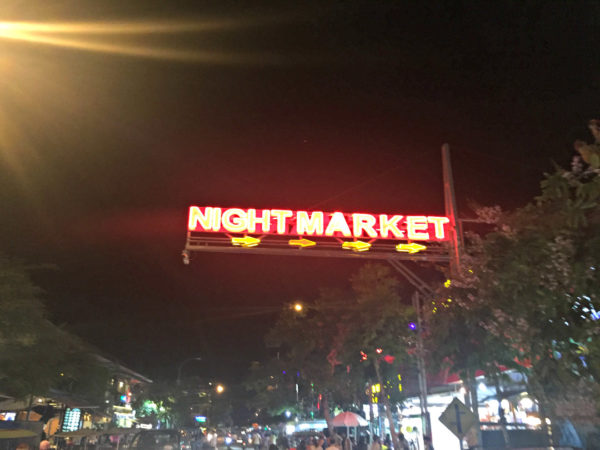 Being so hot by day, Siem Reap locals can also buy their groceries at the night markets. There are stalls selling fresh vegetables, seafood and meat, some looking tastier than others. Street vendors sell fruit, drinks and from carts too.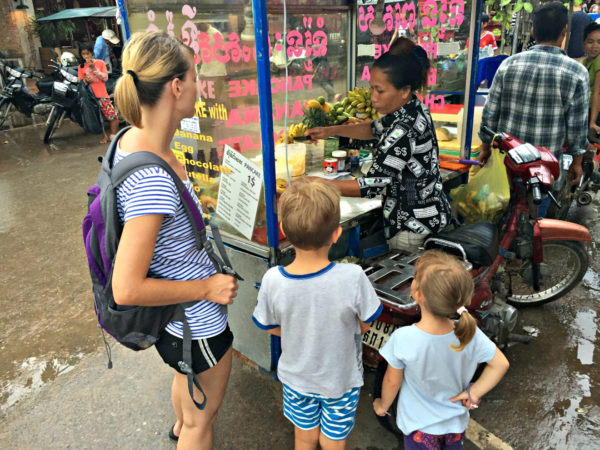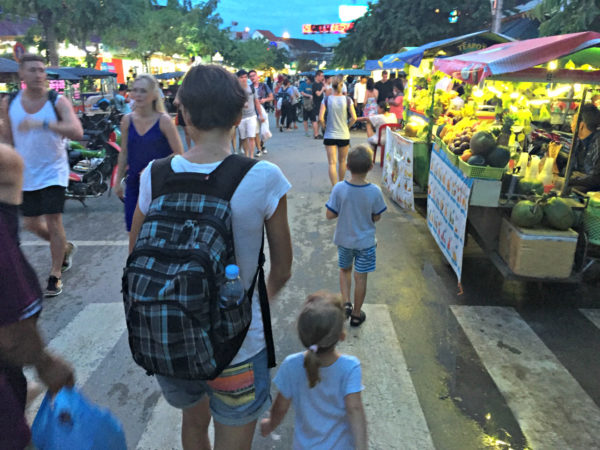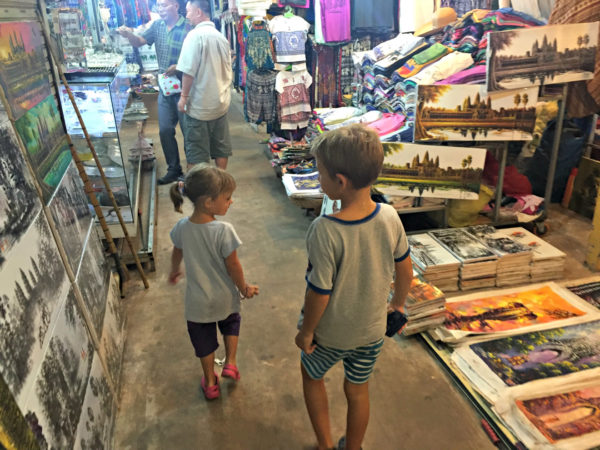 Searching for souvenirs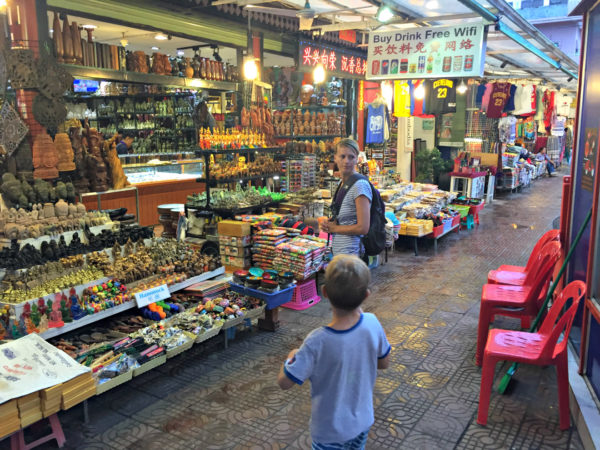 Pub Street
The Siem Reap Night Markets are a great place to get a few inexpensive pieces of clothing (just remember to check the sizes first) but there are also a whole host of other shopping opportunities.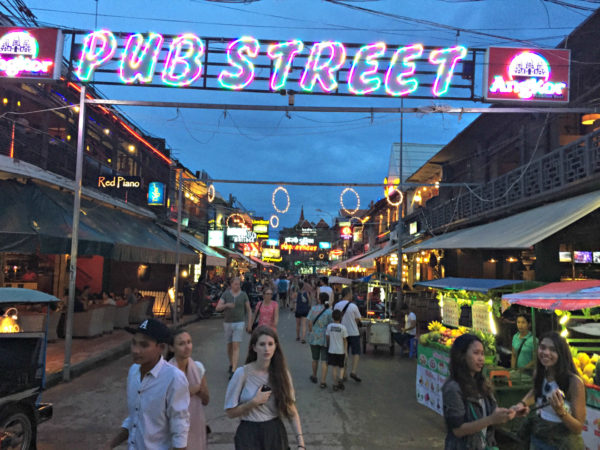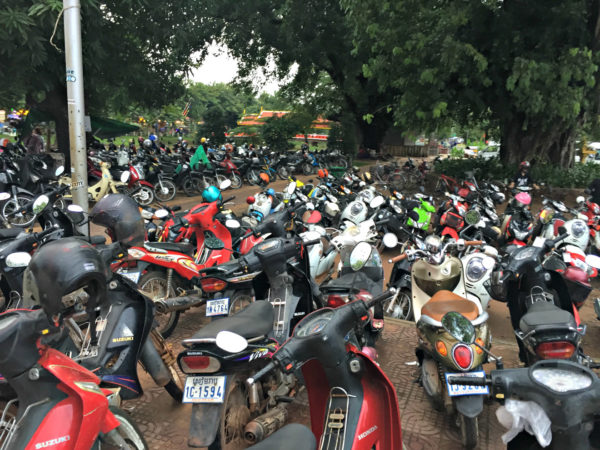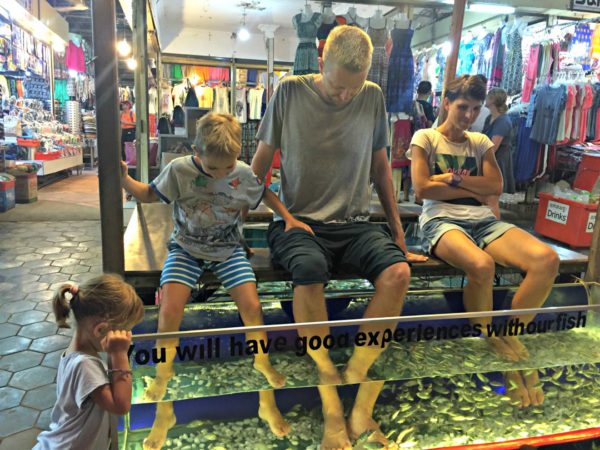 The city center in Siem Reap is a giant cluster of markets including Old Market, Pub Street, The Alley Lane and Night Market. The Market is opened from the afternoon all the way till dusk. You can get everything you need here. From shopping to food this is the place to go. At night there are lively strips of bars and pubs lighting up the streets.
We only visited Siem Reap but we have instantly fallen in love with it because of the awesome night markets, friendly and welcoming people and nice accommodation. All that plus the whole Angkor experience was fantastic.  We worried a bit that all the sightseeing will bore the kids but as always they loved every single day and every single thing we did here in this amazing country.