KOH JUM (KOH PU)
After we left Koh Yao Noi we went back to Krabi where we got the tickets for Koh Jum Ferry (time table: http://www.kohjumonline.com/ferryboats.html ). Klong Jilad Pier is Krabi's main pier and connecting point to the nearby Andaman islands such as Phuket, Phi Phi, and Lanta. It's well maintained by the local Krabi Town municipality and sits near a mangrove forest. On arrival, you'll see the pier's car park and a terminal building where you can check in. Waiting area is covered and there are a few small snack vendors. When your ferry comes, you'll need to take a short walk to the pier end with your bags. We bought our tickets and went for a cup of coffee and Nia had her morning meal.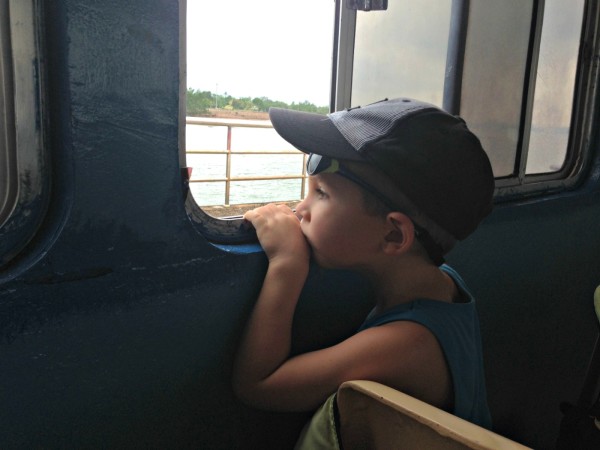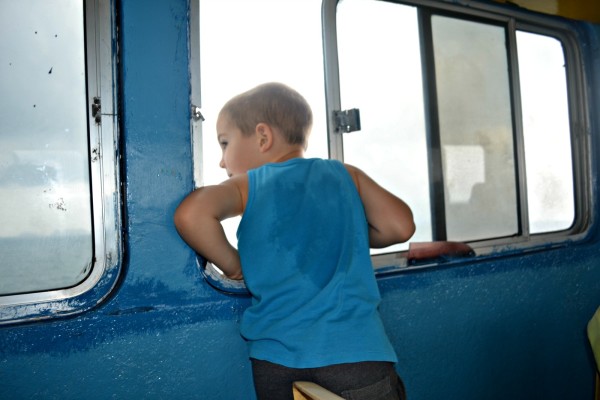 We left Koh Yao Noi bathing in the sun so we were hopeful that our luck with the weather has finally changed. But of course this is the tropics and everything is possible. When we finally embarked the ferry the black clouds that we were so familiar from Koh Lanta started to creep in over the Krabi mainland. After half an hour ride we were caught full blown storm. This amused Svit very much but not so much my wife and Edita. Thankfully Nia was very stoic about all situations. The ride lasted just under two hours and when we reached Koh Jum with his highest pick of Mount Koh Pu the rain finally stopped. That was a good thing because there is no pier on this side of Koh Jum so you basically stop at sea and the long tail boats from the resorts stop near the ferry. Then you have only few minutes to get your bags and kids and climb down the steep ladder into the boat. Of course by that time the rain started again so it was not so funny anymore. But we were on adventure, right? When we reached the shore we had still a few minutes to walk until we reached our new place for next few days.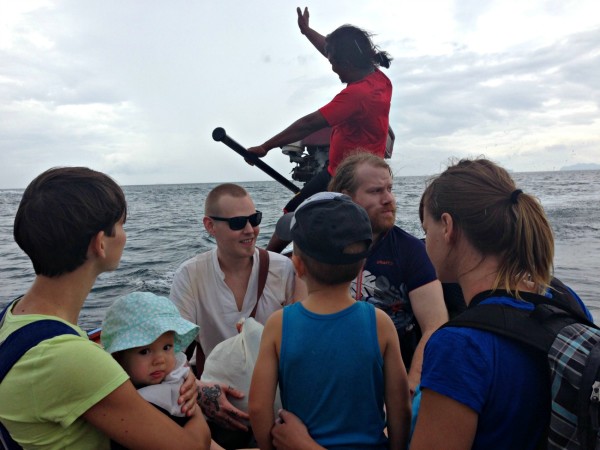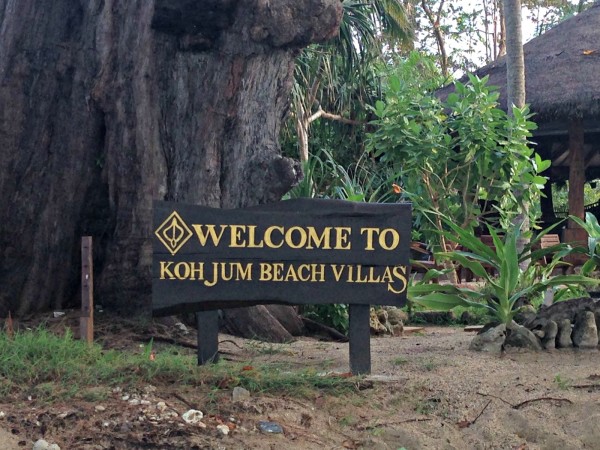 ACCOMMODATION
And what a place it was. We were greeted at Koh Jum Beach Villas, precisely two bedroom with pool Baan Chang villa (http://www.kohjumbeachvillas.com/ ). All the doubts that rain brought were instantly blown away with sheer beauty of this place. Svit started to explore the Villa while Nia was resting on the sofa waiting for us to have our welcome drink. We wrote a review for this heaven on TA, so you can read it here: http://www.tripadvisor.com/ShowUserReviews-g1152743-d877284-r186968056-Koh_Jum_Beach_Villas-Ko_Jum_Krabi_Province.html#CHECK_RATES_CONT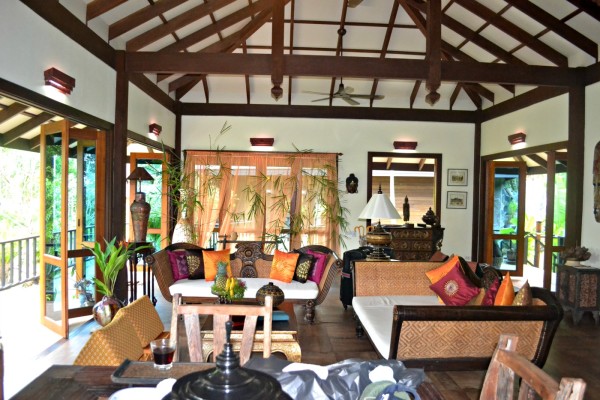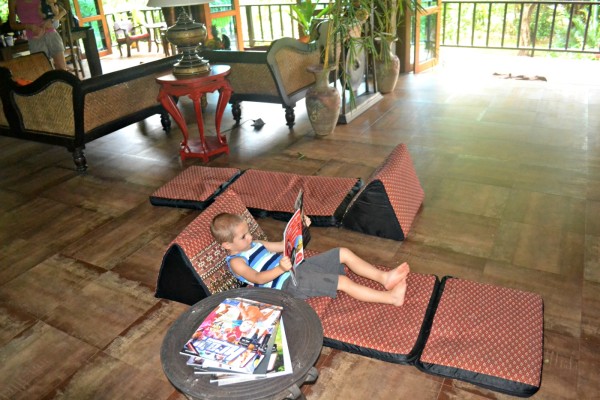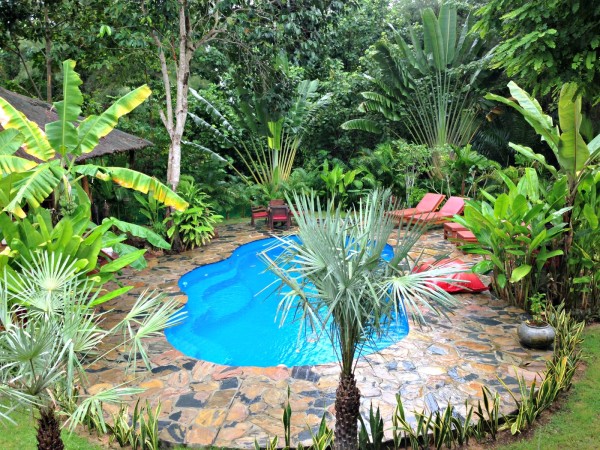 The next few days we were just lounging around the beautiful tourist free beach doing nothing. Nia crawled around in the sand while Svit occupied the rest of us with ball, Frisbee, kayaking or just playing in the crystal clear and warm Andaman Sea. He was running around trying to catch the crabs or simply collecting the shells on the beach.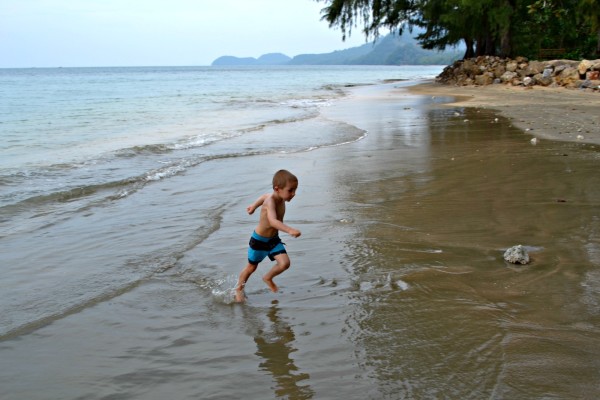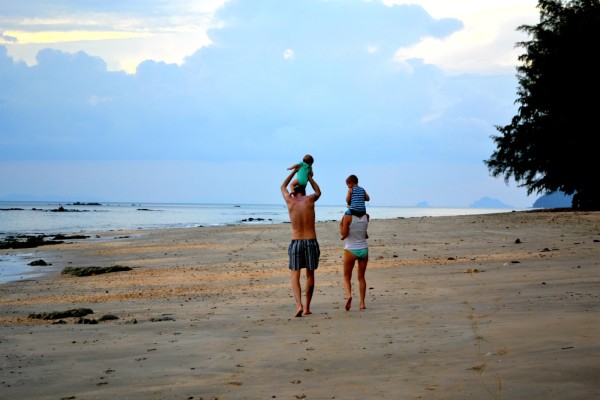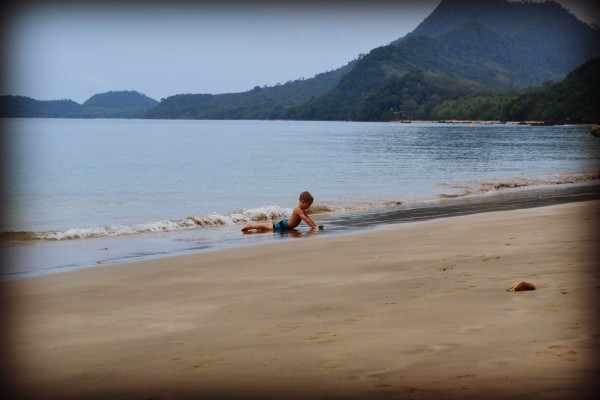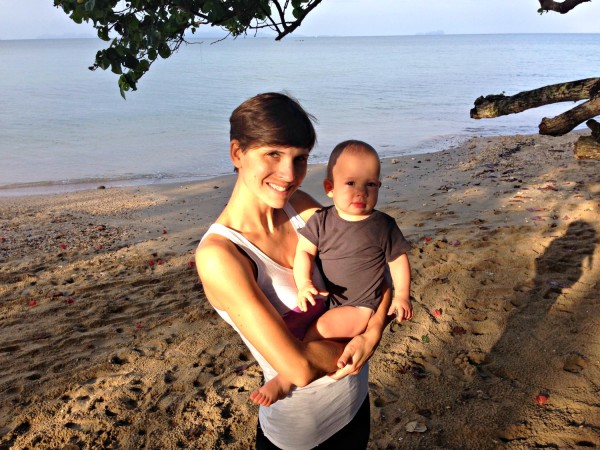 KOH JUM VILLAGE
Since we were without any BBQ food for past few days, and sadly they also didn't have it here, we decided to go to Koh Jum Village to find our luck there. We called a taxi, which turned out to be funny name for motorbike with roof and 4 seats.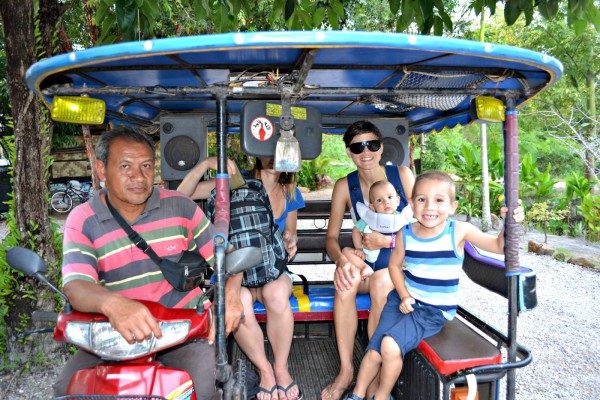 But as we were about to see the roads on this island are compared only with it's development. Which was again just what we were looking for when we picked this island months ago while reading on a web about it: http://www.yourkrabi.com/where-to-stay-jum-island/. After a bumpy but very exciting ride we reached our destination. Baan Koh Pu, a fishing village that is the most interesting of the three villages on the island.  It is a predominantly Muslim area and we passed a small modern green mosque just outside the village.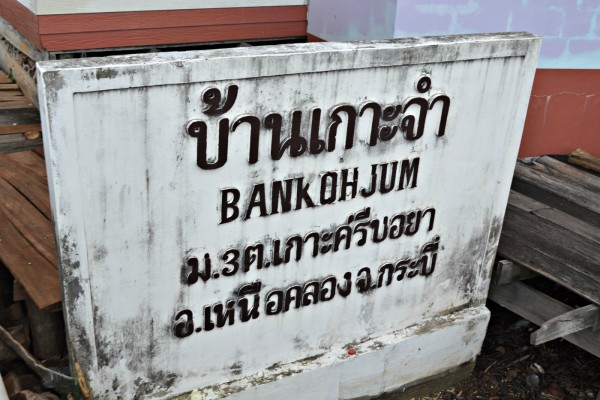 A crowded tumble of ramshackle wooden stilted houses with roofs of palm leaves or rusting corrugated iron lined the seafront.  Front porches piled high with fishing nets, and at least one, often many, hanging caged birds. The locals swung lazily in hammocks—hiding from the heat. We were quite an attraction as we were the only foreigners around and our kids brought out lots of smiles from the locals.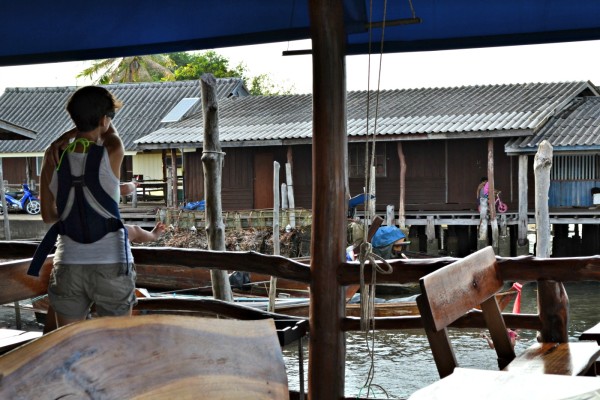 Soon we discovered what we were searching for: Koh Jum Seafood Restaurant  (http://www.tripadvisor.com/ShowUserReviews-g1152743-d2558263-r186968451-Koh_Jum_Seafood_Restaurant-Ko_Jum_Krabi_Province.html#REVIEWS ). We had great meal here watching over the local kids swimming under their houses on wooden tilts.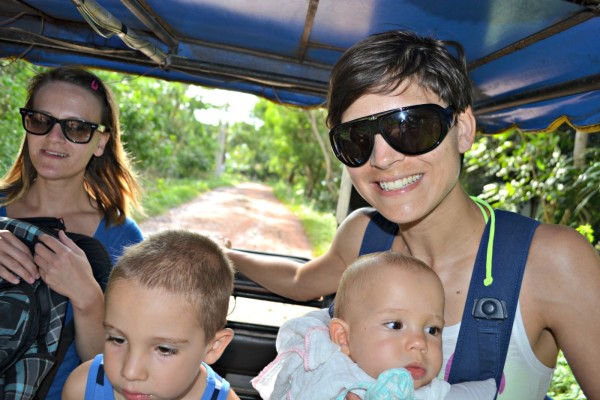 KOH PHI PHI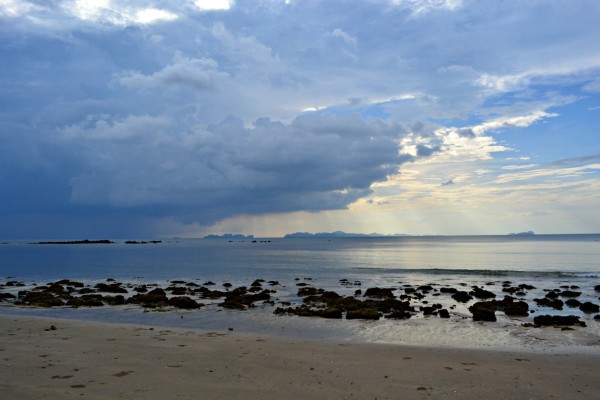 The Islands are seen from the beach at the resort and every night the sun went down over them. We tried to visit Phi Phi's years ago when we didn't have  kids. We were on Ao Nang for couple of days while waiting for sea conditions to get better but the water God was ruthless that July, so we left the Thailand and went to Langkawi in search for sun. Since then Phi Phi's always stayed in the back of our minds as the place that once we must see.
One sunny morning the long tail was waiting for us and our whish was finally about to come through.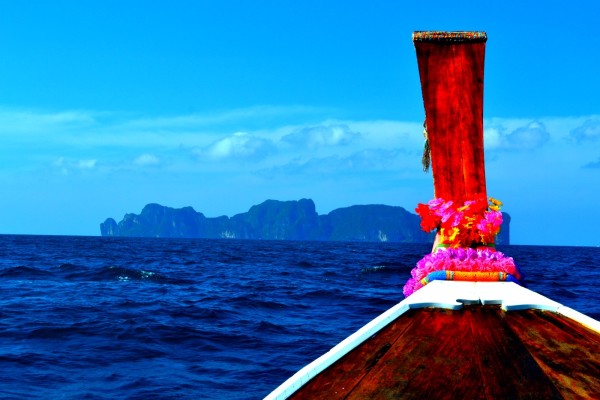 The ride took us about 1,5 hours and it went smooth until we reached the Islands. The waves around them were nothing out of ordinary as we were explained by our boatman.
We stopped on Koh Phi Phi Leah first and we were amazed with clarity of the water and sheer beauty of this place. The nature is really amazing thing.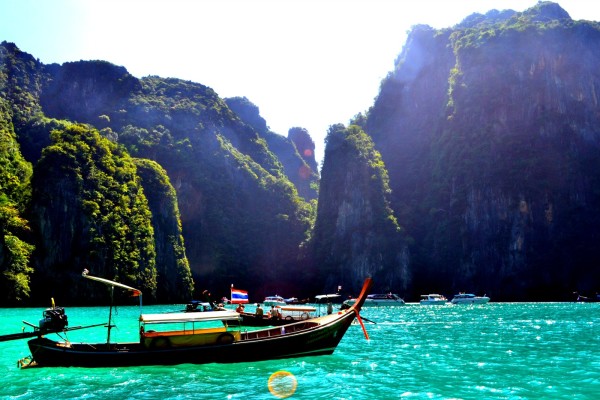 Svit wanted to jump in whenever we stopped while Nia was looking around like having a cup of tea. On the other side of the island Maya bay is located. Maya Bay is a stunningly beautiful bay that's sheltered by 100m-high cliffs on three sides on Koh Phi Phi. Inside the bay there are several beaches, most are small and some only exist at low tide. The main one is around 200m long with silky soft white sand; underwater colourful coral and exotic fish in exceptionally clear water, the whole bay is one big reef. It has become the main tourist attraction of Phi Phi since The Beach was filmed here in 1999. It was always very popular before the film but now people around the world who haven't even heard of Phi Phi have certainly heard of Maya Bay.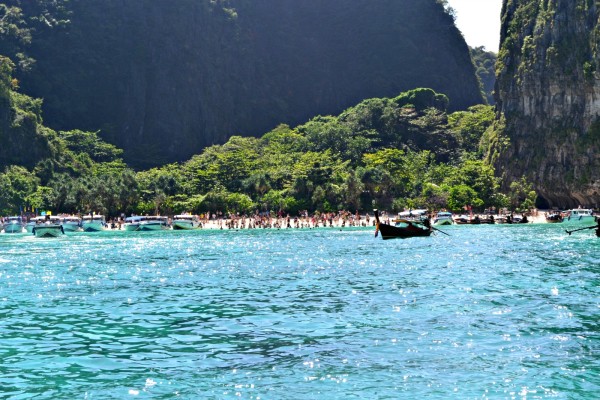 As you can see the beauty of the place is virtually overshadowed by the long tail boats parked in the bay and hundreds of tourists searching for their sq. meter on the beach. You can imagine that after few photos from the boat we rather proceeded to our next stop which was Phi Phi Don. By then the ride become a bit rougher as the waves become higher. We passed dozens of diving and other boats. This was Thai mass tourism at its best. Or worst?
When we docked on the beach we decided to stay on the island until we call our boatmen to pick us up.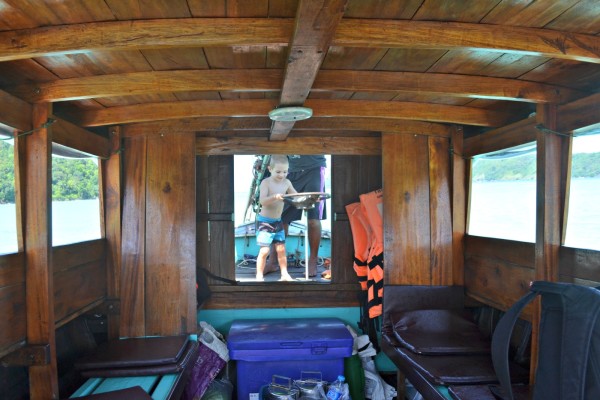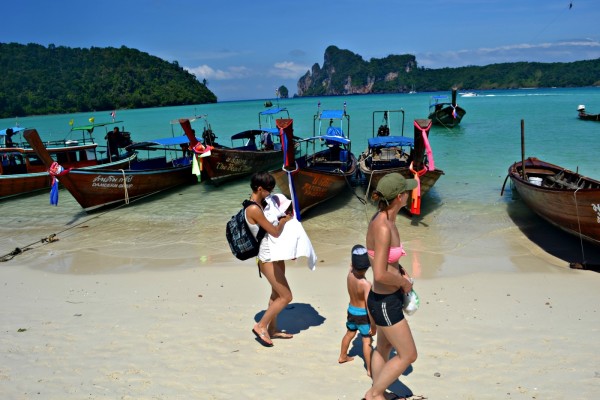 Well…we lasted just under an hour before we made the call. We sit down, had a drink, fed Nia and bought some postcards.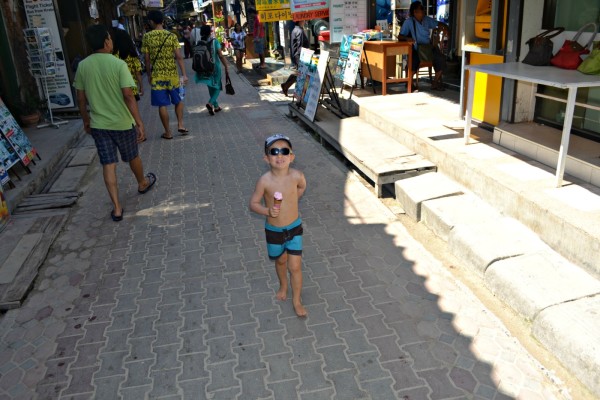 Then we run the hell out of this mass tourist trap. So our dream place was just crushed into pieces…but thankfully we found new place where we could actually live on. It was time to head back.
We stopped for some excellent snorkelling on Mosquito Island which we were forced to cut short since  storm was quickly approaching us and we still had almost two hours on open see to cover. But at least Svit finally got to swim with the fishes so his day was made.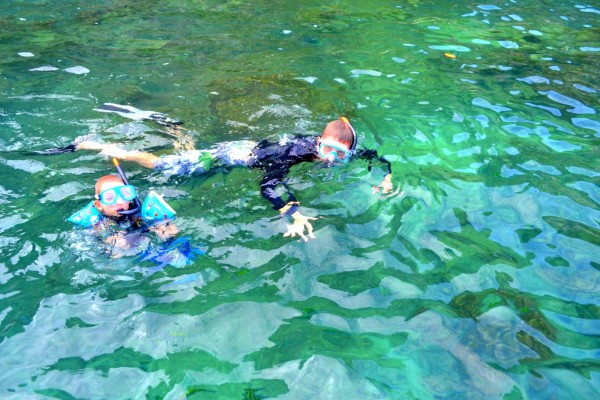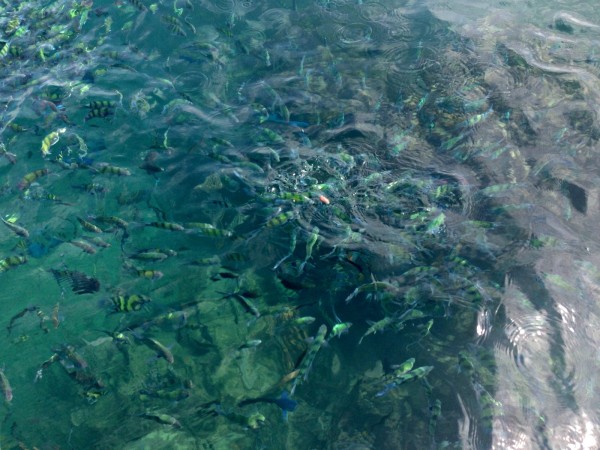 After few minutes Nia felt asleep in Edita's arm while Tina was feeding Svit watermelon. In just a moment we've found ourselves in full blown storm. The waves was huge, the rain was pouring down like no tomorrow… Kids slept all the way, our boat drivers were amused with the situation while we were trying to hold on plastic tart that was there to prevent soaking us completely. Sorry, no pictures were taken. Of course everything passed when Nia and Svit got awake so they were greeted with sun on arrival on Koh Jum.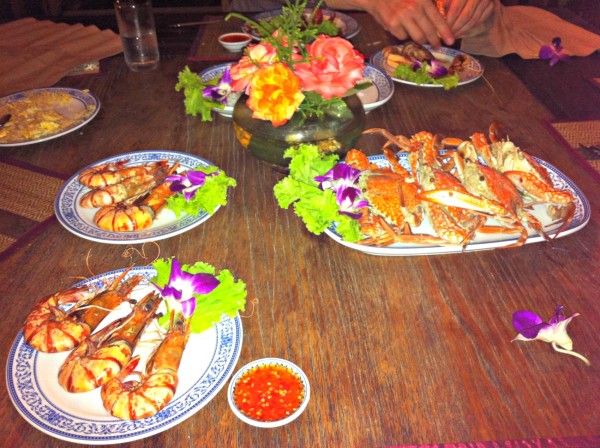 Koh Jum is nothing compared to places like Phuket or even Koh Lanta. In contrast, the northern coast, where we stayed, it's remote and wild. You get a definite castaway feeling when you stay there. It is rocky and mountainous with heavy jungle cover, which, in part, helps to keep the crowds away. Personally I prefer that rugged, rocky beach look over the sand of much more exposed Koh Phi Phi's. To wrap it up, as I said before, this is the island I could easy find us living on.
Bagkok is next…