KOH YAO NOI … or as The Guardian called it "Thailand's last unspoilt island"
Finding the perfect unspoilt Thai island is not as easy as it once was.Koh Yao Noi ("long, little island" in Thai, though it is neither particularly long nor little), is located in Phang Nga Bay between Krabi and Phuket. It's a small island that you can easily explore in one day. You just hop on motorcycle and you can drive around the whole island. Roads are great by Thai standards, even better than on some other, more populated islands. One of the first things you notice after arriving on Koh Yao Noi is that all the motorbikes have the keys in the ignition. The people on Koh Yao Noi are particularly friendly – and by Thai standards, that means very, very friendly indeed.You can read this few sentences in many of Koh Yao Noi posts but they are absolutelly on spot.
The island is so friendly and perfectly safe for you and your kids. They are few ATM's on the island and one 7/11 in the main town, where you can also find some food stalls, souvenirs and fresh fruit.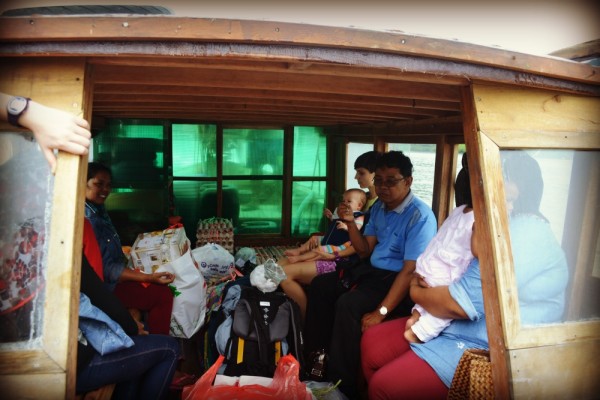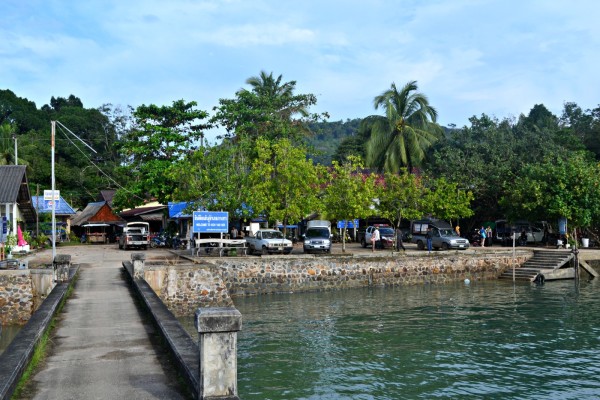 We have arrived onKYN on short and scenic  long tail boat from Talean pier on Krabi side of the bay (you can find time schedules on Koh Yao Resort home page http://www.koyao.com/resort-facilities/koh-yao-ferries-transport/ ).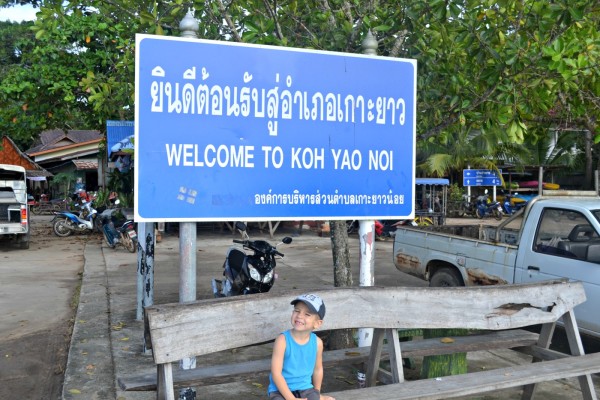 On arrival we met our driver who then took us on a few minutes long ride to our villa. Since we had really bad experience with the rain on Koh Lanta, the sun on our arrival was muchappreciated addition. I don't know who was happier, Svit or we:)  When we stopped at our home for next few days, our host Mhee was already there. She showed us the place and gave us few very good advices and of course local cell phone with her number on which we could reach her 24/7. She also provided us with two motorbikes that we had on desposure for our entire stay.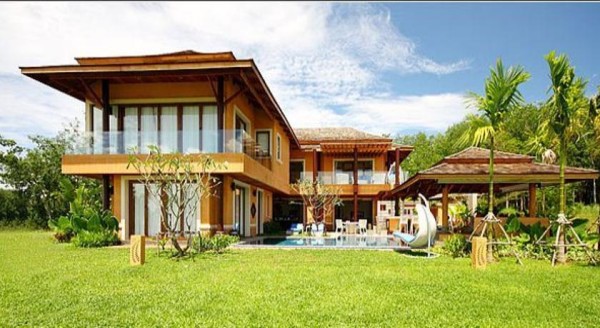 ACCOMMODATION
The Diva Star Villa was simply amazing (you can read our review on Trip Advisor: http://www.tripadvisor.co.uk/ShowUserReviews-g661285-d3737194-r186959652-Villa_Diva-Ko_Yao_Noi_Phang_Nga_Province.html#review_186959652). It has fully equipped kitchen, huge dining room, sound system, 4 bedrooms/bathrooms, gazebo and nice pool in which we have spent most mornings and evenings. We booked two bedrooms so the rest two rooms were locked, everything else was on our desposure. You can check the prices for this gorgeous villa on Booking ( http://www.booking.com/hotel/th/villa-diva-star-koh-yao-noi.sl.html ). Svit shared his room with Edita, since they are always room mates on our trips, and Tina and I had baby cot with Nia in our room.
Villa is just a few minutes away from Pasir beach on which we were always alone. There is also a little store by the beach where we got our daily supply of Chang for us and ice cream for kids. You can choose you dinning option from at least four restaurants by the beach in which you can have excellentThai or western food. You can also order in from one of these places so you can have your dinner served in villa. This was particularly handy when Nia was tired and too "vocal" for the rest of population on the island.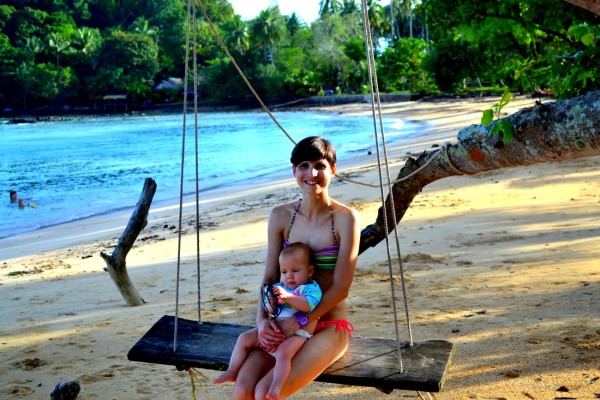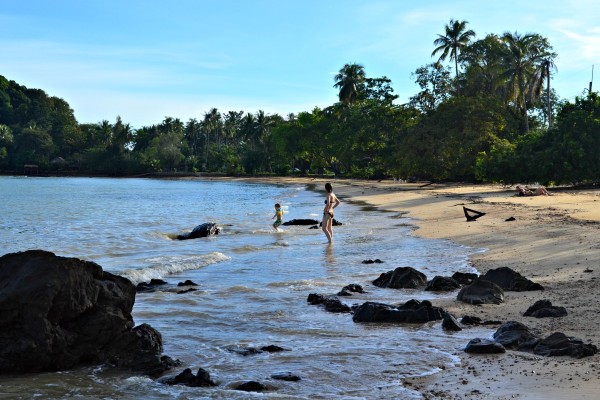 Alone at the beach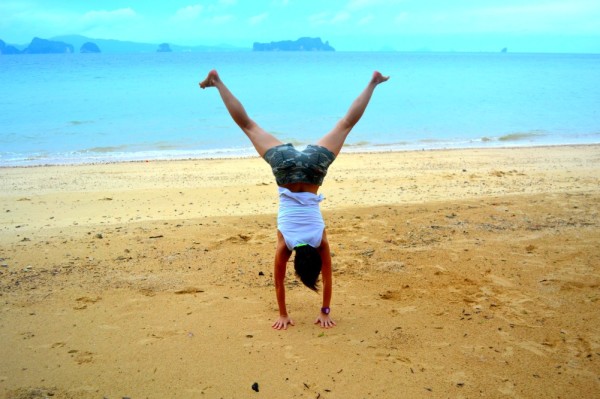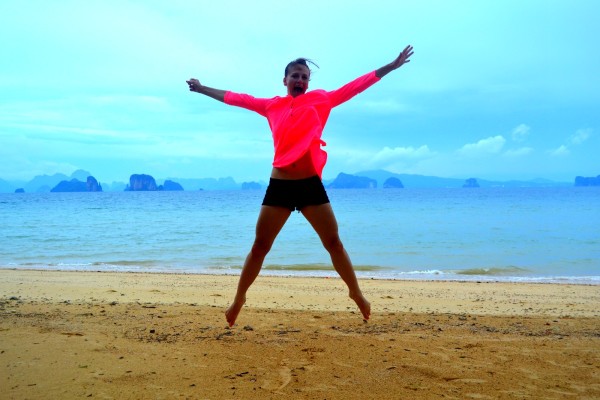 PHANG NGA BAY trip
As usual Mhee organized a whole day long tail trip just for us. The roof on the boot was really necessity since the Thai sun could be unforgiven. We were a bit worried since this was our first all day trip with Nia on board. But as usual she surprised us all so this turned to one of greatest trips we had.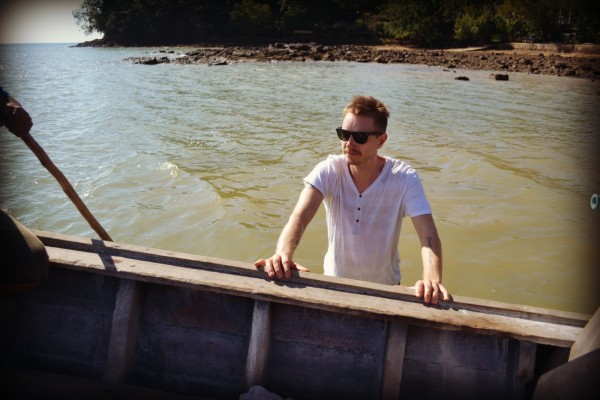 KOH HONG
After helping our boat to leave the shore (tide is always a factor you need to count in when South East Asia), we headed to Koh Hong. Before heading to Thailand's ridiculously picturesque PhangNgaBay — the stretch of water between Phuket and Krabi that's home to more improbable limestone isles than a pirate's tale — we had never heard of Koh Hong.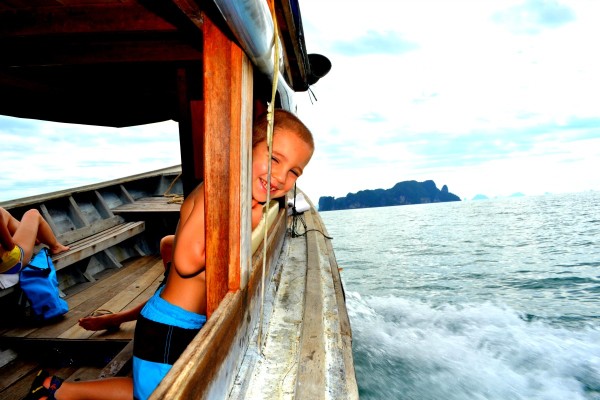 And why would we? The craggy limestone isle hasn't attracted Hollywood's cameras in the way that Koh Tapu (Nail Island, better known as James Bond Island after starring in The Man with the Golden Gun).
Nor is Koh Hong of any great size — it's a speck in comparison to Phuket or Koh Samui on the other side of the Malay Peninsula. Yet Koh Hong's relative anonymity is a great reason to point yourself in its direction: there is no battling for a patch of sand on Pelay, its only beach, no one trying to sell you this, that or the other – just a lone lifeguard stationed at a desk. It's that rare thing in SEA: a little piece of paradise that's genuinely relaxing. Koh Hong is also just a day trip rather than an overnight destination.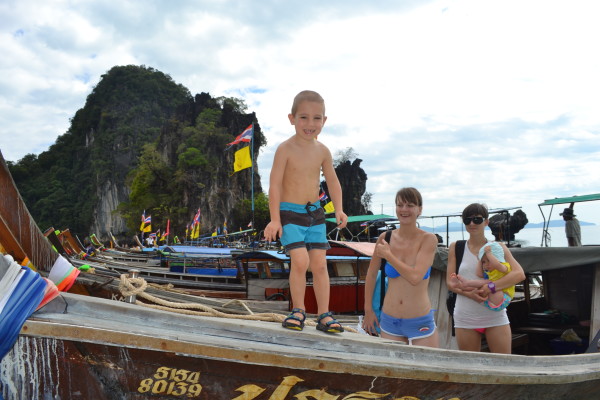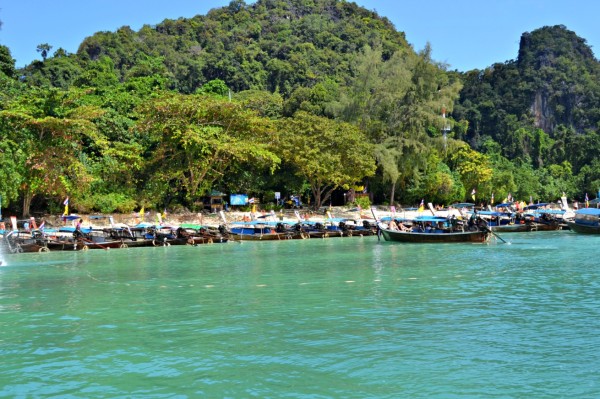 We went for a short swim since the island was packed with day trippers. Tina, Edita and Nia decided to stay out in the shades of mangrove trees while Svit and I tried to get lucky with fishes. But sadly the water was a bit murky so you can imagine his disappointment.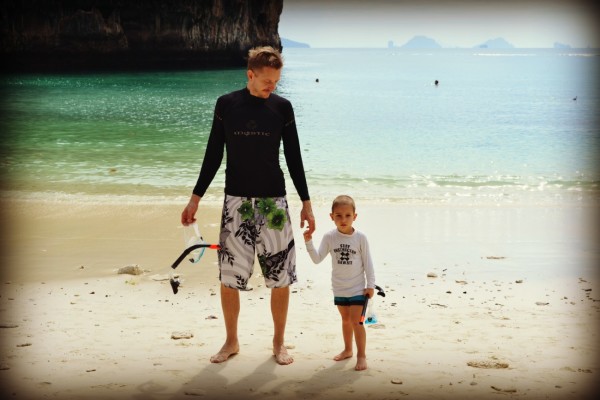 After rain on Lanta now no fishes here. Phanga Bay is known for its spectacular scenery and not for turquoise water that Thailand is renewed for. But we knew that before we came here so it wasn't much of disappointment for us. You can only endure just so much beaches, right?:) We were on this part of Thailand for completely different reasons.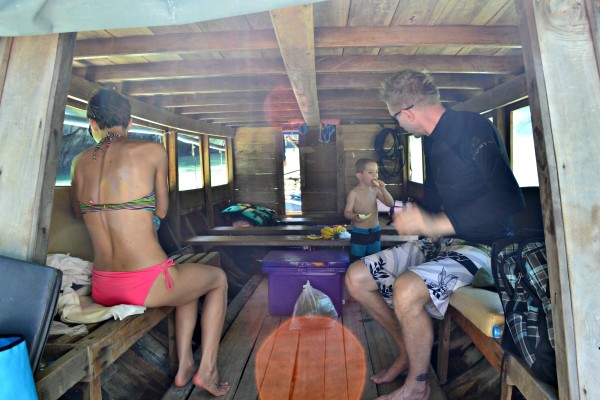 After this stop we headed deeper into Pang Nga Bay. On our way we've passed lots of beautiful limestone formations that were simply breath taking. Of course Nia didn't care much for this work of nature because she has decided that sleeping it off is more important for her. Svit on the other hand truly enjoyed the boat ride and he occupied Edita for entire trip.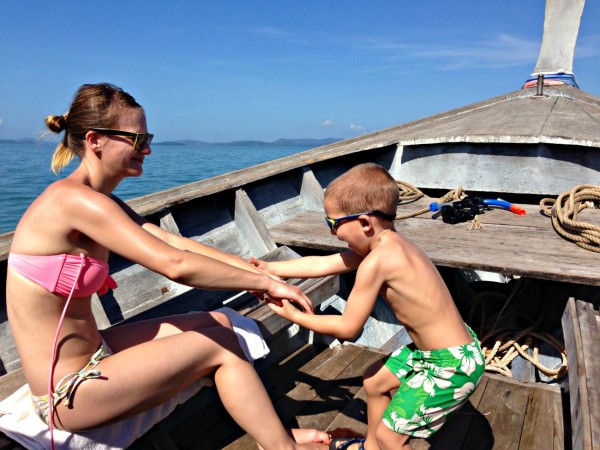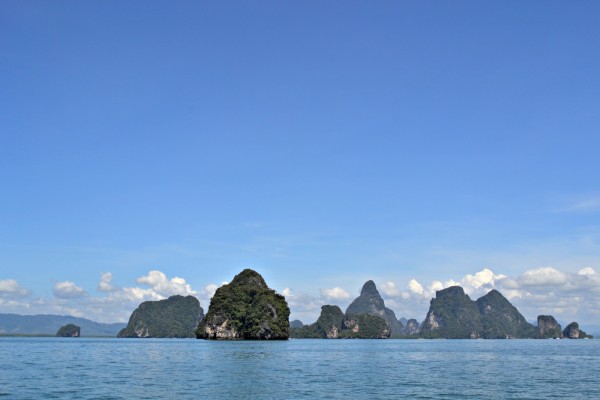 JAMES BOND ISLAND
The area came to world attention in the 1974 James Bond movie 'The Man with the Golden Gun', which features the bay in its climax. In the movie, Bond (than Roger Moore starred as Her Majesty agent) flies a light aircraft over the spectacular scenery, providing dramatic panoramic views of the bay. He lands at Scaramanga's island where they do battle across the beach and in a hall of mirrors. The island's Thai name is Koh Pingkan but the Thais are not ones to miss a marketing opportunity, so it is generally known as James Bond Island. The distinctive rock, that in the movie houses a laser gun, is Koh Tapoo, generally known as James Bond Rock.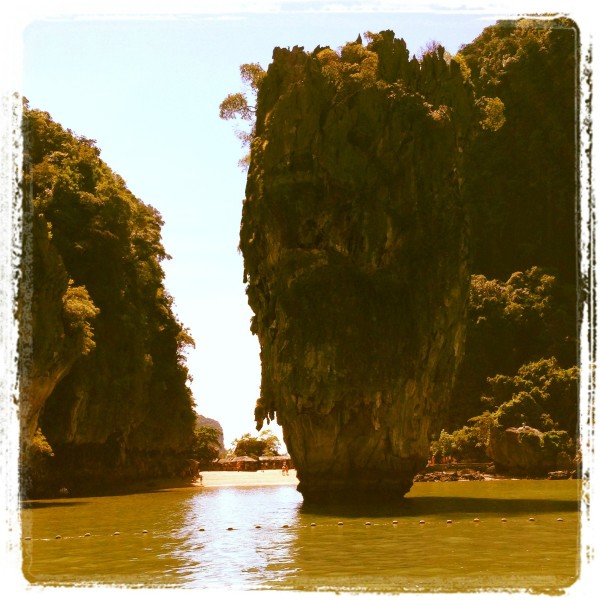 Since the island is part of PhangNga Bay national park you have to pay entrance fee to get on the island. That and the crowds convinced us only to stop for picture moments from our boat. The further north we went the more and more day tripping tourist from Phuket we encountered. Once again we got conformation that we chose our paradise island wisely.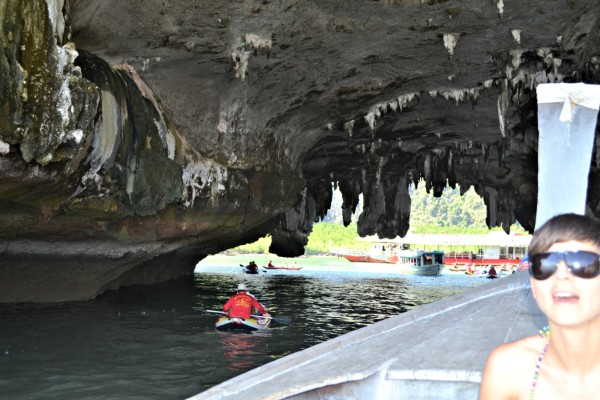 KOH PANYI (PANYEE)
This Muslim Sea Gypsy village, with strict rules to comply with, was our last stop before heading back. By this time both our kids were getting a bit restless on a boat since the sun and heat reached its peak. So we had to pros suede them with ever kids dream – ice cream. Thankfully we made this stop because the images really stayed in our mind. This 200-year old community was amongst the first to settle in the bay. They built their village on stilts above the water. During the day, the tour boats bring hordes of tourists to eat the fresh seafood and buy trinkets. Once all the tour boats leave, the villagers close the trinket shops and revert to sleepy fishing village life. There are a few bungalows available for rent in the village for those who prefer to stay over and see the authentic village life. (Remember it is a Muslim community so you should dress modestly and refrain from drinking alcohol.)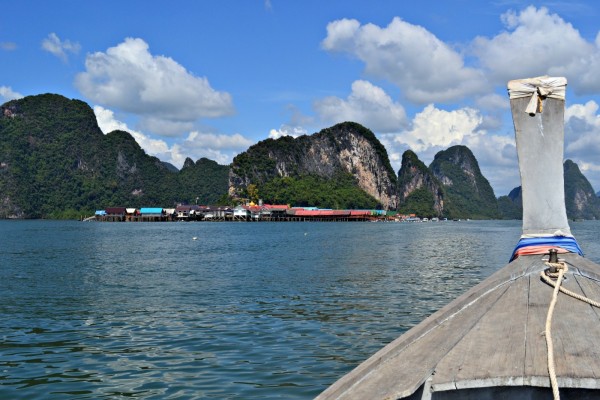 Since Tina is a teacher, our first stop was of course local school. The kids were simply amazing but I really don't have clue how they can cope with all the crowds invading their daily learning process.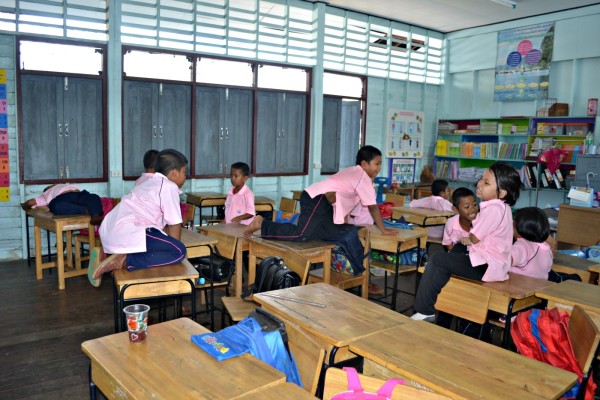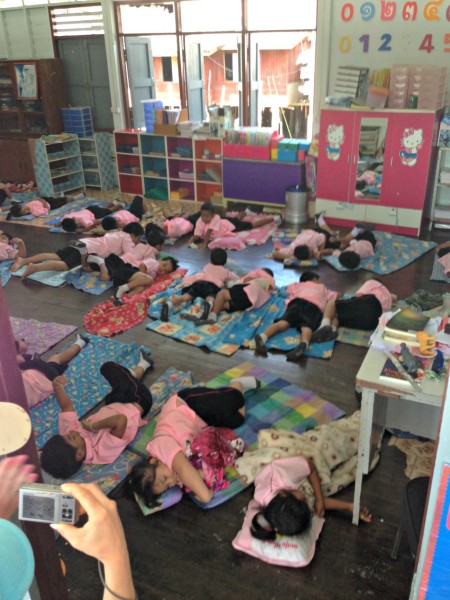 Since we are huge fans of reality show The Amazing Race ( http://www.cbs.com/shows/amazing_race/) we remembered that they had one of pits stops on the football field on this island. So Edita and Svit went to check it out.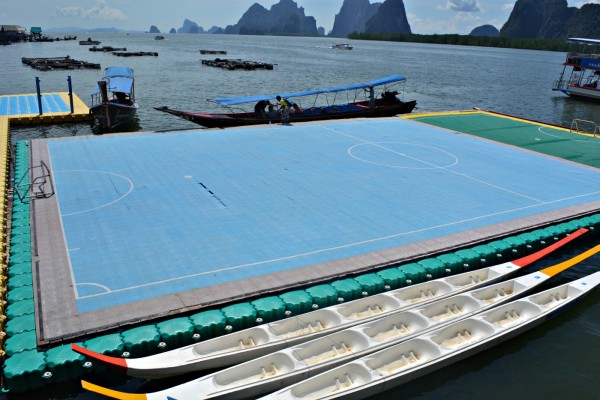 And finally before we went back on boat it was ice cream time. We've left this amazing trip with long lasting impressions.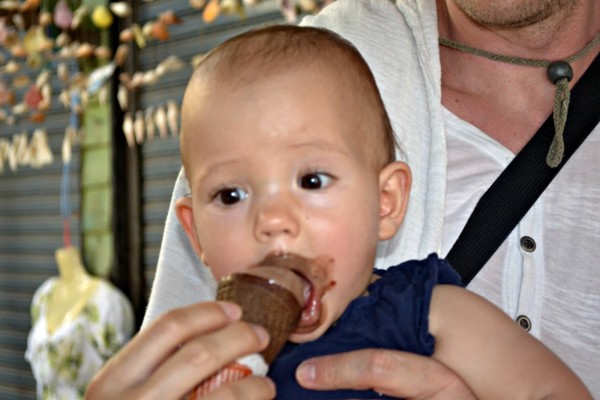 Koh Yao Noi shortly became one of our favorite places that we would really recommend to all our friend and travelers since is really picturesque, peaceful and extremely safe. We were kind of sad when it disappeared on horizon as we were heading back to mainland where our ride to another pier from where we would head out to our next adventure, was waiting for us.