With over 13,000 islands, Indonesia has something unique to offer for all sorts of visitors.  From the cool white sands and raucous volcanoes of Bali, to the vibrant capital city of Jakarta, to the untouched lands of Sumatra, you can always find something different here.  Indonesia is home to a vast array of indigenous animals too (including the Komodo dragon). With extremely inexpensive local food and reasonably-priced accommodation, it's no wonder Indonesia is a popular turist destination. If only it was easier to fly to!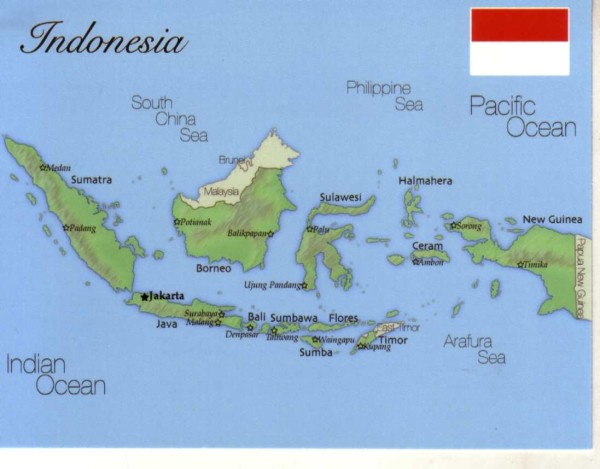 So… We are going back to Indonesia after 8 years. With two kids and a friend this time. The Emirates flight took us from Venice to Dubai and then to Singapore. There we only had 45 min to catch the KLM flight to Denpasar. Thankfully we checked our bags in Venice directly to Bali so we were escorted directly to the gate without emigration clearance; otherwise we would never catch the flight. At 8 pm, 24 hours after we left our home in Slovenia we've finally landed in Denpasar, Bali. Was it exhostfull? Yes and again yes, but we had a good night sleep before heading back to the airport for another short flight to our first destination on Lombok.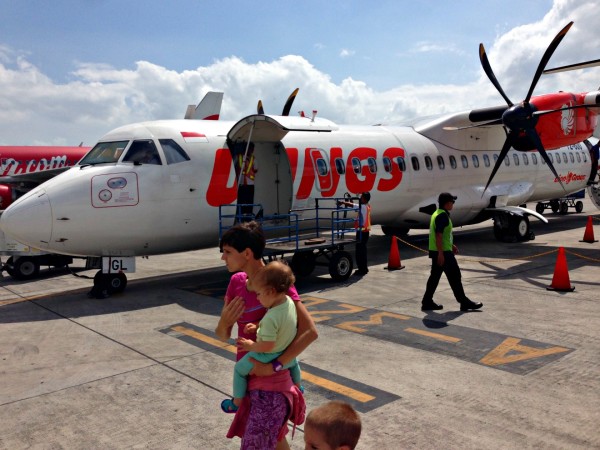 Due to some bad reviews about boat transfers from Bali to Lombok we decided to take a good 20 min flight with Wings Air instead. The flight was short and sweet with Mt Agung on horizon almost entire way. The driver who picked us up at Lombok Int Airport fist took us to Praya, small town where we took care of our Bintang stock. Lombok is a Muslim populated island so beer during Ramadan is not that easy to find. We chose our destination at Salong Belanak beach. It's about 40 min form Kuta and a good hour from the airport.
And as we soon discovered we chose wisely… the view was to die for.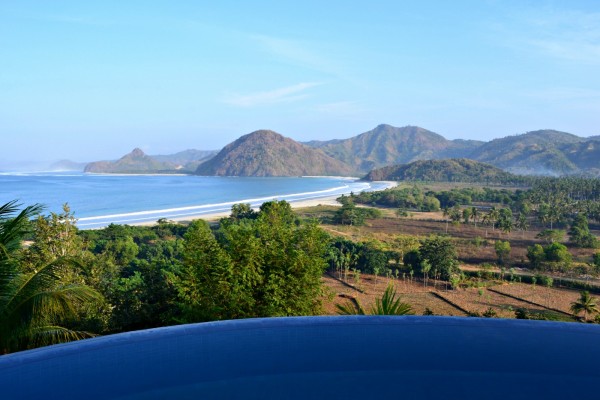 So for next 6 days we spoiled ourselves with laying around the pool in the mornings while the afternoons were spend on the beautiful white sandy beach that was just perfect for the kids.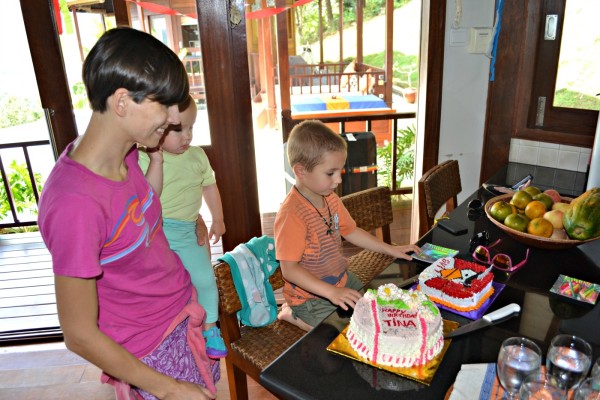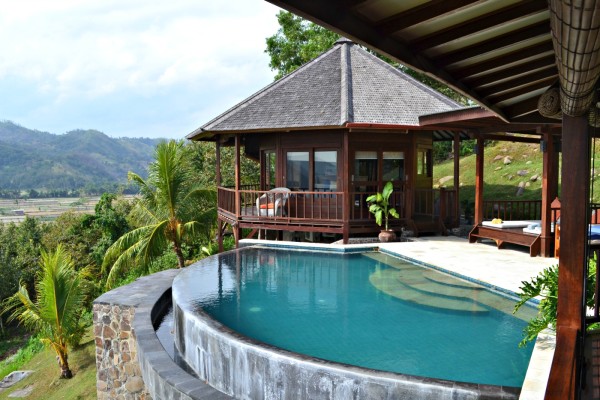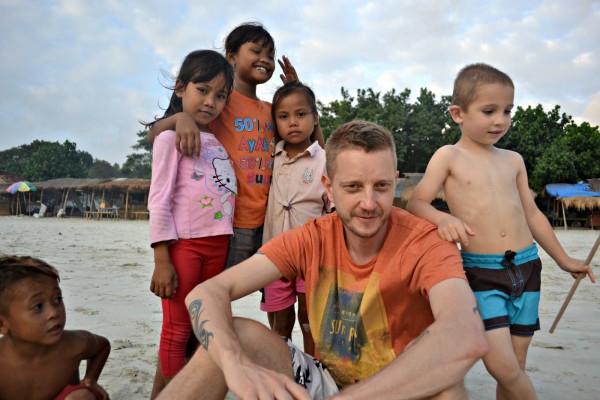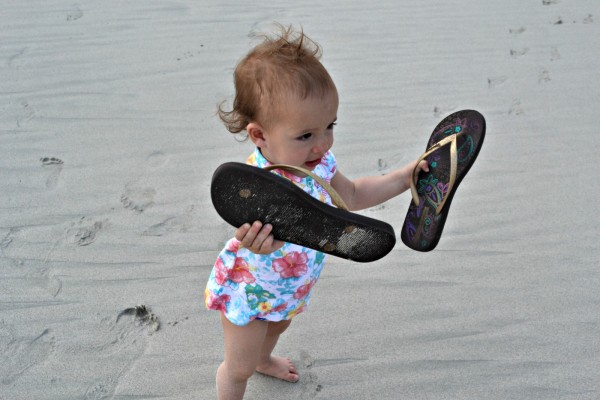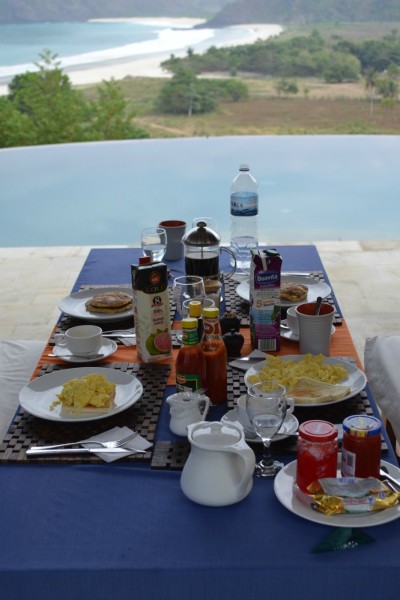 Going to Rome and not see the Pope? Of course we had to try to surf, it is Indonesia after all. At the end…it's not as easy as it looks on TV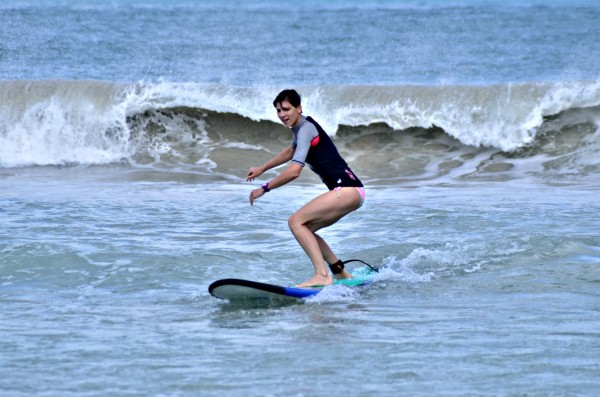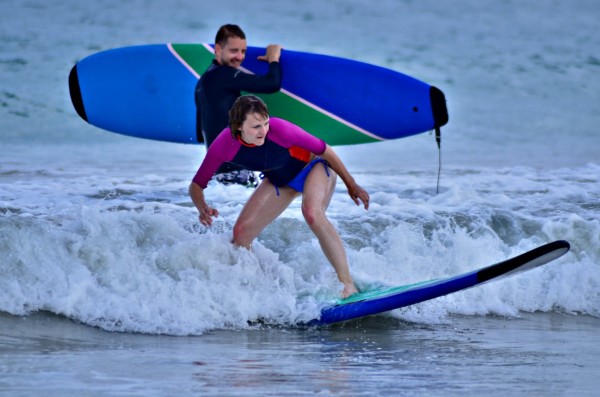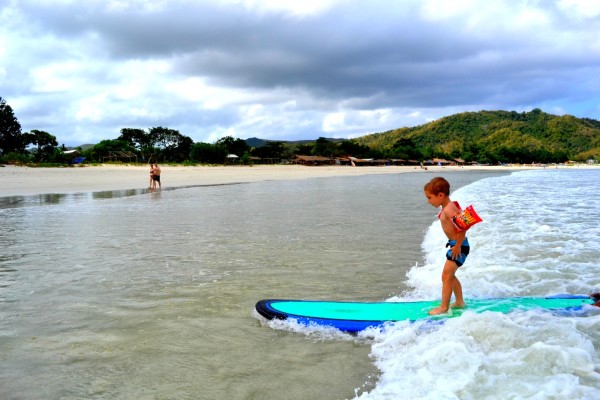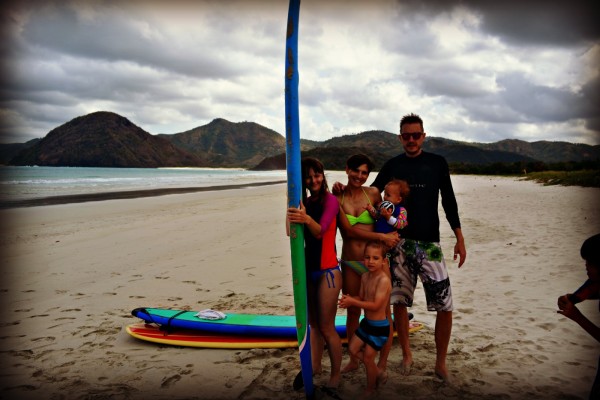 Let's not forget about our regular daily visitors…a bunch of monkeys who stole Svit's inflatables and his beach ball. They were cute anyway.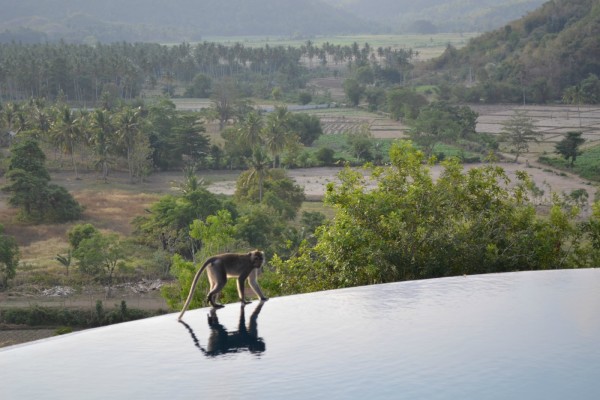 Six days went by so quickly and before we knew it was time to pack our bags and leave to Gilis.
Check  HOTELS IN LOMBOK HERE!
FACTS ABOUT LOMBOK
Lombok is an island in West Nusa Tenggara (Nusa Tenggara Barat or NTB) province, Indonesia. It forms part of the chain of the Lesser Sunda Islands.
The provincial capital and largest city on the island is Mataram. It's surrounded by a number of smaller islands locally called Gili.
Lombok is one of the 17.504 islands of the Indonesian archipelago and is part of the province Nusa Tenggara Barat. Located in the east of it's popular neighbour Bali, Lombok is a currently largely unknown paradise which offers a lot of different sights for tourists. With a size of 4,725 km2 (approximately 80km from North to South and the same from East to West) and about 3.16 mio. inhabitants it is much less crowded than its neighbour Bali. This makes it a perfect place for everyone who is searching for a quiet holiday destination with untouched nature. But that's just one of Lomboks numerous sides. 
Lombok is also an attractive place for everyone who is looking for adventure. With Indonesia's second highest volcano "Gungung Rinjani" Lombok offers a perfect setting for trekking tours or a walk to magnificent waterfalls. The breathtaking white beaches in the south of Lombok are not only a great place to chill out, there are also several spots for those who are looking for the perfect wave. Moreover, there are a lot of beautiful things to see under the water. Especially the small islands off the coast, known as the "Gili Islands" offer spectacular diving and snorkelling spots. The three most popular Gili Islands (Gili Trawangan, Gili Meno and Gili Air) are located in the northwest of Lombok. These magical islands are not only worth a visit by day. During the nighttime, a variety of restaurants and beach bars come alive and serve great food and amazing parties. But also those who don't want to leave the main island to go out for dinner or a party, will find great locations in Senggigi as well.