The island shocked us initially with its messy, tout-ridden port and extensively developed Sairee beach – think 2 km of bars and eateries, loud music, occasional drunken silliness from the wrong sort of traveler, and monthly boatloads of wasted-looking ravers who come after the famous full moon parties on Koh Phangan, the fluorescent paint still peeling off their pale bodies. At Sairee, the water off the beach is so shallow behind the much degraded reef that you can't swim except for around high tide – or you can pick your way through the coral and swim on the far side, taking your chances with the taxi boats in the deeper water.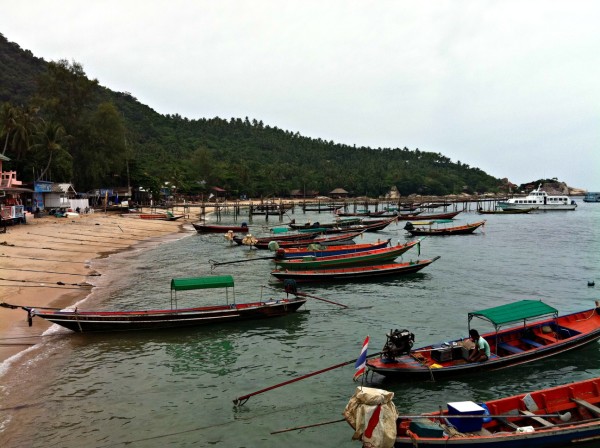 It's not that nice here anymore. There are less fish, but what we notice the most are that the hard corals are mostly dead and broken … and the soft corals almost gone. I'm sure a lot of it is due to pollution or the warming ocean water, but a bit later we see what the biggest factor is likely. Around lunch time a flotilla of almost a dozen converted fishing boats arrive with day trippers. They tie up close to the best snorkeling spots and then proceed to spew out wave after wave of snorkelers. As we watch this, we realize that (amazingly) quite a lot of them don't know how to swim … they are strapped into life vests, lowered overboard and then proceed to destroy corals that took decades to grow. Either by breaking them with their fins or by simply standing on top of them or smiling for the camera. The tiny island of Koh Tao ("Turtle Island"), 45 km north of Koh Phangan, is one of the top scuba diving destinations in Thailand, if not the world. In fact, only Cairns, Australia issues more PADI certifications than Koh Tao. So you can only imagine the amount of divers on this tiny island.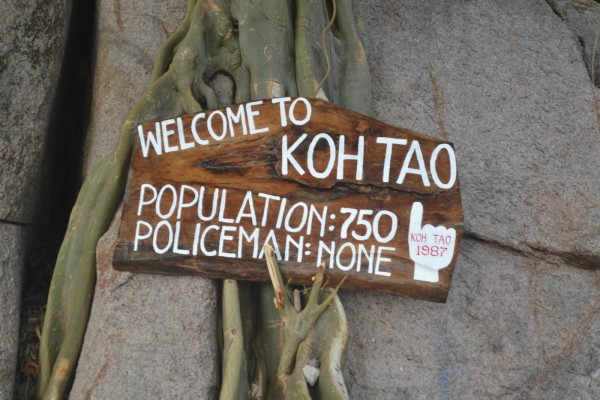 Because of the crowded Sairee are we have decided to stay at the Chalok Baan Kao Bay. It 's less crowded but it still provides lots of options with 7/11,  few pharmacies and lots of restaurants to choose from We've decided to stay at Paradise Zone resort (review) which was and was not a great choice for us. It is located on the top of the hill overlooking the Chalok Baan Kao Bay. The views are just stunning.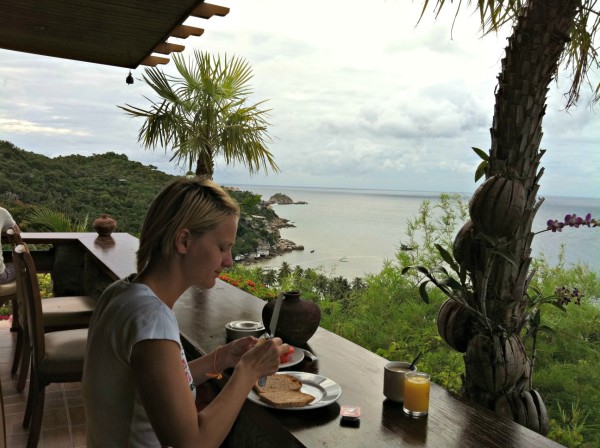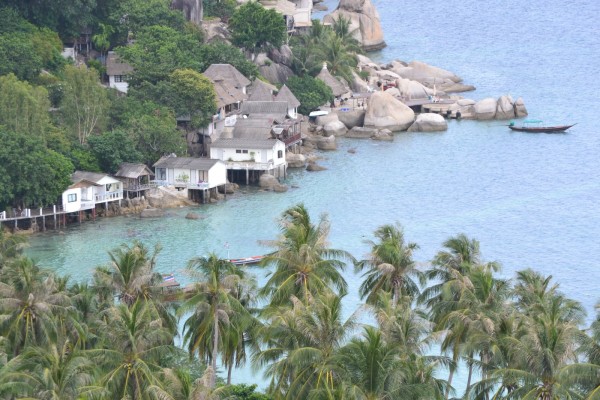 The downside was the climb to the resort from the beach. Thankfully they have free shuttle that takes you up and down and also for a small fee to the main town and Sairee Beach.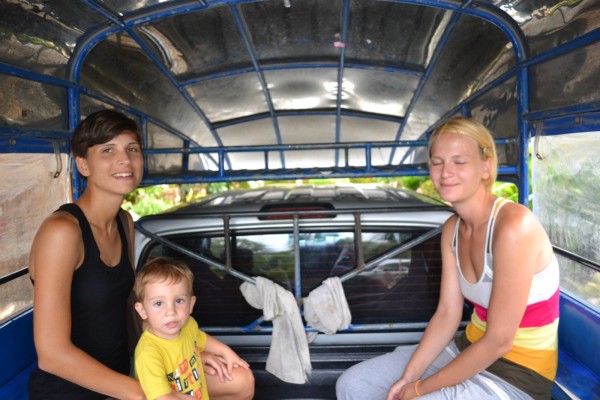 But you are still missing on the bungalow-on-the-beach-holiday-experience.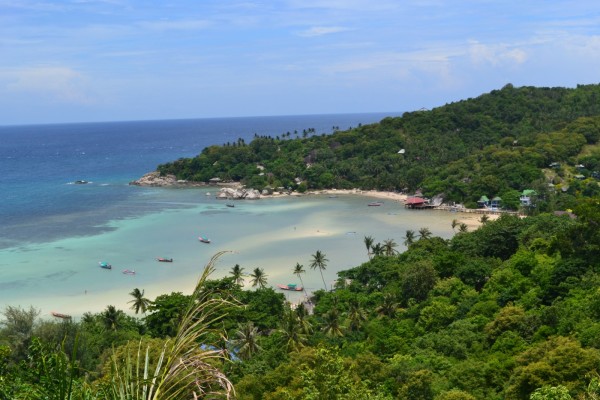 The Chalok Baan Kao Bay isn't your ideal Thai beach experience as we soon found out. The water is murky and filled with oil stains from long tail boats. But as usual there is hope for the explorers:) One day we made few extra steps around the corner of the bay and we found Tah Toh Ya Beach.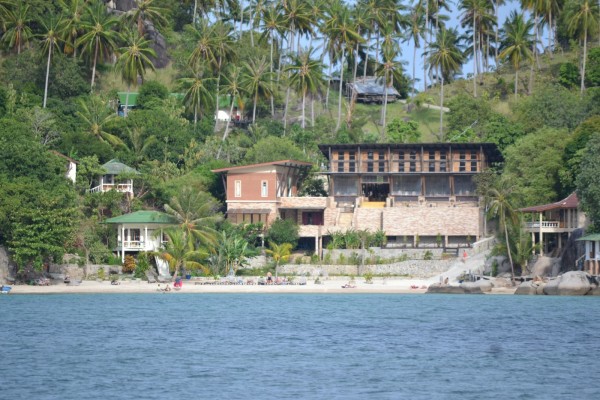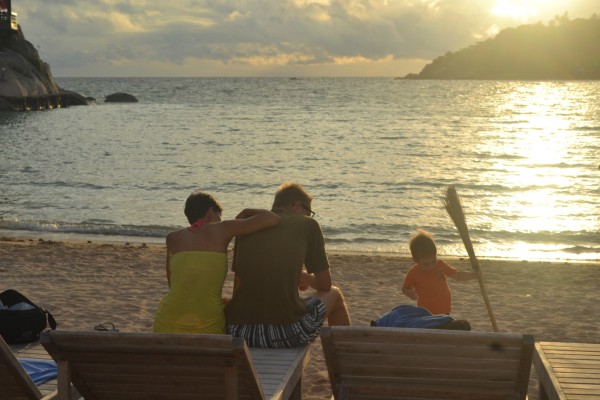 At lower tide levels it is an easy walk with minimal and shallow wading from Chalok.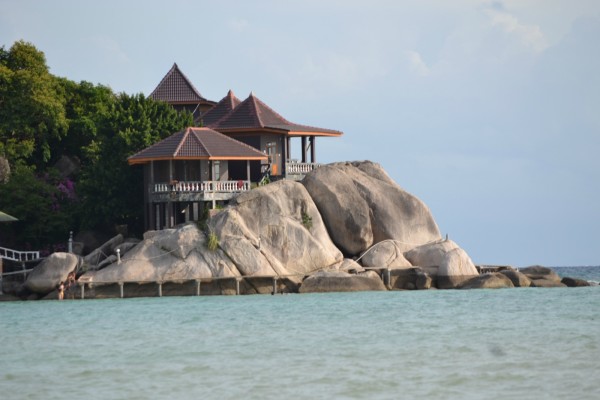 At background right a walkway goes around the rocks to…..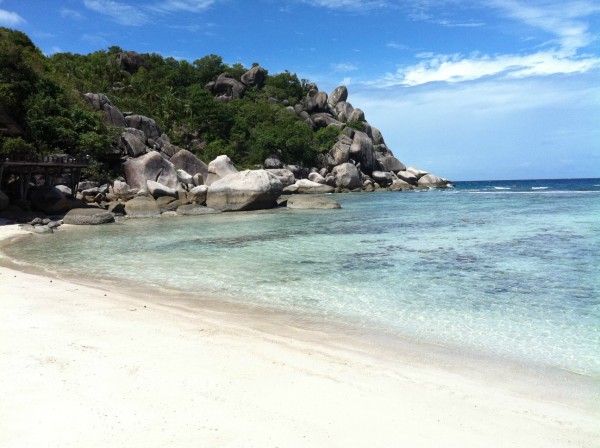 Freedom Beach. This small stretch of sand is pretty nice with some good shade under trees in back. We were here the entire day, Svit could easy rest in the shade of the trees, and there were virtually nobody around. The far restaurant/bar was a nice place to spend time and seemed to be the hang of quite a few long-term travelers. Basically this is how we imagined Koh Tao should be.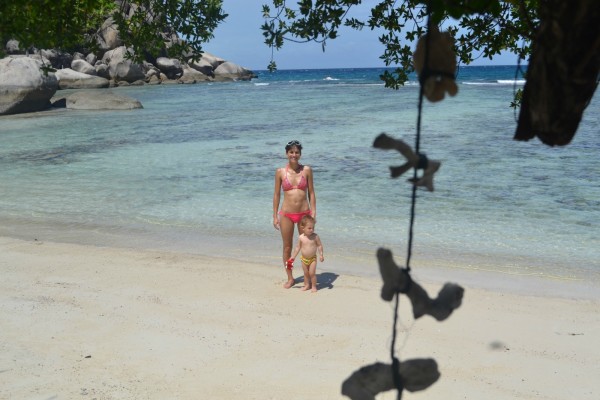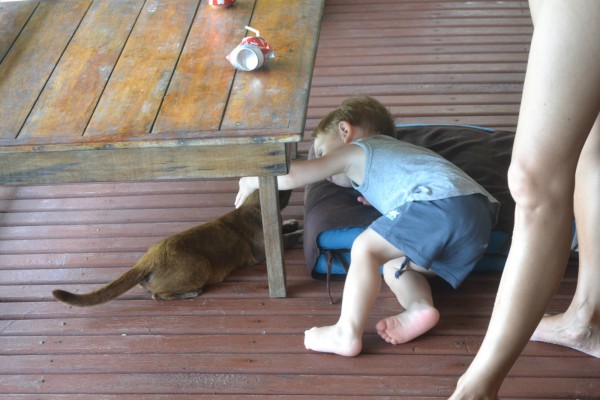 Another great but small beach is Jamson Bay where Charm Churee Village is located. So if you are not staying here there is a small fee to be paid (100BHT) for which you get your wooden chair. But for as long as we were there nobody checked if people were paying that. There is abundance of fish in this small bay so Svit really had a blast. And so did we with our cold Chang in the hand.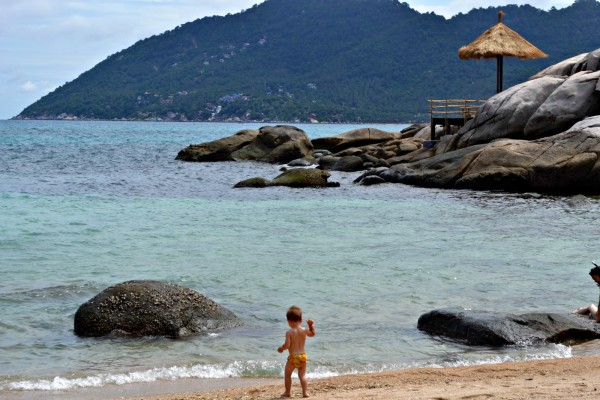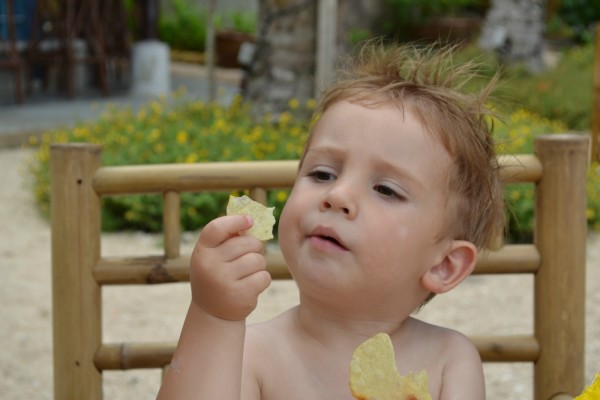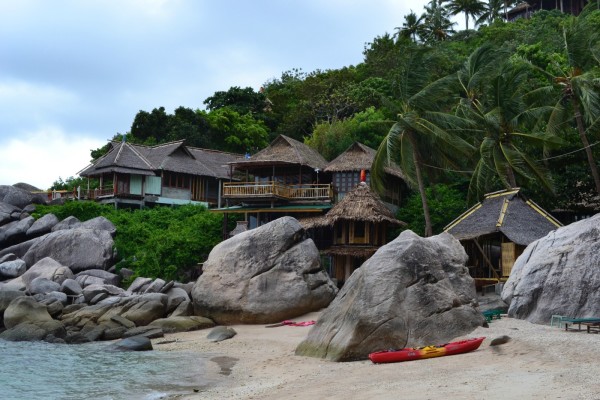 We also had to go to Haad town for at least a dinner and a stroll along Sairee beach.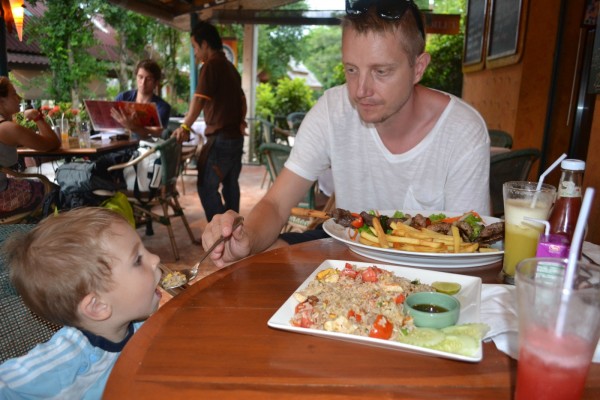 As mentioned before it was really too crowded and noisy for traveling with a kid, so our choice of resort was wise.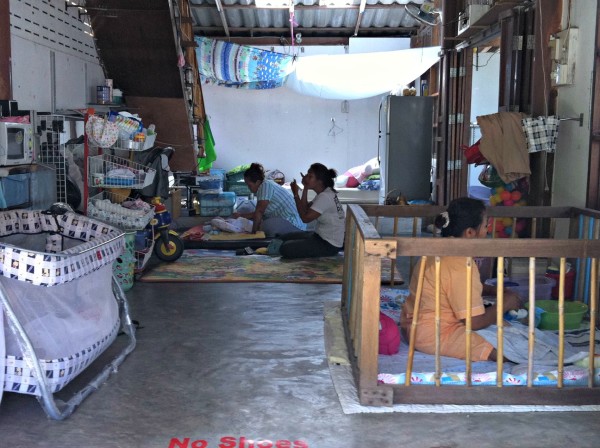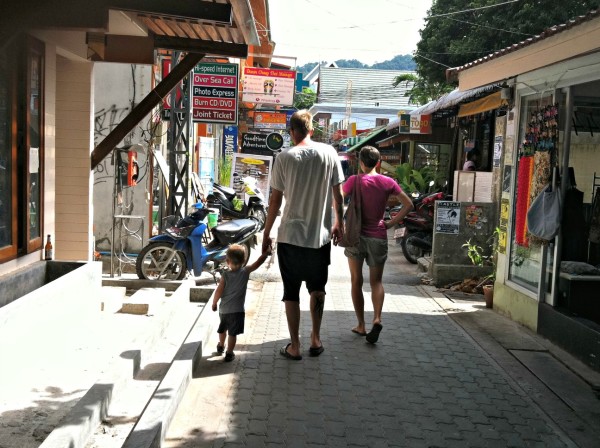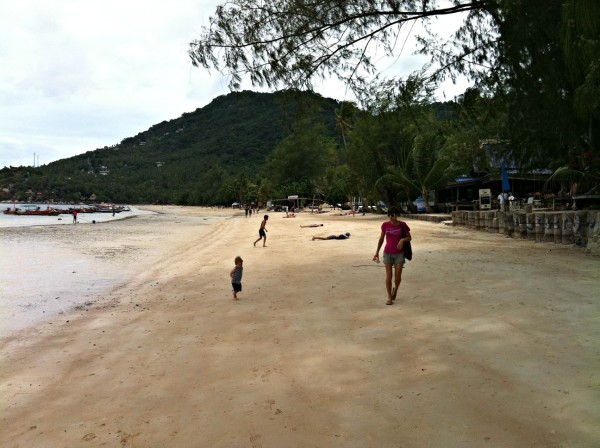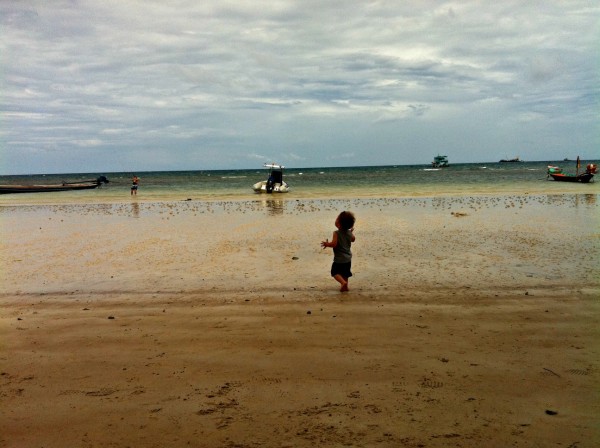 After few days it was time to go back in line for the boat that would take us back to Samui.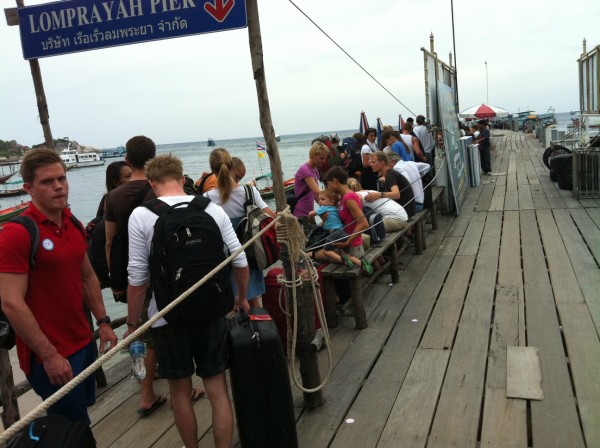 The ride back wasn't pleasant at all, because soon after we've left Koh Tao the waves has started hitting us hard and there were lots of people throwing up the entire way. Sadly Svit and Edita were one of them.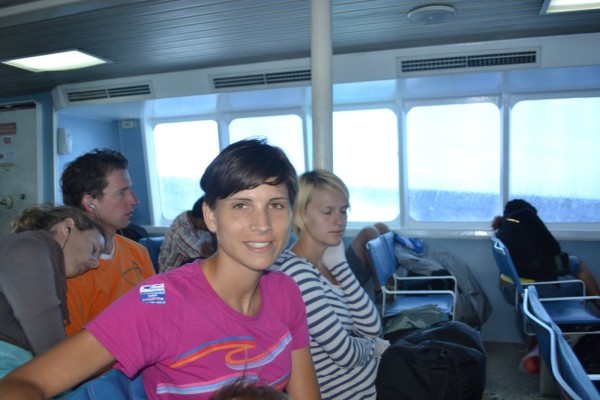 There was only the flight back to Bangkok left and our island vacation was over.