We stayed at Gili Air bungalows ( http://www.giliairbungalows.com/). At first we were a bit worried because the rooms were next to each other and if Nia would decide to get vocal this place would get pretty lively. As usual she was a good girl so our worries were unnecessary.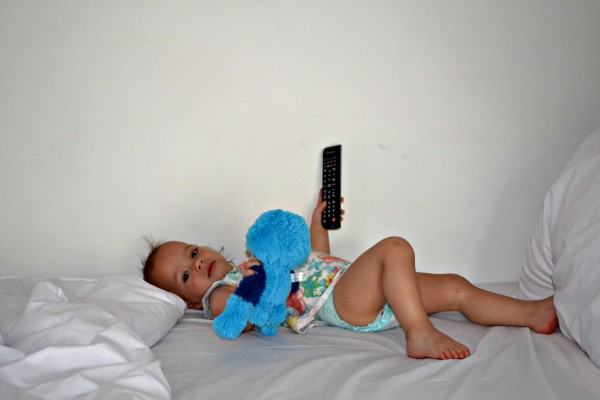 Most of the day we just laid around on the beach, we had our daily dosage of Lombok coffee and beer.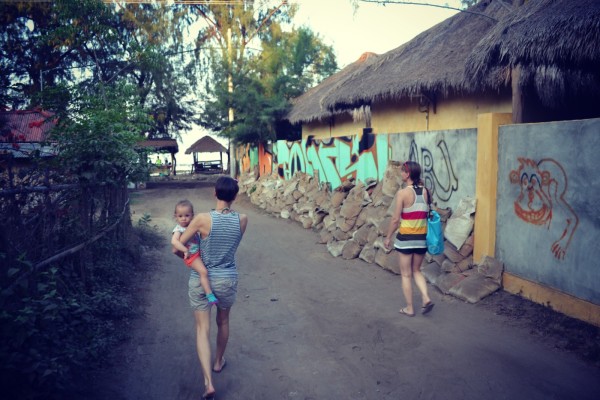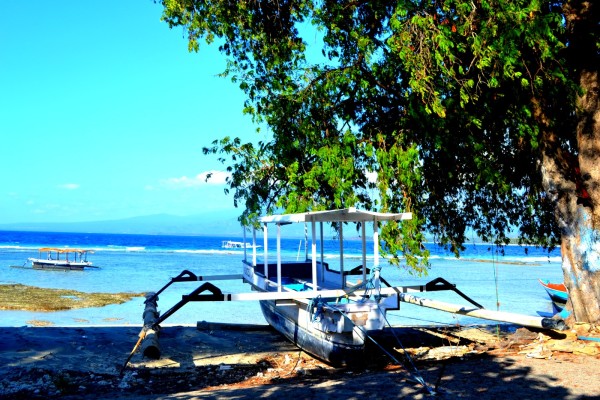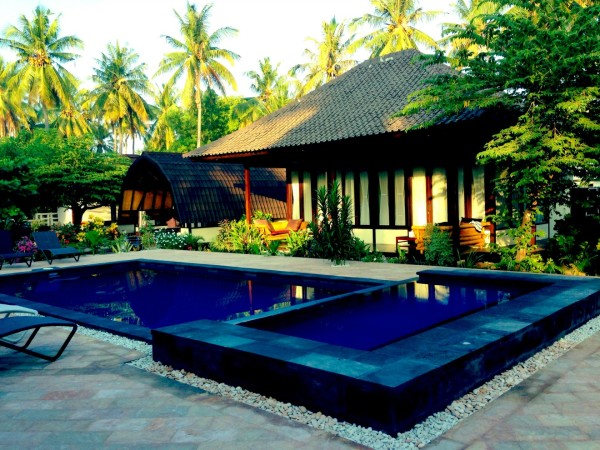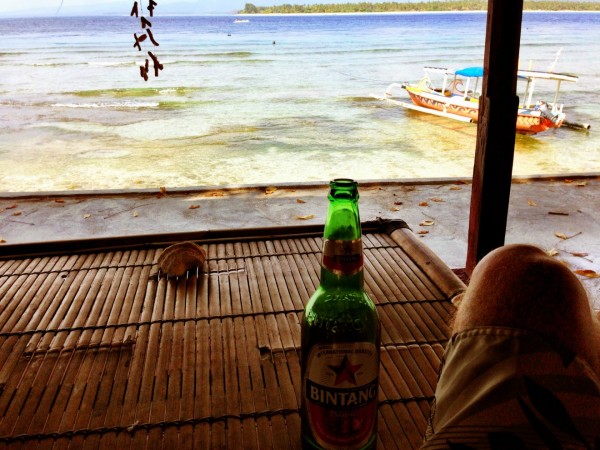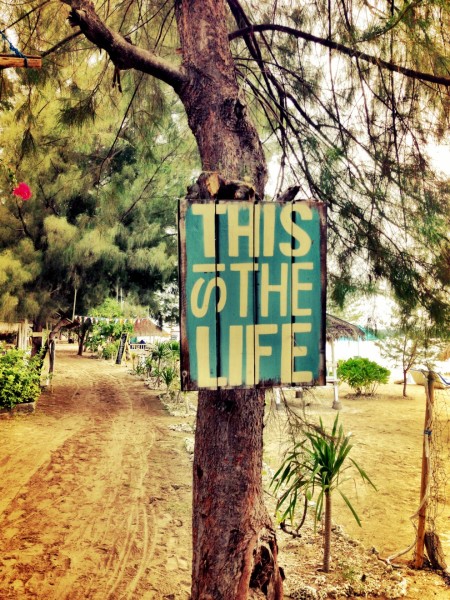 We also discovered that those cakes from La Cirque pastry shop were just delicious.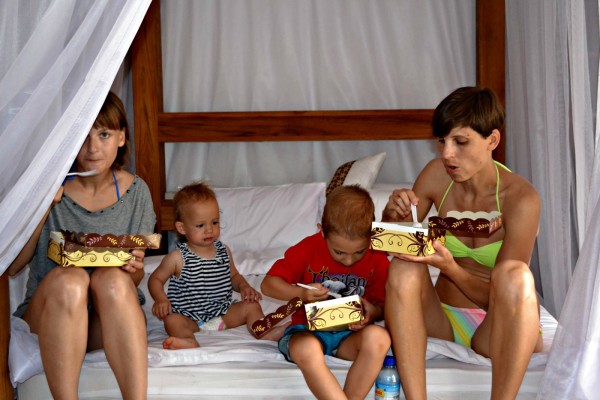 If you have the time take the bike around the island. It will take you a good hour to go around it, including almost 1/3 of the way that you have to push the bike since the sand is too deep to ride the bike.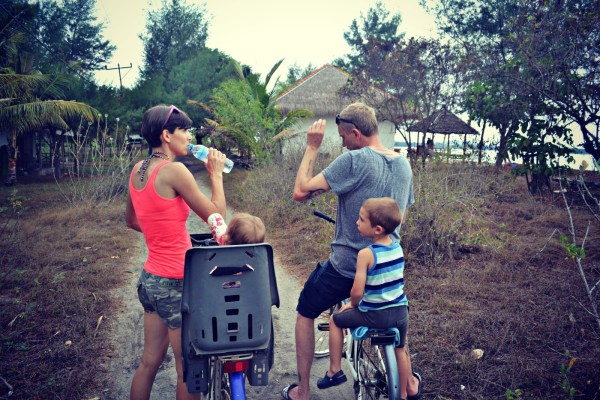 We also took a day trip to Gili Meno – no turtles btw, which kind of saddened us since we agreed that it was much prettier than Air and that maybe we should have stayed here.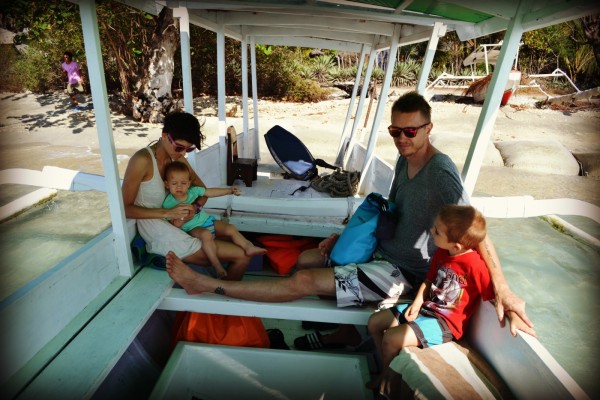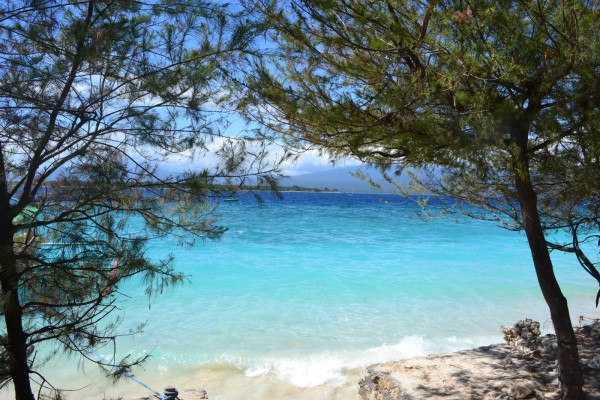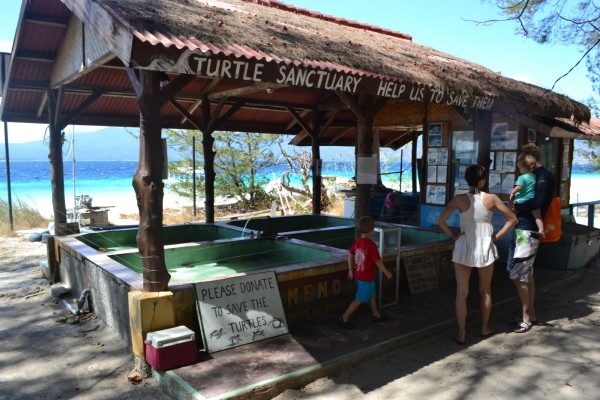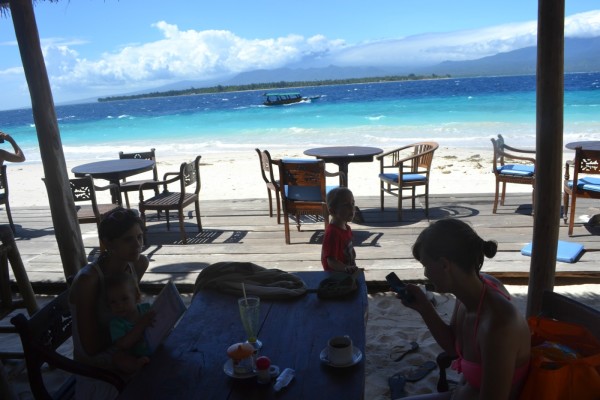 But… regarding Trawangan we didn't wasted time to go there since we were there before and it's a bit too lively for the kinds. Or us for that matter.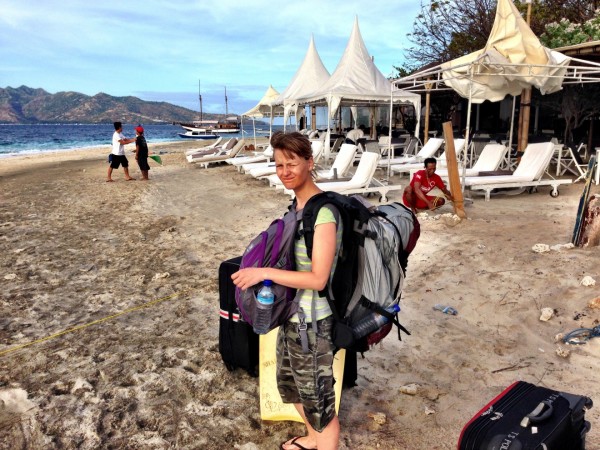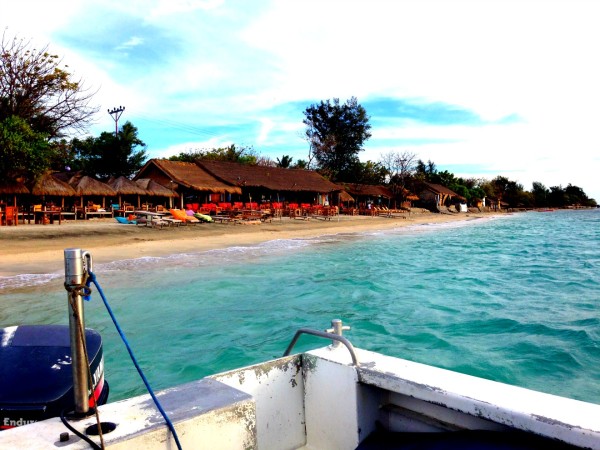 ABOUT GILI ISLANDS How to get on the three Gilis? Gili Trawangan, Gili Meno, and Gili Air are accessible only by boat from either Lombok or Bali. Gili Air is closest to Lombok.

Public boats run from the harbour in Bangsal, Lombok to Gili Air and take 20-30 minutes depending on the weather. If the sea is too rough boats may not operate at all. You'll need to take a shuttle or taxi to Bangsal, which is about an hour from the capitol of Mataram. If you're coming from Senggigi you can arrange private boat transfer for about $15 through an agency in Senggigi. We arranged our private pick up with Dream divers from Teluk Kode and everything went smoothly.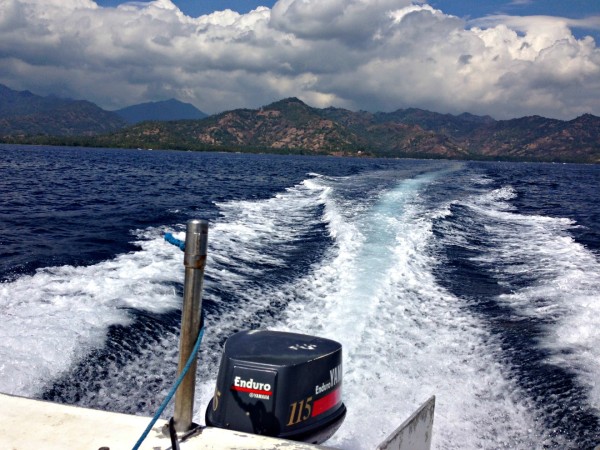 From Bali Travel agencies throughout Bali book fast boats that take about two hours from Padang Bai in Bali to each of the Gili Islands. They may quote exorbitant rates, but negotiate to pay between 200,000-300,000 rupiah each way which is about $15-25 and include transfer from many places in Bali to the harbour in Padang Bai. The trip can be rough and sickening if the weather is bad. Ticketing agents may sway you to book round trip saying that booking is more expensive in the Gillis. That is not true and sometimes the fast boats stop operating altogether due to weather. Getting around: Walking You can walk the perimeter of the entire island in about an hour and a half. I recommend doing this at least once to find your favourite beach. Walking is pleasurable, but  with two small kids we didn't do it this way, we did it with… Bicycle You can find bicycle rentals throughout the island for around 30,000 rupiah ($2.50). Bear in mind that some roads are very sandy and difficult to peddle down, but inside the village there are paved roads to cut across. Knowing that we were prepared to push our bikes for almost 1/3 of the way.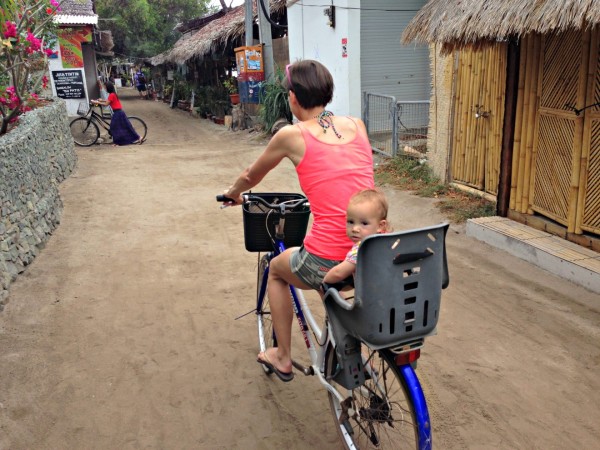 Driving around with a horse carriage The only other form of transportation on the island is by horse. When you come off the harbour with a lot of luggage it might seem like a godsend. The price is 100,000 rupiah flat rate ride but really, unless you absolutely feel you must use it, as we had, because of the two kids, lots of luggage and quite far bungalows the equation wasn't working for us, get some exercise and rather walk which will save you money.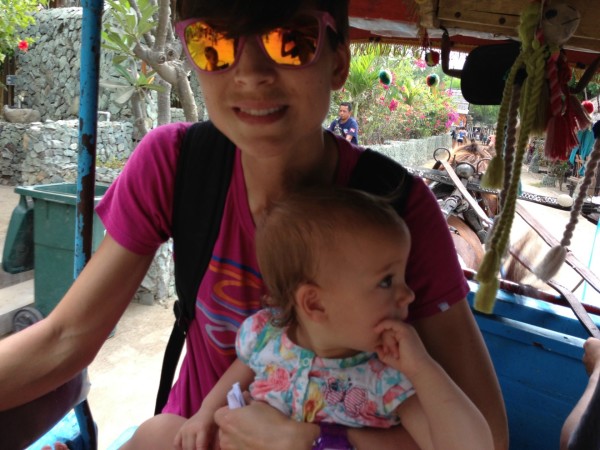 Where to Eat on Gili Air Le Cirque $3-10 for lunch and dinner We discovered great pastry shop here and for two day in a row we were feasting on their cakes. Next day tour bellies gave up on sugar overdose. Le Cirque may have the best Western food on the island. Homemade bread, elegant pastries, and a European fusion menu is a nice break from traditional Indonesian fare. The beachfront location is likewise wonderful.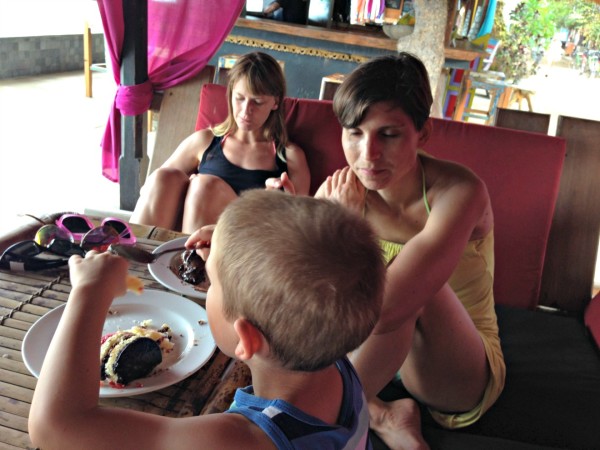 Chill Out Bar $3-5 for lunch and dinner This is the place we had most of our dinners while on Air. In the busiest part of the beach many restaurants serve up BBQ and kebabs at lunch and dinner with offers of extended menu featuring classic Indonesian cuisine like nasi goreng . For the price, the setting and the food, Chill Out Bar was our favourite.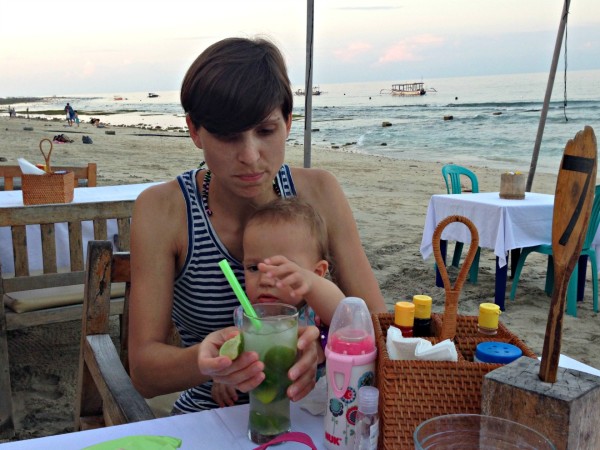 There are two ATMs on the island which sometimes run out of money or stop working. Some of the higher end establishments accept cards but for the most part places are cash only. You can always go over to Gili Trawangan and use the ATM there if you have problems. When you first come off the harbor people will try to take you to stay somewhere. This can be tiring and inefficient. It's better to just explore on your own, north or south, and negotiate a price. Many people living on the island, especially in the village, are conservative Muslims so try to cover up when you're off the beach.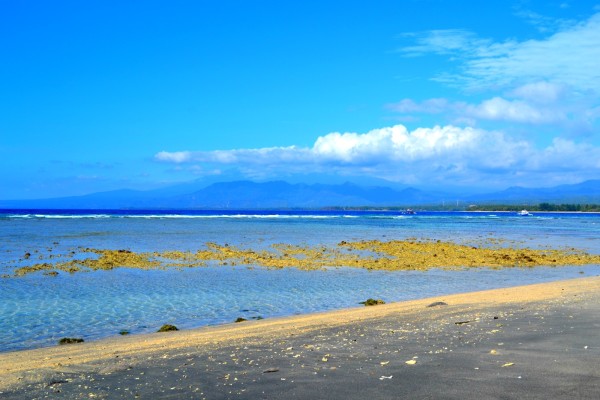 The ocean can be full of sea urchins and rocks. The best part of the beach is in front of Chill Out. You can also snorkel right off the beach but you have to be carefull with your kids because the currents can get pretty strong and they basically take you right down the beach in front of Chill out Bar. In general the sea around the island isn't always calm so you can never be too carefull.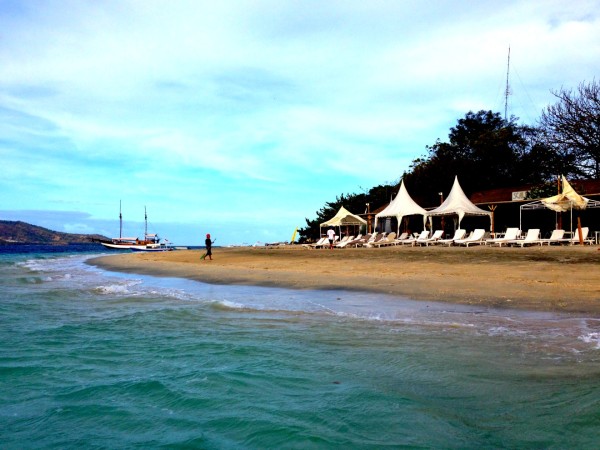 Most hotels have cold/hot water showers consisting of saltwater mixed with freshwater. If this is a problem for you, make sure to ask the hotel what kind of water they have before booking.