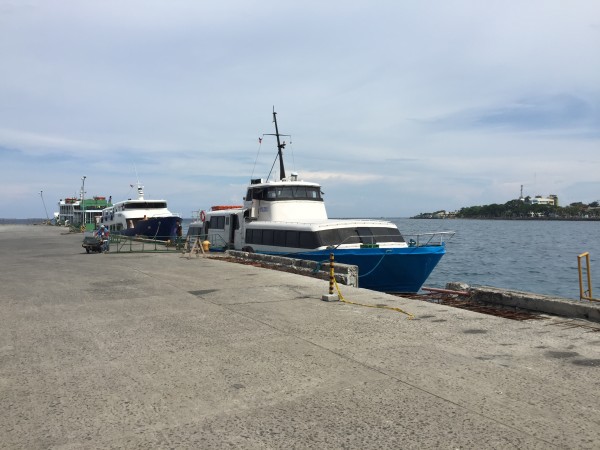 This was on our bucket list for long time so we were really excited about it. From Dumaguete town to Lilioan port we took tricycle ride which was fun for the kids and of course cheap for us.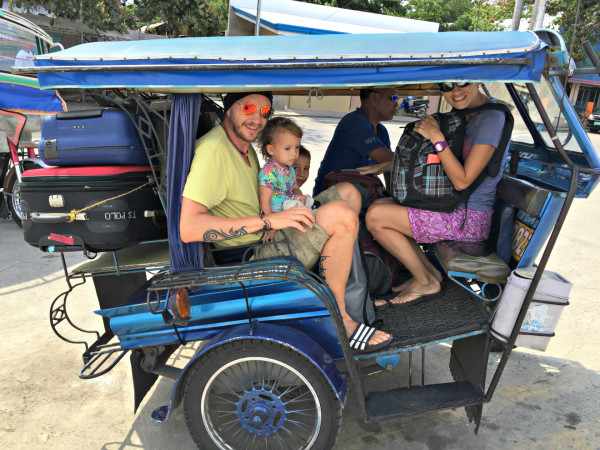 Another 20 min ferry ride and we were back to Cebu Island or better yet his southernmost point.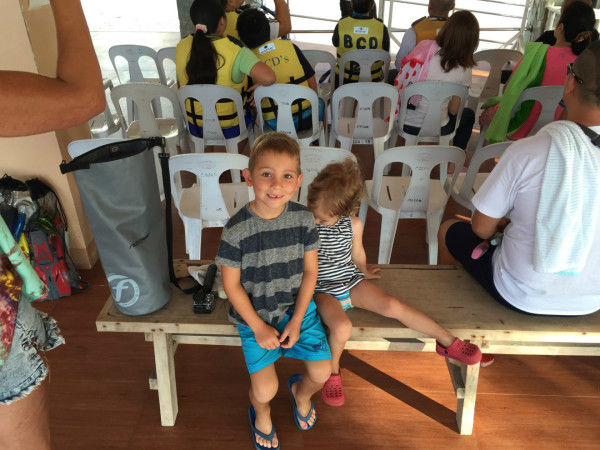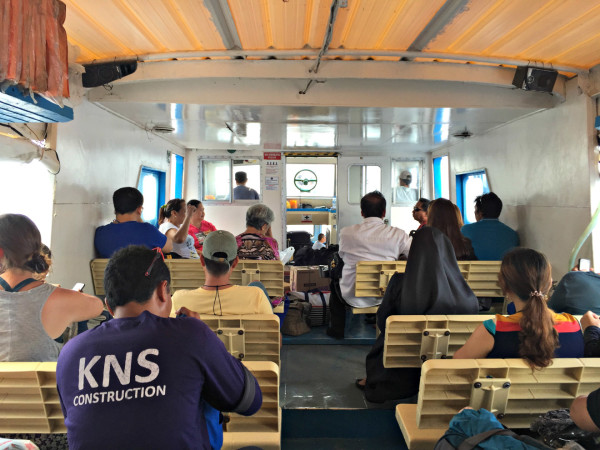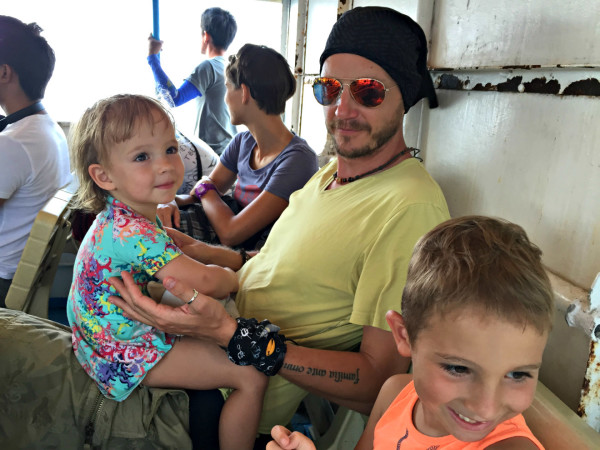 We have spent a night at Eden Resort at Santander (http://www.tripadvisor.com/ShowUserReviews-g3226128-d1568162-r296804926-Eden_Resort-Oslob_Cebu_Island_Visayas.html#CHECK_RATES_CONT) which had amazing views over the Negros Island.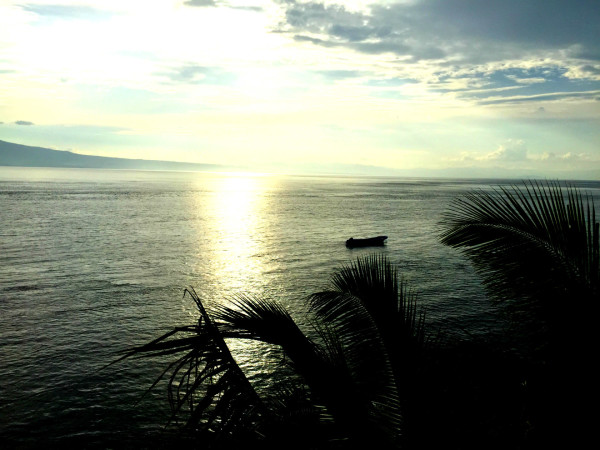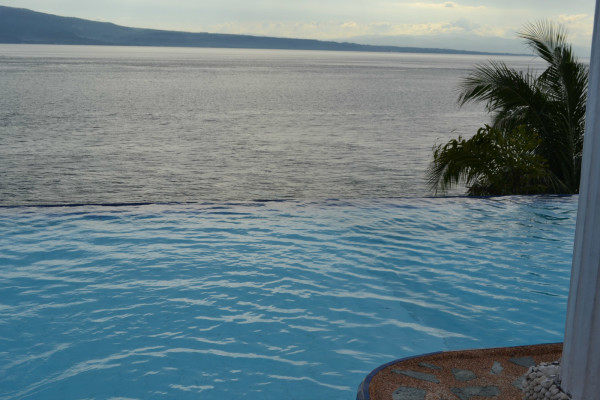 Next day we woke up at 6 am and since it was Edita's birthday of course we started it by singing her happy birthday. 10 min with a car and we were in Oslob. Little town famous for whale watching.
You can either choose to watch them from the boat or go into the water and swim with them (Php1000 for foreigner and for a Filipino its 500 Php). Take the latter, it is so much worth the money and it is so affordable for the experience of the lifetime.
The whale sharks' viewing is limited from 6am – 12 noon so do take note and arrive early if you are traveling onward to the Cebu City like us.
Safety briefing on swimming with whale sharks. You are NOT ALLOWED to touch them and safety distance is 4 m, but the distance is very hard to keep since the giants come very close and the feeling of being so close is really overwhelming.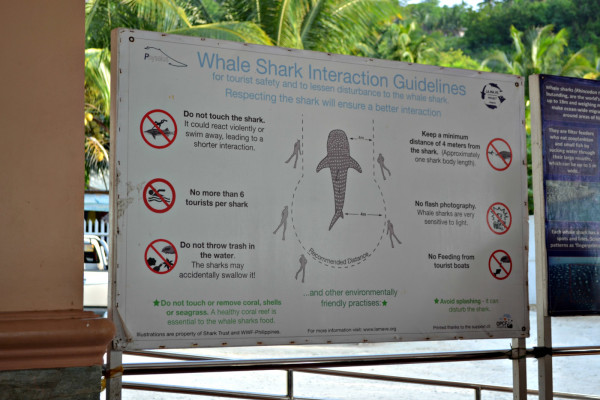 Here's how it looks like from the shore. Tiny little boats far out in the sea, clustering around the area where the whale sharks swim.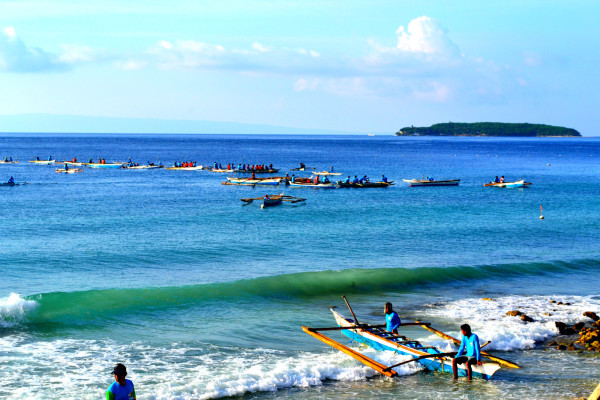 We had our own snorkeling gear, so after putting life wests on, we were set to go into the boat. . It's a tiny banka boat that looks somewhat like a canoe but it is surprisingly very sturdy and doesn't feels like it's going to capsize even when all 8 of us are holding to one side of the boat while in the water. Surprisingly Nia was very calm considering the west she was wearing and how fast we had to embark.
Our boatmen paddled hard and fast and within couple of minutes, we approached the magnificent creatures. As we inched closer, the gentle giant revealed itself – its mouth poking above the water surface, feeding on small shrimps like a vacuum, its tiny eyes curiously watching us as we stared in amazement.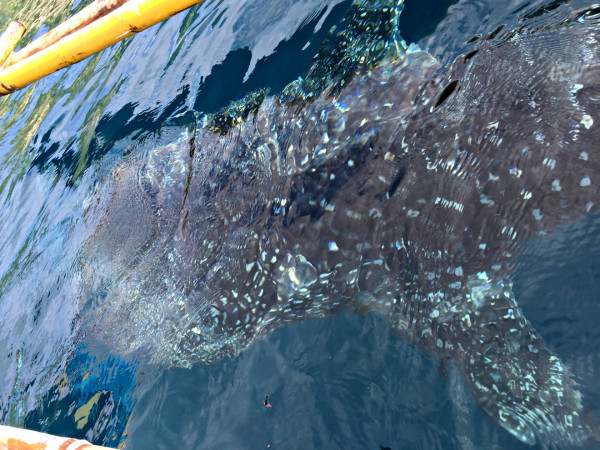 This was a whale shark, one of the biggest yet gentlest animals in the marine world. Bear in mind that whale sharks are the biggest fish in the world, with reports of some reaching over 14 meters long. Combine that with a weight of 30 metric tons and you've got a pretty big fish on your hands. Here they are averaging around 9.7m in length – but they still definitely fit the description of a gentle giant.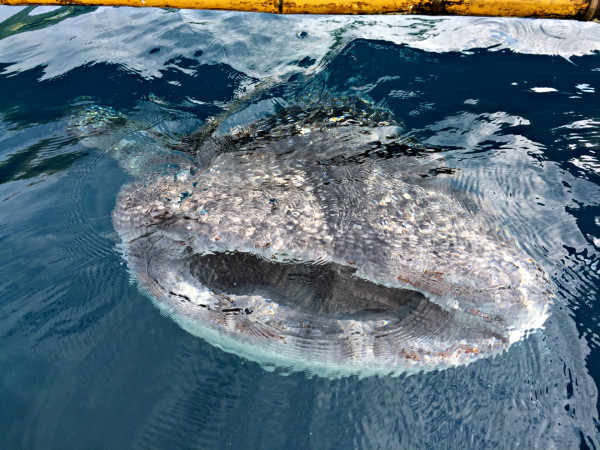 As filter feeders they feed primarily on plankton (microscopic plants and animal) and they do not attack humans or other marine animals unless provoked. They are scientifically classified as sharks, but they're far from most people's perception of a shark.
"Go in! What are you waiting? Go!" our boatman instructed. Svit and I were the first to go in while Edita and Tina stayed aboard with Nia. It's perfectly safe for the kids to if you are fallowing instructions given at the briefing. As soon as we entered the water, Svit pulled my hand at pointed out me one of the whale sharks. There it was. With its flat, wide head, massive grey and white dotted body, and shark-like fins. In the clear glassy water, I could see its red gills flapping, and its fin gliding through the water. While we were asked to stay at least 4-5m away from the animal, there was no control as to how close the whale shark could get to us. Gliding by us, the giant creature whipped its tail in a slow motion not caring for the boats or us at all.
Soon we went back on the boat and Nia was in my arms again while Tina and Edita went in.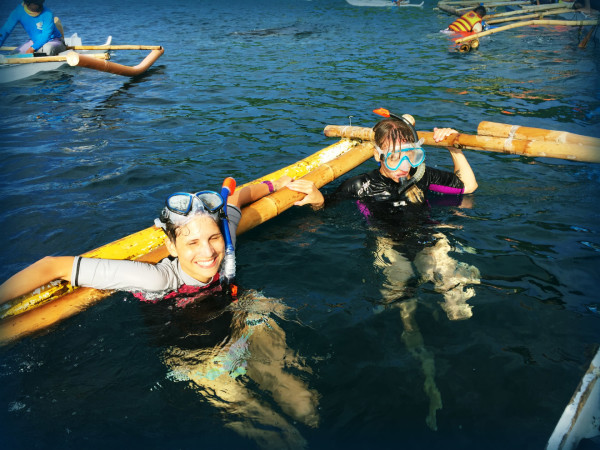 They both squealed and cheered like kids, exploding with excitement when these giants went around and under them. Guess the only non-enthusiastic person was Nia since she didn't ever care about them swimming near our boat. The whole experience was surreal, intimate and extremely moving.
Whale sharks can live up to 70 years, live in warm, tropical waters (like here in the Philippines for example. Here in Oslob, off the southern coast of Cebu, whale sharks are a common sight as they're regularly fed by local fishermen and even with some controversial surrounding it in past years, according to locals whale sharks here have been fed by local fishermen for decades.
Full of impressions of these gentle giants we returned to our resort for breakfast. At 11:00 am we were back to the pier from where also Ceres bus line starts its route to Cebu City.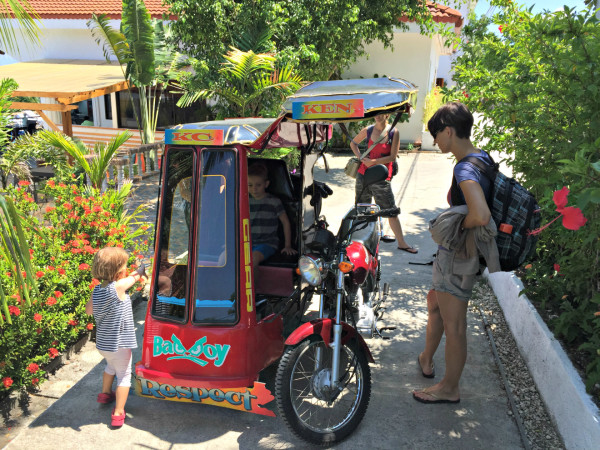 4 hours ride with AC and wifi on board only cost us 175 Php/person. Traveling around Philippines is really cheap and affordable to everyone.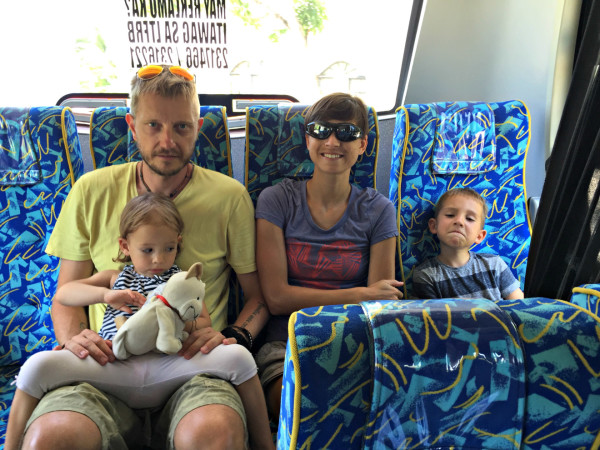 Last hour of our ride when we have reached greater Cebu town area got a bit of a drag since the traffic almost came to a stop.
Cebu town: we stayed ad Harold's hotel (http://www.tripadvisor.com/ShowUserReviews-g298460-d1931590-r296810846-Harolds_Hotel-Cebu_City_Cebu_Island_Visayas.html#CHECK_RATES_CONT ) and the place was immaculate. With an extra lounging room we had plenty of space for TV watching after kids went to bed.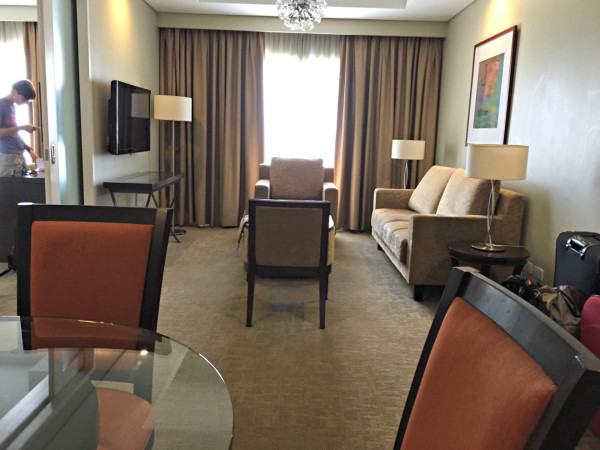 We only had half a day and a night to spend so we choose to see Santo Niño Church with Magellan's cross and Ayala Mall for dinner and some shopping. Just beside the shrine that houses the Magellan's cross is the Basilica Minore del Santo Niño or commonly known as the Santo Niño Church. It is the oldest Roman Catholic Church established in the country. It gets pretty crowded so watch for pickpocketing and have your kids within your sight since they can easily wander away.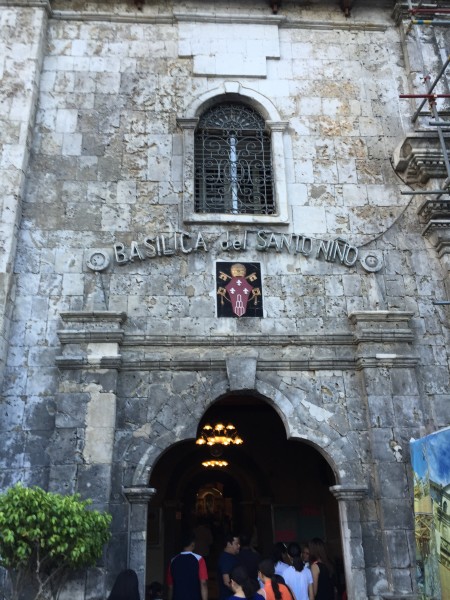 The church was partly destroyed when a 7.2-magnitude quake hit Bohol on October 15, 2013. The church is still undergoing restorations.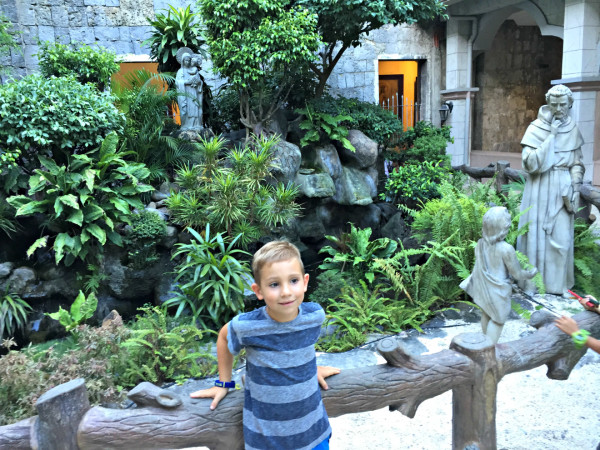 The Magellan's Cross was brought to the Philippines, Cebu specifically, by Portuguese explorer that was commissioned by Spaniards, Ferdinand Magellan on March 15, 1521. The Cross was seated on its current site by Magellan himself on April 21, 1521.
The original cross was replaced with the wooden one to protect it from those people who chipped away parts of the cross for souvenirs. There are rumors that the original cross had disappeared or stolen after Magellan's death and was replaced with a replica by the Spaniards on the start of their formal colonization of the country. Magellan's cross also marks the spot where the first Christian Filipinos were baptized.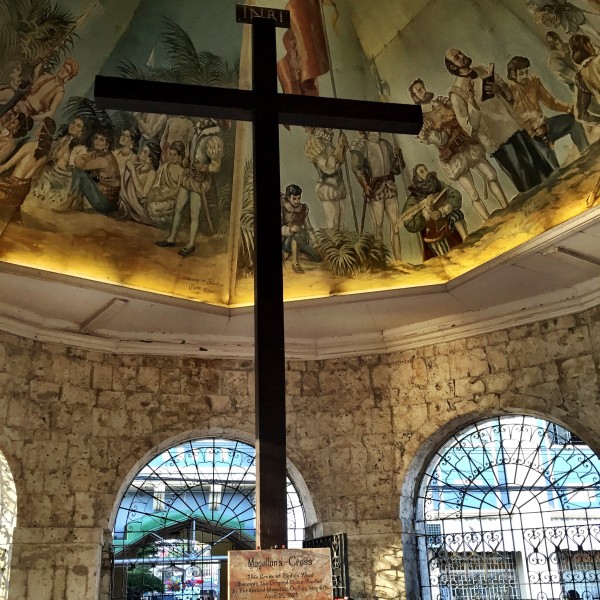 We had to say goodbye to Cebu Island because it was time to visit surfing capitol of the Philippines. Siargao Island