Koh Samui is a perfect vacation spot for exotic holiday with your little ones. Of course saying that doesn't mean that all travel lovers wouldn't love this island as well. The scenery is just beautiful and you can find a perfect sandy beach just for you. If you are party animal Samui has a very lively night life, lots of bars, clubs and restaurants. But if you prefer a more peaceful stay, you can easily find yourself a bungalow amidst palm trees right on the beach.
We took a flight with Bangkok Airways after Qatar adventure from Venice via Doha.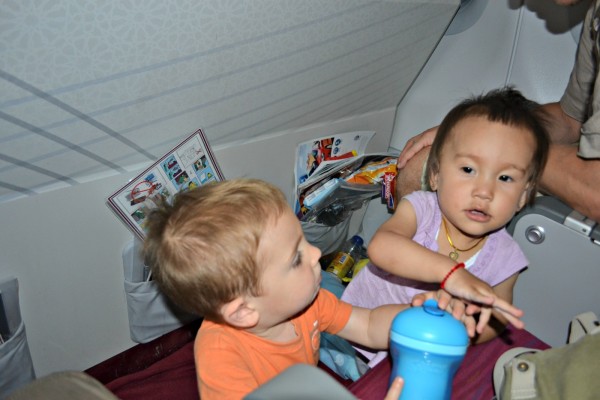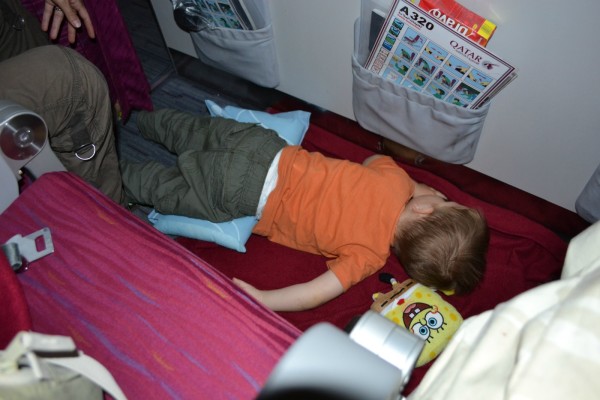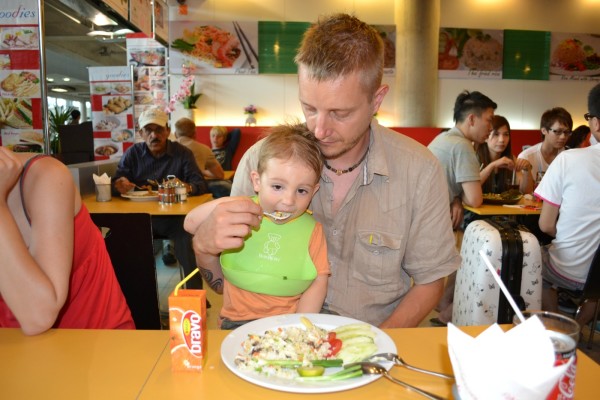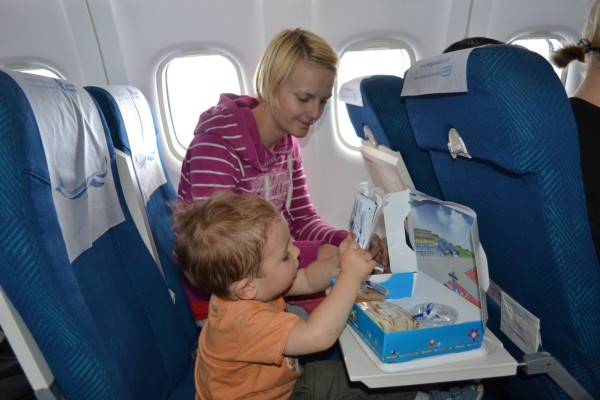 The cost for spending you holidays here compared to Phuket or let's says Hua Hin for example is lower here, but still much more expensive when compared to the northern part of Thailand. Genuine local food at reasonable prices is going to be hard to come by here, since many places charges a higher price for the lovely views they offered to their guests.
It's fair to say that most locals here are not as friendly and smiling as they are in the north of the country or on not those touristic islands (like Koh Jum or Koh Yao) and the service isn't that good either. We were very lucky with the staff of the resort that we stayed in (http://www.promtsukburi.com/ ). The place was just amazing, affordable, and very clean and located on a gorgeous Thongtakian Beach where we could play on the beach or in the shallow waters, or just laze in the shade when the sun was too hot.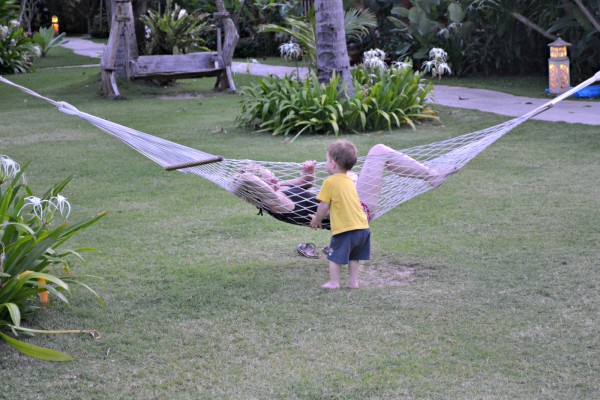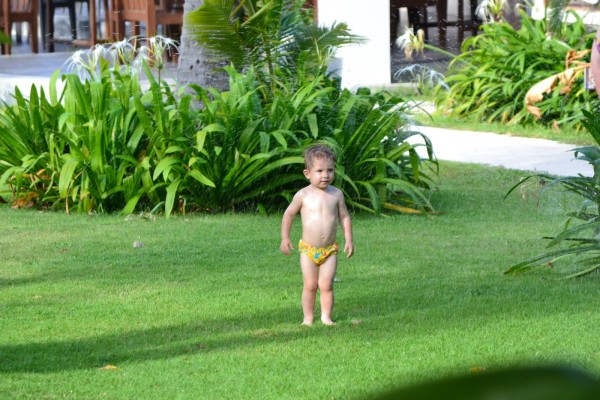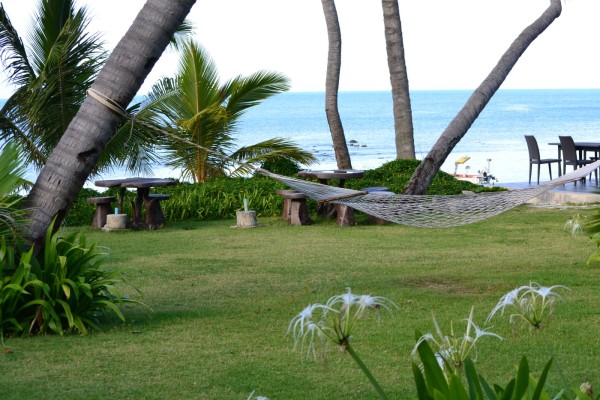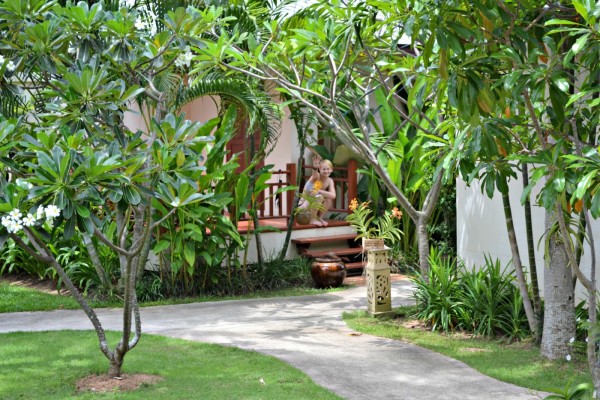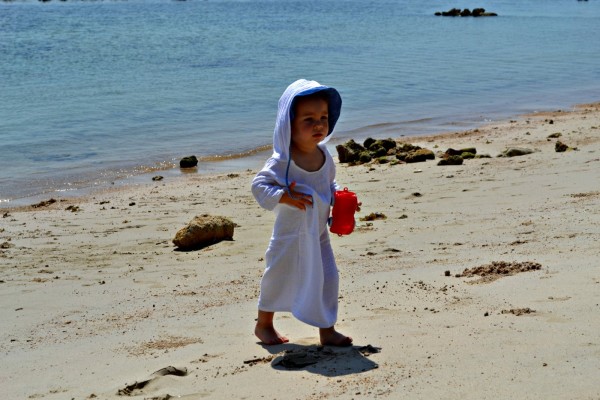 You can read our review about this great place here: http://www.tripadvisor.com/ShowUserReviews-g2314594-d736569-r122810792-Promtsuk_Buri-Maret_Ko_Samui_Surat_Thani_Province.html#CHECK_RATES_CONT
We also booked a car with their help and everything was just perfect. There also a huge Tesco Lotus supermarket just 10 min drive away.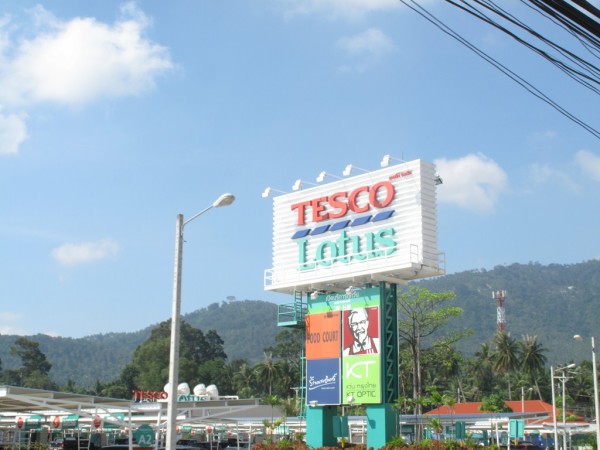 This was our second visit to Koh Samui so we sort of knew things to do and see.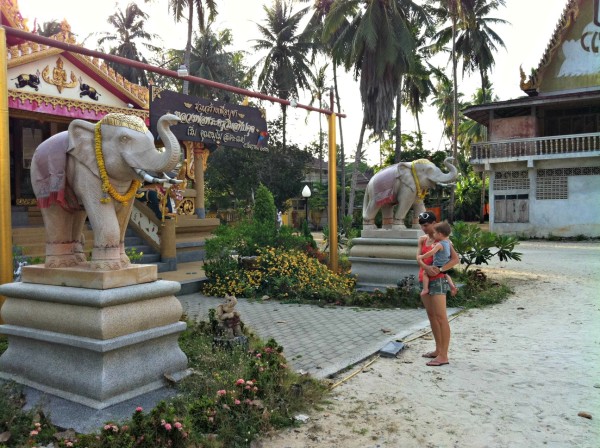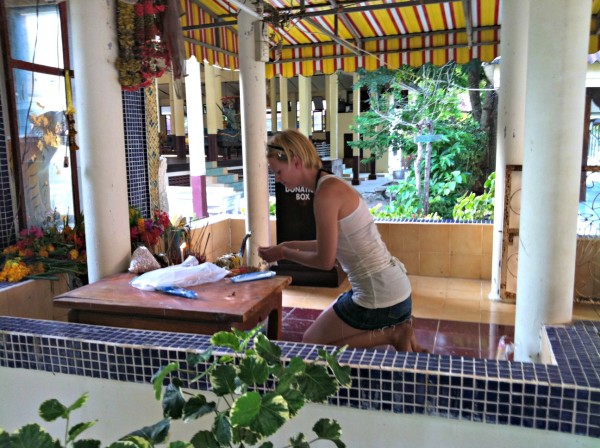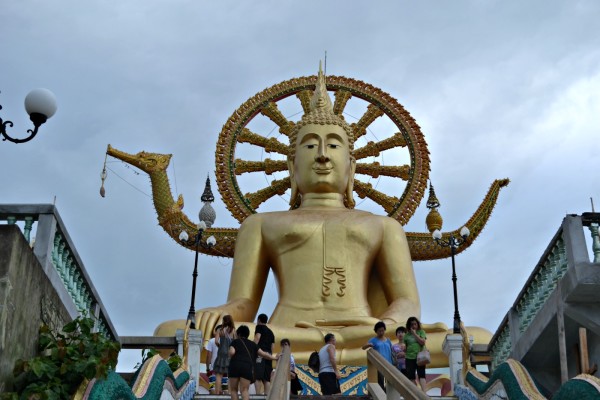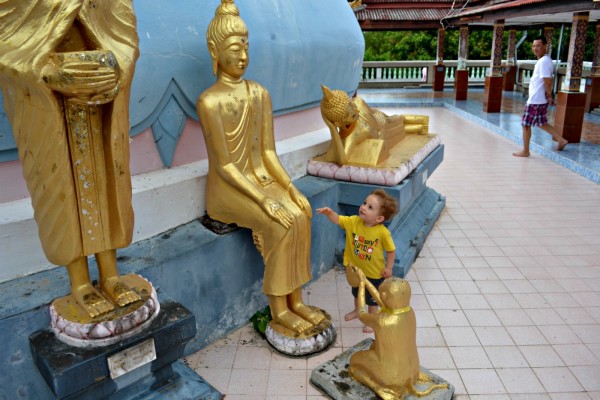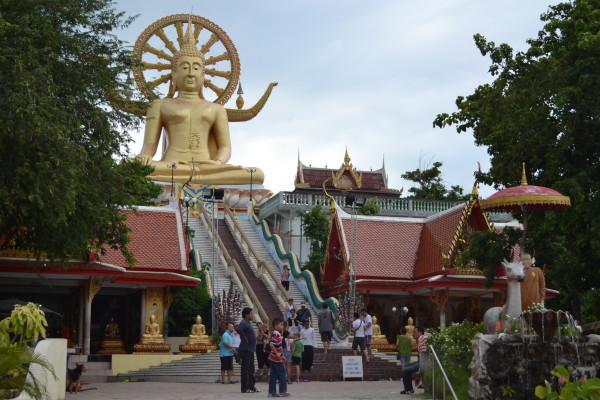 Wherever you are staying on the island, you will need a vehicle, as there is not much of a public transport system, only taxis. In our opinion the most convenient means of transportation in Thailand is a scooter. But since we were with our little boy we rented a car instead. You can go around the island in just under an hour.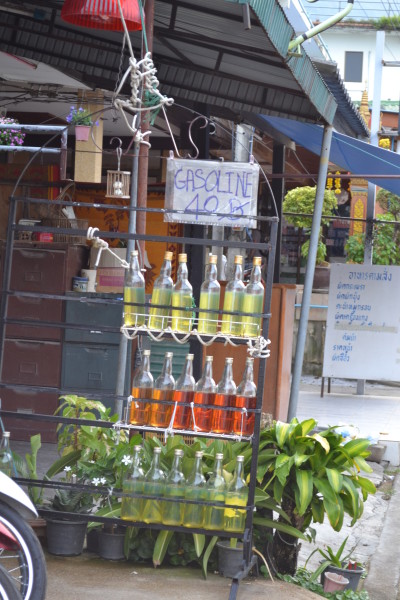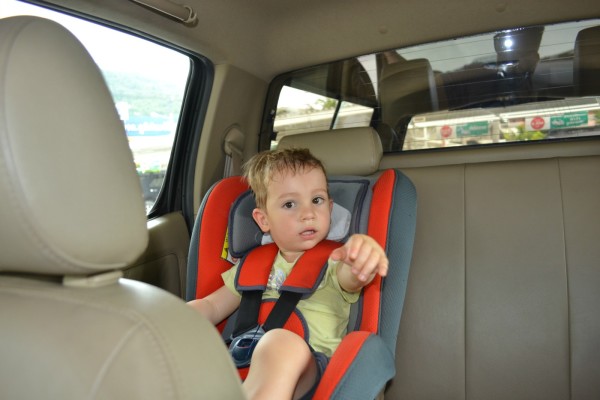 I advise you to carefully consider the information about the beaches and villages of the island before you book a hotel.
MaeNam Beach
The beach is long with yellow sand, not crowded, there were a very few people (we loved Koh Samui for this reason. It is so easy to find a beach where you will be alone!). There is a sharp descent into the sea; you don't need to walk 100 meters off the shore to swim as it happens in some places.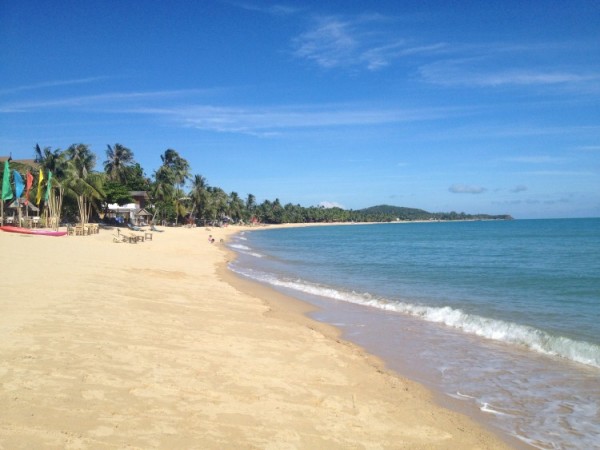 Bophut Beach, the Fishing village
We've stopped here for some sweets and coffee on the way around the island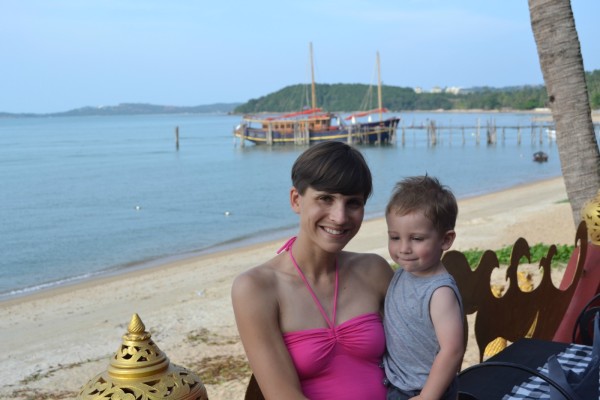 The beach is long with yellow sand; the sea water seemed more or less transparent. Generally the place is picturesque and interesting. The fishing village is quite small. It is filled with an abundance of restaurants (mostly Italian) at medium and high prices. It is located not far from the main attraction of the island – Big Buddha.
Chaweng Beach
The most popular beach. This is a place for lovers of nightlife and filled daily life. Here you will find an abundance of restaurants, shops, a night market and lots of people. Beaches in Chaweng are not the classic turquoise water beaches. When we were there (June) the low tide was around late morning till late noon. The exposed sand was quite muddy and had crabs which were nice to see and show the kids, but not so nice to walk to where the water was deep enough.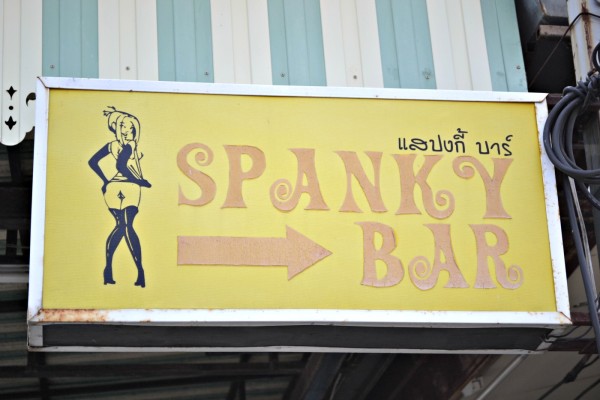 The beach is crowded; you won't succeed in lying down in silence on the white sand. As I already said the sand on this beautiful beach is whitish, and the sea water is clear.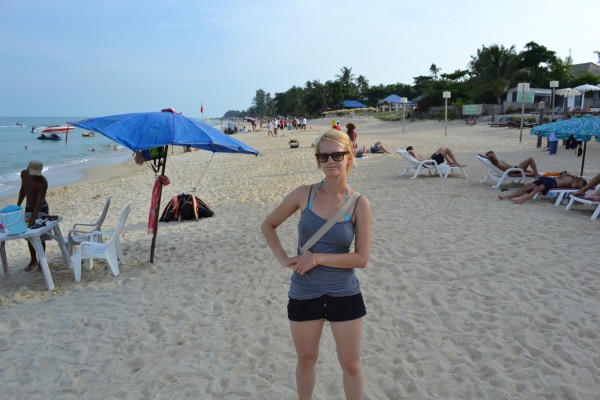 Chaweng is very noisy at night. Lots of cars, drunken tourists on motorbikes, a bunch of transsexuals on the streets – chaos in one word. I would suggest this place for only those who like a very lively nightlife.
Crystal Bay / Tongtakian
The most beautiful beach on the island! A small beach between Chaweng and Lamai, surrounded by large rocks on both sides and palm trees from the road. We really hit the jack pot with our pick of the resort. The water is blue and crystal clear. The sand is white, and there were very few people at the beach. Kids can also play safe on the beach and shallow waters.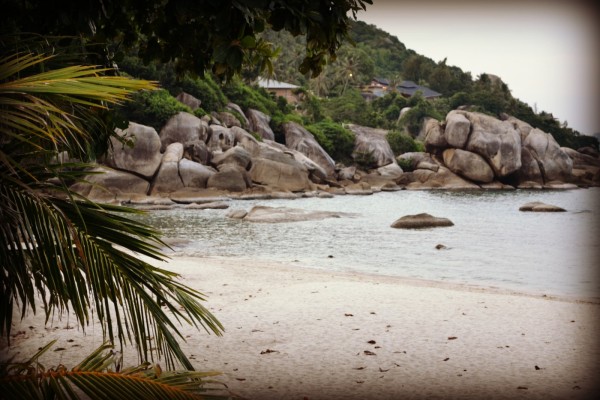 If you like snorkeling, you should definitely come here. Of course, you won't see much, as Koh Samui is not very good for snorkeling, but I am sure you will manage to see a dozen different beautiful fish as we did.
Lamai Beach
The second most popular beach in Samui after Chaweng Beach, but more laid back. Every Sunday in the local village you can enjoy the night market with street food and a variety of Thai trinkets and clothing. There are also plenty of restaurants.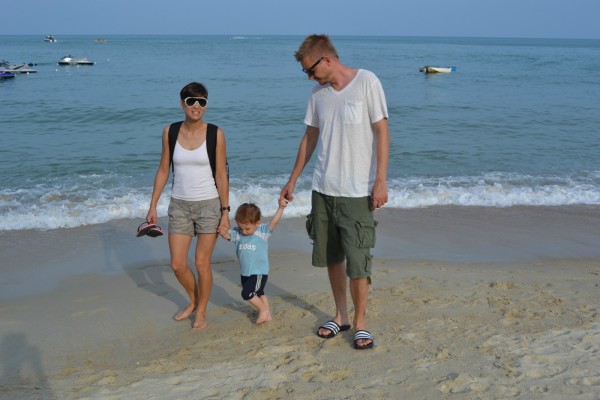 Not far from Lamai you will find waterfalls, a variety of activities, for instance riding the elephants, while in the southern part of the beach you can snap a picture of the famous Grandfather and Grandmother Rocks.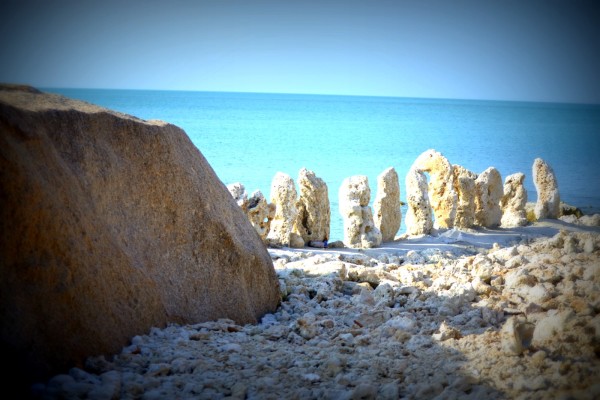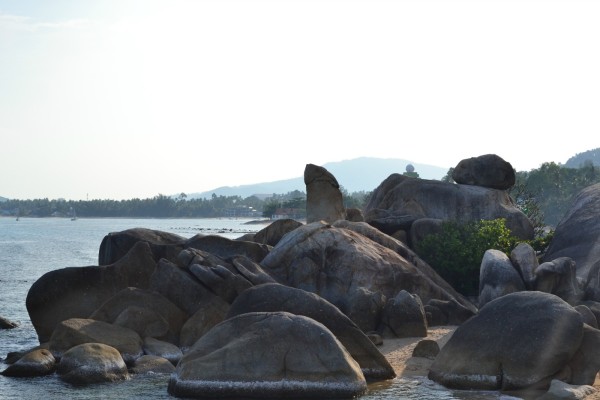 Of course we had to go on elephant ridding with Svit, since he was talking about it since we have landed.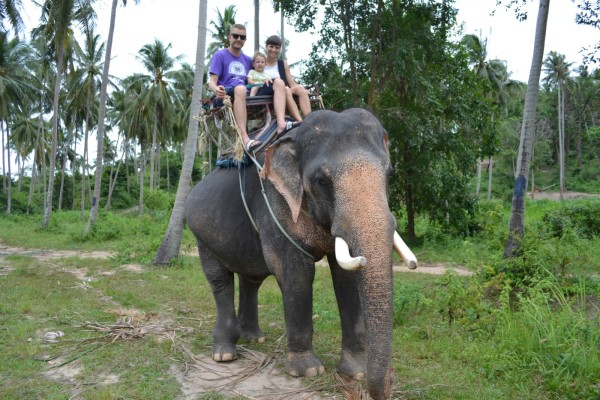 If nice resorts, reliable internet and electricity, great customer service and lots of dining out options are a must for your holiday, and you don't mind nice but not idyllic beaches, than Koh Samui is perfect for you. The bonus of being so developed is there are a couple of shopping centers with AC and fast food chains, which is always nice when it's hot outside and the kids are tired of local foods. But honestly if you look pass the development and if you dare go out of your comfort zone (do that please) Malaysian Perhentians are better choice for a toddler.  But we still had a great week of relaxing holiday here and I'm sure we'll be back someday. Just not that soon.  Our next destination was Koh Phangan and no, we weren't there for full moon party:)