Bohol: after 4 hours flight from KL we have finally reached our destination, Cebu, Philippines. We have landed at Mactan Int. Airport on Lapu Lapu, small island connected with Cebu with few bridges.
We cleared the Immigration in no time so the race to the Cebu Pier was on. For past week prior to our arrival the boat routs to/from surrounding Islands were on and off due to tropical storm slowly moving away from Philippines. But knowing July is the start of the Typhoon season we knew what we sign for. We took a fastcraft to Tagbilaran on Bohol. You can choose from several fast craft companies such as Ocean Jet, Supercat, 2Go, and Weesam Express. They have daily trips to Tagbilaran from Cebu. Fast craft tickets range from P800-P1200 + 200 php /bag depending on your date of booking. The trip takes about two hours.
Thankfully the ships were operational from this day on so after quite a long wait in the ticket queue, we finally purchased tickets and had some coffee.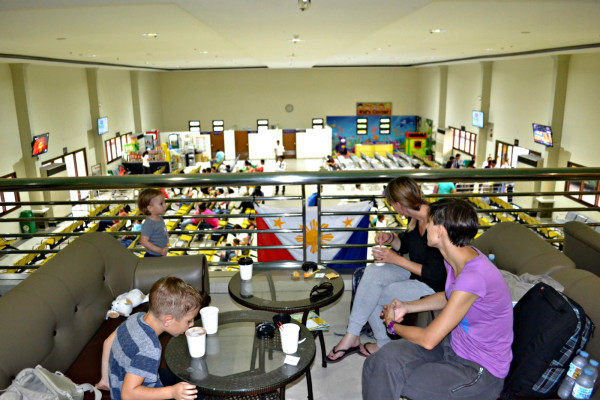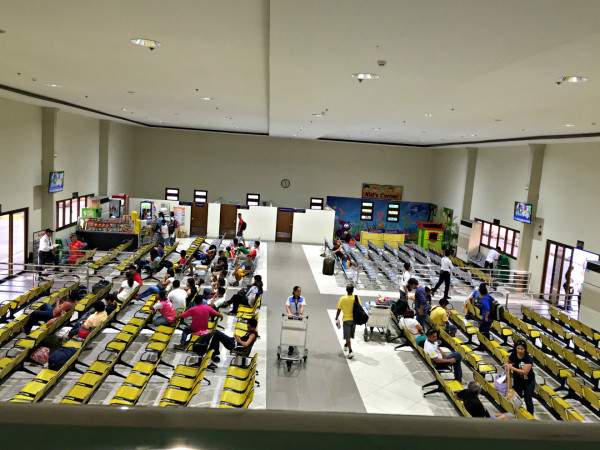 Anda is located about 100km northeast from Tagbilaran city. It's not as popular as the other tourist destinations in Bohol. We have chosen Anda province over Panglao Island, where most of the crowds are, because we wanted swimmable beach and some privacy. Our destination was East Coast White Sand Resort (http://www.tripadvisor.com/ShowUserReviews-g1872021-d3671158-r296809799-East_Coast_White_Sand_Resort_Recreation_Center-Anda_Bohol_Island_Bohol_Province.html#CHECK_RATES_CONT ). It is newer resort in Anda and has only been running for couple of years. It's perfect for families or those seeking a nice and peaceful vacation by the beach. The resort has it's own private beach, tennis court, two fresh water swimming pools, and access to a fresh water cave (source of the fresh water in their swimming pools). After our sleep we went on the porch and we saw we have made the right decision.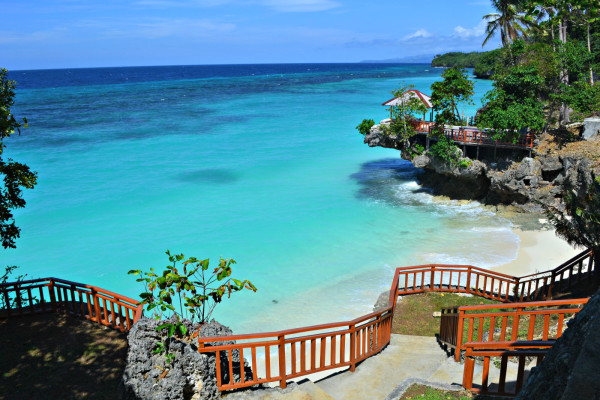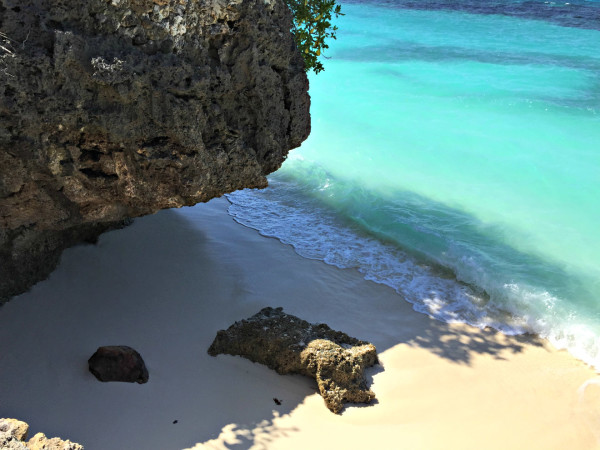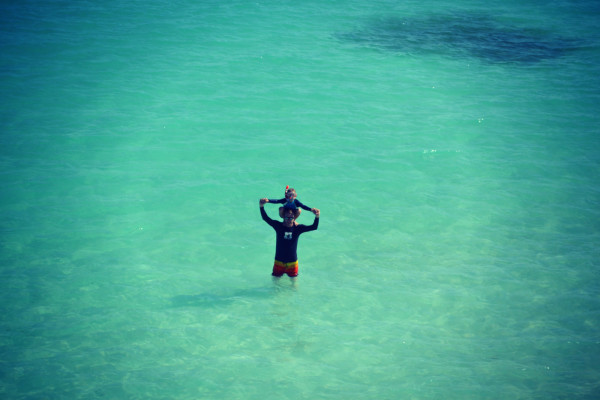 The public beach in Anda has to be one of the best lesser known beaches in the Visayas. It boasts of half a kilometer of white sand beach. There are some portions with a large grassy open space right before the beach. This makes it perfect for sports like frisbee or football.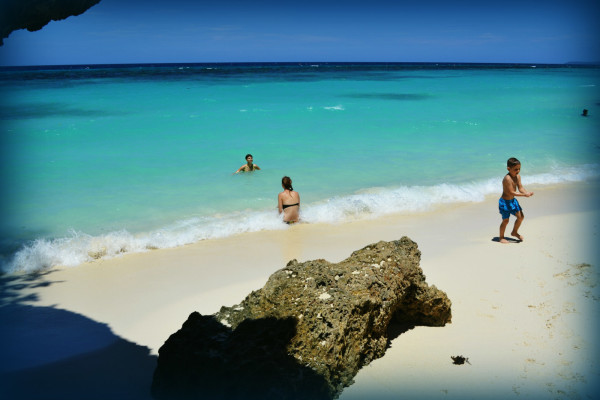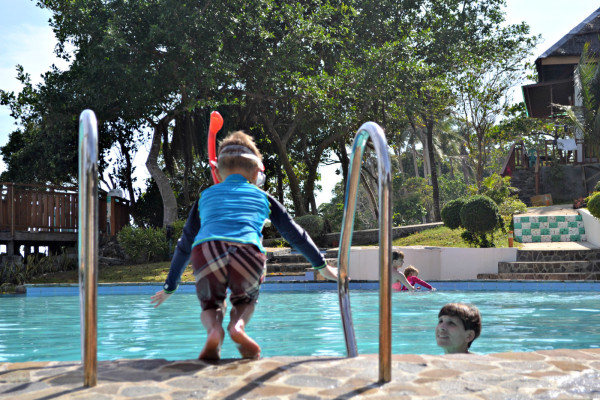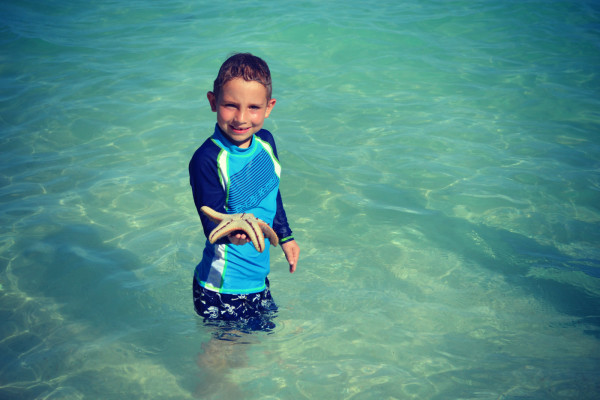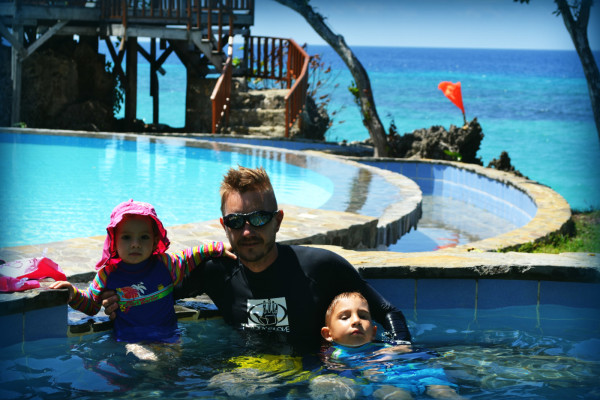 The rest of the shoreline happens to be rocky, but the place is littered with small white sand beaches. Usually these beaches occupy many of the private resorts.
According to the locals, the diving in Anda is superb. It's not a well-known vacation spot. As a result, the marine life is mostly untouched. There are even some areas where all you need to do is swim a hundred meters out to enjoy beautiful corals and marine life.
What to do on Bohol?
If you ever find yourself in Bohol, it is worth hiring a driver for the day as by doing this you can easily fit in all the main attractions of the island. Besides beach bumming, snorkeling, diving and other activities Bohol is most famous for Tarsiers and Chocolate Hills. In Bohol, it's best to start your day early in the morning as there are quite a lot to do. Fun activities for children include a visit to the sanctuary of the cute tarsiers in Loboc. There are photos of the tiny primates everywhere to delight the children, but who may not realize how tiny the tarsiers really are until they come face to face with the real creatures.
Tarsiers of Bohol:
Endemic to Bohol, parts of the Visayas and Mindanao, this rodent-like animal with enormous beady eyes is currently classified as endangered. Years of poaching to sell them to Japan as pets had backfired – the tarsiers are social animals and Tarsiers are as bizarre in their personalities as they are in their appearance. Because they are rather sensitive animals, they get stressed really easily. Touching them, keeping them in cages, being in loud environments, being exposed to camera flashes, all of these things stress the tiny tarsier. Such stress actually leads the tarsier to commit suicide, if kept alone in their cages, gruesomely commit suicide by bashing their heads against the bars. They only have one baby per year, and numbers were precariously low, until the Philippine government gave them a protected status. Now one of the biggest tourist draws to Bohol, the tarsier's population has inched upward somewhat but it remains endangered – only 10 of them live in the Tarsier Sanctuary.
Though they can turn their heads around 180 degrees(compensation for the fact that their eyes are firmly lodged in their sockets and cannot move at all), and though you were able to get up close and personal with them, seeing them was actually pretty hard. Because they are nocturnal they spend most of the day sleeping in the trees, thanks to their long, creepy bulbous fingers that allow them to stick to almost any surface.
Because of its giant eyes, the tarsier is sensitive to bright lights. In the daytime, its pupil appears as only a thin line, whereas at night the pupil will fill up the entire eye.
This is actually the fate of almost all tarsiers that are put in captivity around Bohol. Places stating they are for "tarsier conservation" keep them in cages and only take them out when a tourist wants to get a photograph with one.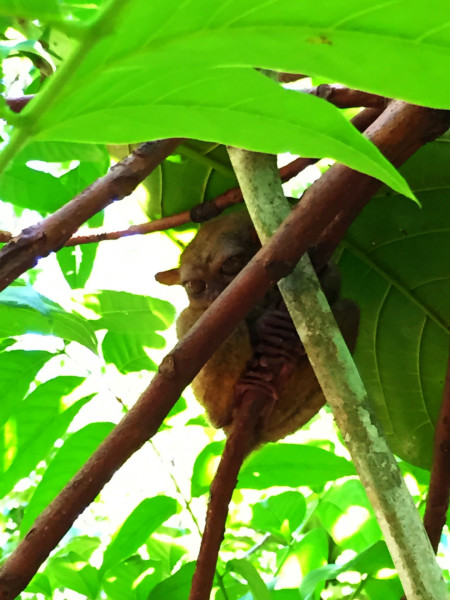 Even with these weird features, there's something about the tarsiers that make them look so cute and cuddly. But please don't cuddle them and don't use flash on your camera.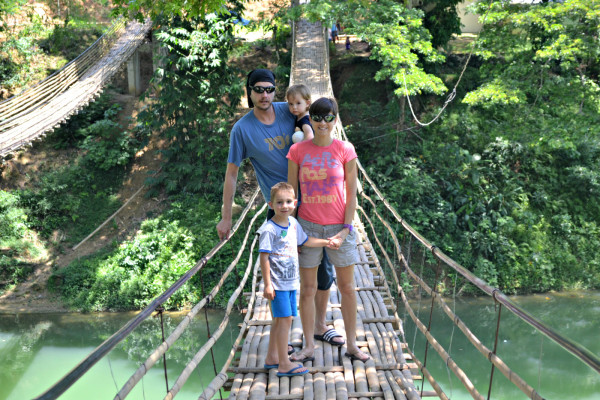 The Chocolate Hills:
The famous Chocolate Hills may just have to wait until your child is a little older and fit enough to climb the steps all the way to the top of the hill. Since Svit is now fully grown boy he was almost running upstairs and as usual Nia was safely in her daddy's arms
The Chocolate Hills (the name Chocolate Hills comes from the brown color the sun-burnt cogon grass takes in summer) was somewhat of a misnomer since they were, not brown at the time of our visit. As-yet unexplained geological phenomenon, geologists have posited that they were formed by the rising coral deposits over time, combined with the erosion during the wet season. Since no one has conclusively accounted for their existence, locals maintain that the 1200 perfectly conical hills were created by a giant who shed tears for his lost love, tears that were so heavy that they created perfectly symmetrical indentations in the ground. In the dry season, the green sheen does turn to brown but we were at the cusp of the wet-to-dry months and the hills were still lush with vegetation.
The Legends about the Hills goes like that as our driver told us: Two giants were fighting and throwing rocks and boulders at each other. They soon became tired from the disagreement and so they decided to become friends and together they left the island – forgetting to clean up the rocks.
Another legend goes like this… A giant fell in love with a girl who unfortunately died soon after. The giant was so upset that he cried for days and days until the tears dried and hardened on the ground.
There is an access on top of one hill where you can see the endless hill formations.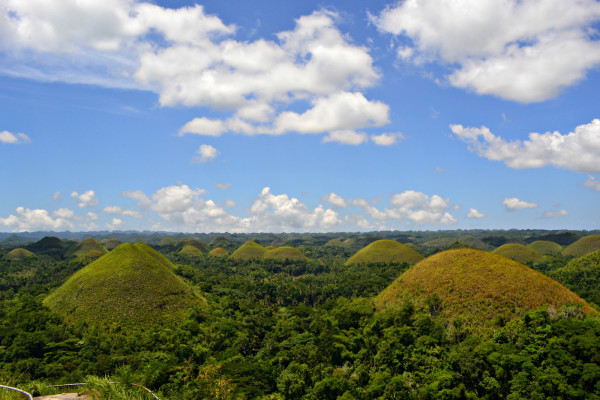 There are 2 viewing sites for the Chocolate Hills, one in Carmen and the other in Sagbayan. The one we went to is the original and government owned resort called "Chocolate Hills Complex", located in Carmen. Carmen has the most concentration of chocolate hills so they built the 1st viewing site there.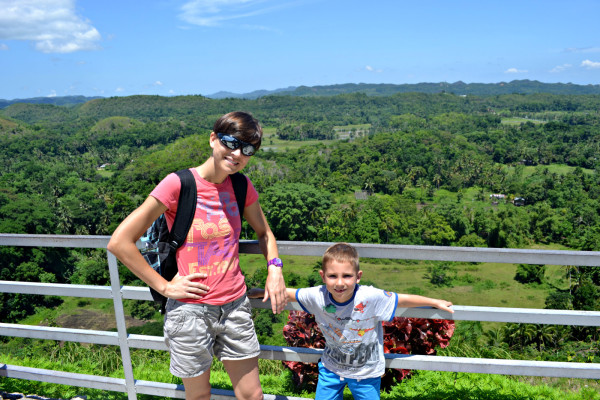 The Chocolate Hills Complex in Carmen, Bohol is around 55 km from Tagbilaran City. Since we were coming from Anda not Tagbilaran City, our travel time to the Chocolate Hills Complex was about 1 and 1/2 hours.
There are 2 ways to climb up the 360 degree view deck. First option is by climbing the stairs with 214 steps and the second option is taking the sloping ramp at the left side of the stairs. So if you have a trolley for your baby this is the way to go up.
For a safer and more convenient way to go around Bohol we rented a car with driver. The resort facilitated the arrangement for us for the price of 2000 php /day. Our driver (who also picked us up on our arrival at Tagbilaran port) was very friendly and well-mannered like all Boholanos in general. We had interesting conversations with him along the way, which made our day go very well.
With every day that passed we were more and more convinced that choosing Philippines was great idea.
Would I recommend that you take your child to Bohol for a fun and exciting trip? Yes, absolutely!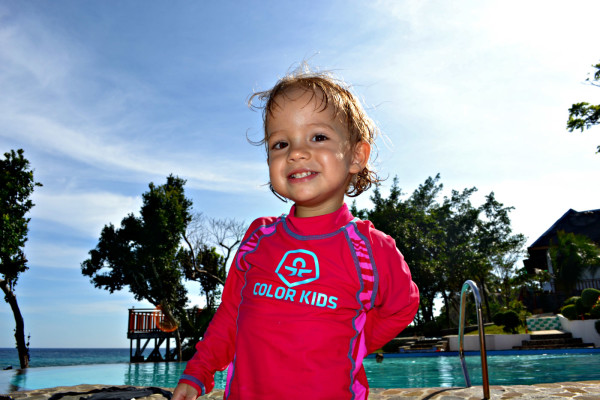 All Filipinos are just crazy (in a good way:) about the kids, always saying hallo and waving at us as we drove by. Here even dogs are friendlier than in Thailand or Indonesia. So if you still have any doubts about coming here, please loose them and just go!