Sulawesi is one of the largest islands in Indonesia but it's not as popular with tourists as other islands of this beautiful country. Mainly due to the distances and how long it takes to cover those distances … there is simply so much to take in. Traveling there is a case of sensory overload. The landscapes and history of Torajan culture and architecture are simply stunning.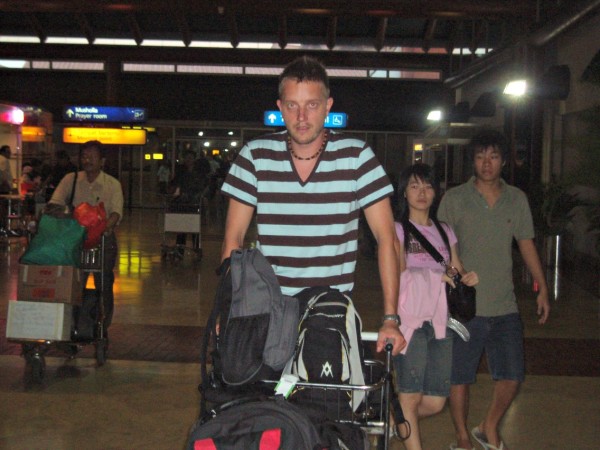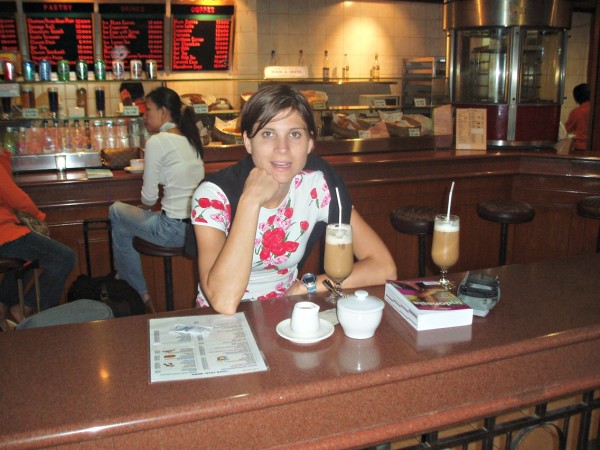 Our Air Asia flight from Jakarta landed in Makassar, the capital of the island. Minivan with our guide was spot on time and it took us to Coklat Hotel (http://www.hotelcoklat.co.id/) we only spend a night here with water tap in the bathroom running all night so we didn't get much sleep. We didn't allow ourselves the luxury of sleeping too long because we knew it would mess up our plans, if we did. We had a long 8 hour drive to Rantepao ahead of us. We arrived in Rantepao and found a hotel room. The first thing we noticed was how much cooler it was because we were in the mountains. Tana Toraja which is a spread out mountainous area in the middle of Sulawesi Island is cut across by the Sa'dan River. To get there, most people fly first to Makassar (used to be known as Ujung Pandang). From Makassar you can take a rented car or a bus to cover the 325 km distance for about eight hours or so. You will drive past green rice fields with the sea on your left, dotted with the colorful Buginese stilt houses and mosques. After around two and a half hour drive, you will arrive in Pare Pare, a good place for a seafood lunch. Another two hour drive will take you to the Bambapuang Mountain, where a cup of hot coffee will energize you.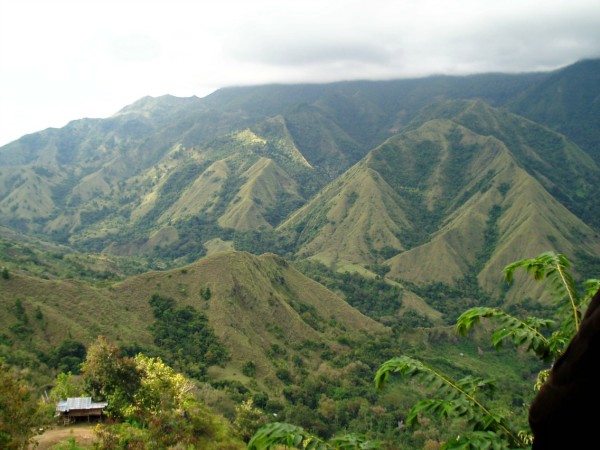 Another two hours and you will reach Rantepao, the capital of North Toraja, that most people use as a base.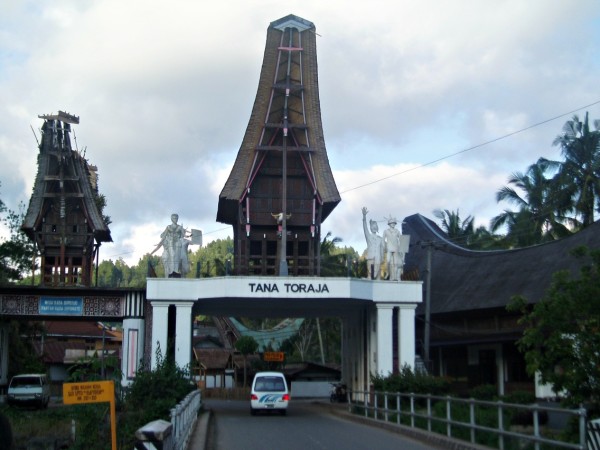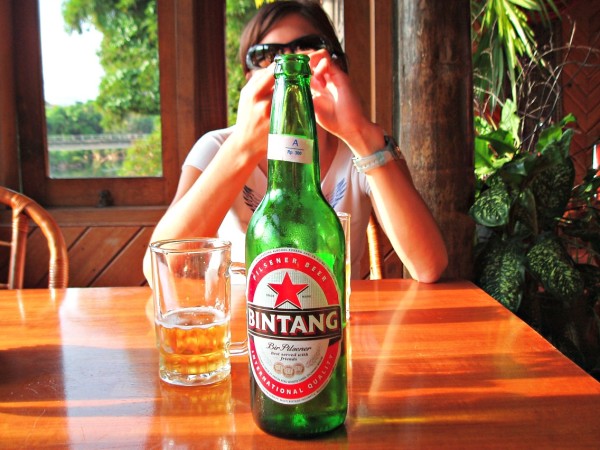 The Torajan people possess such a unique culture. Their life revolves around their ancestors and funerals are the most important ceremony in Torajan life. Preparations for funerals can take up to a year after the person has died – money needs to be saved up, relatives from overseas need to return home and buffaloes and pigs needs to be purchased for the ceremony. The buffalo is considered a status symbol and sacrificed during these elaborate funeral ceremonies. Their horns adorn the boat-shaped houses, In addition to looking at the different burial sites; we were admiring the architecture that can only be found in Tana Toraja. The houses are built with the roof shaped like a boat (it's to resemble the buffalo horns) with the roof rising at each end. They also always pointed north-south. These homes are called tongkonan houses, and were traditionally used as 3 room homes. 1st room was used for cooking, the 2nd room was used as a living area and the 3rd room was used as a sleeping area. The homes were fairly small back then, but the modern houses are built much larger, some with 2 or 3 story but all with the boat shaped roof. the Tongkonan, that the Torajan people either live in or have as a place for family gatherings.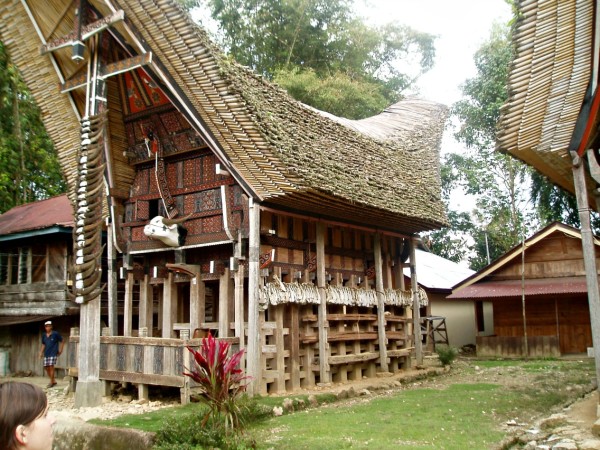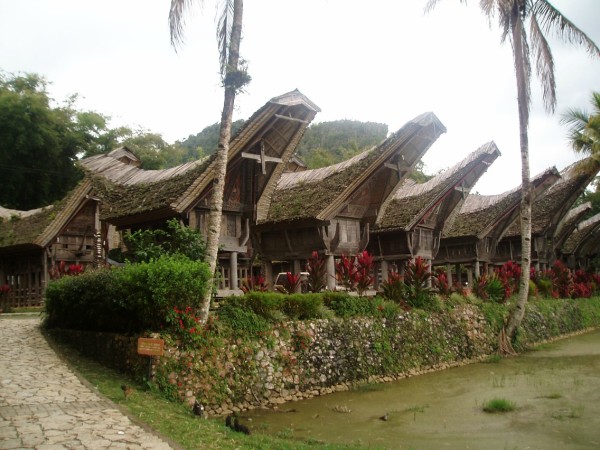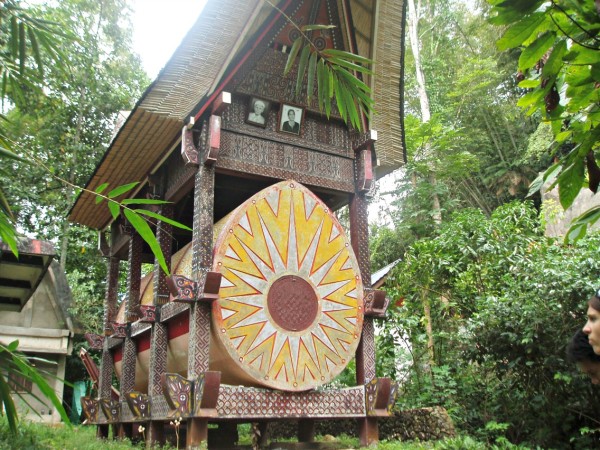 Thanks to our guide we were lucky enough to be able to attend a funeral (feels wrong to use the word lucky in the same sentence as funeral) .  The area of Tana Toraja is known for their elaborate burial ceremonies as well as the unique way they bury their dead. The ceremonies are so elaborate and cost so much money sometimes the funeral doesn't happen until 4-12 months after the person has passed away! Our goal was to see one of these ceremonies while we were there. That day however, we went to see the burial sites of the dead. In the past, the Toraja people used to hide their dead, in their coffins, in the cliffs surrounding the region. The main reason was to deter people from stealing the burial offerings. These days it's a tradition rather than fear of items being stolen. In addition, life size statues are sometimes built of the person who is buried there to stand and watch over the coffins.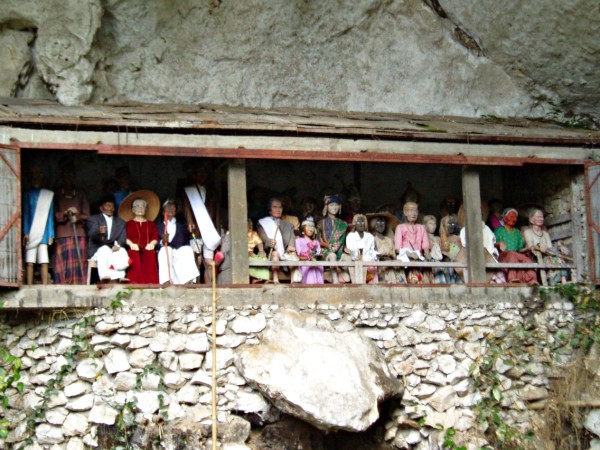 Their families are obligated to change the statues clothes, on a regular basis. It's a very eerie feeling when you enter one of these caves. They're very accessible and the area is known for this so a lot of the burial sites are marked on a map. You have to walk into the dark cave with a flashlight and everywhere you shine your light you see a coffin squeezed into a small space.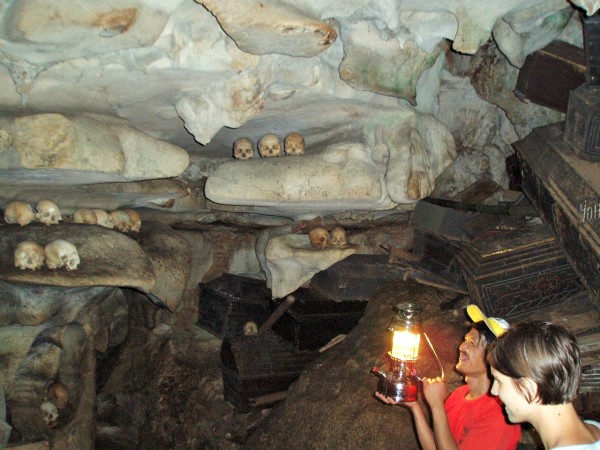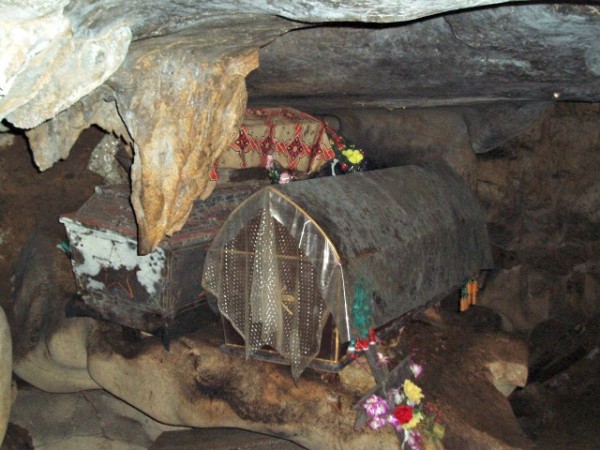 Some of the coffins have the statues standing over them fully dressed, which gives it a more eerie feeling, and others are just crumbling apart with, perhaps, a thigh bone sticking out.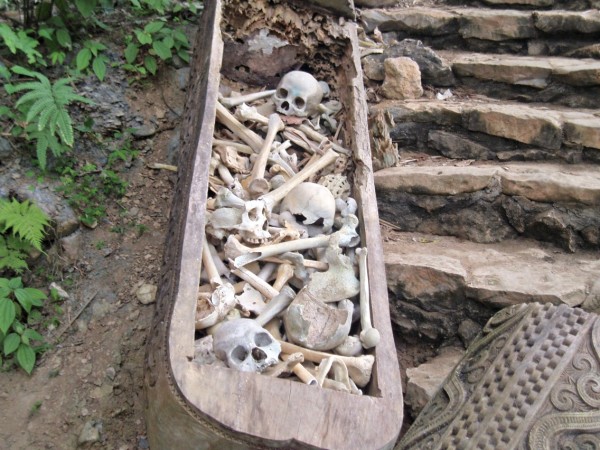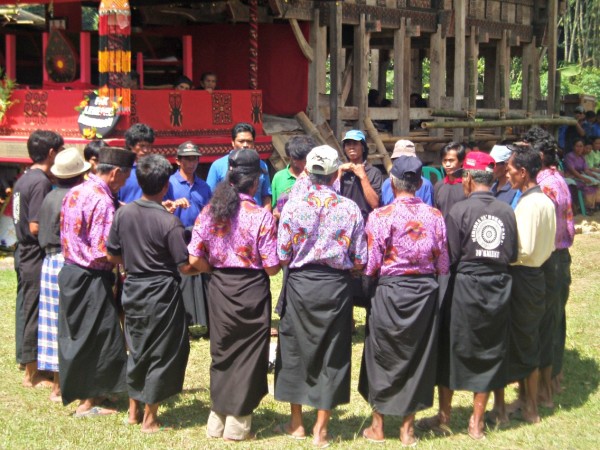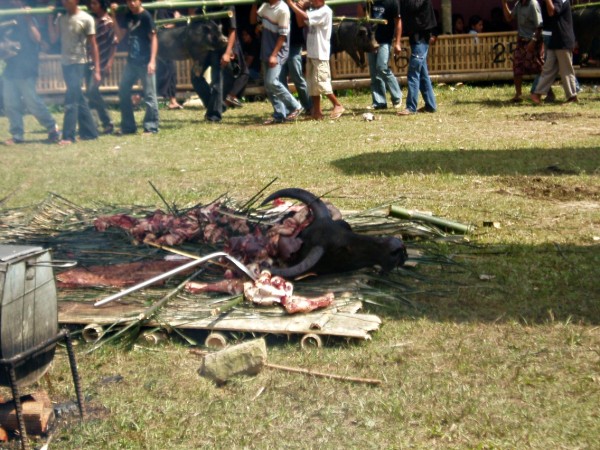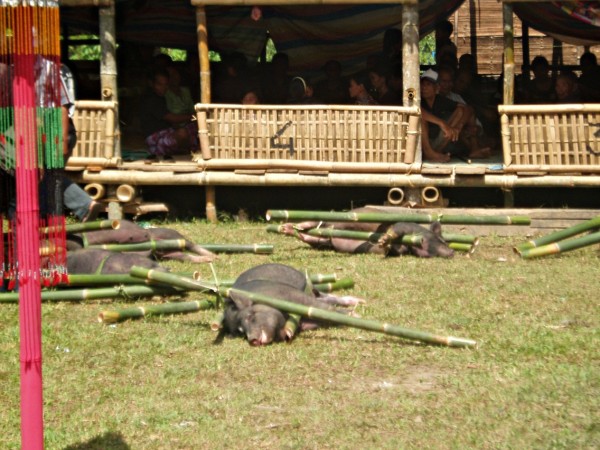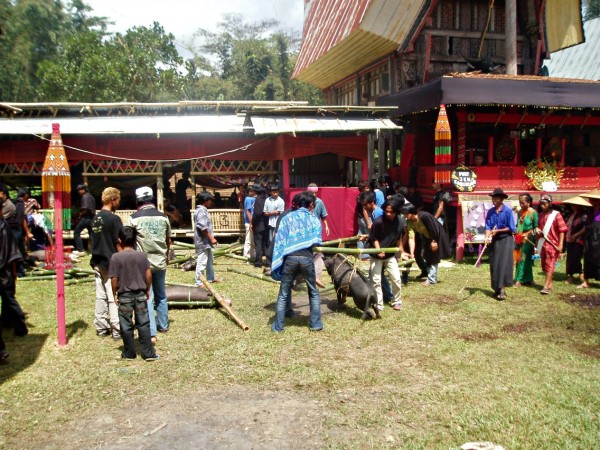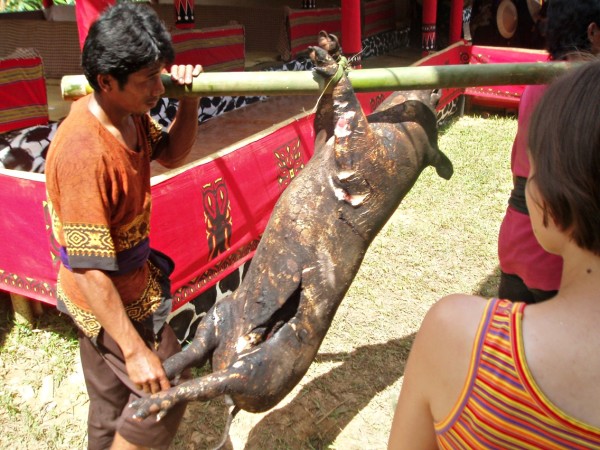 We also checked out the cliff face graves at Lemo – the balconies still hold the traditional tau-tau (effigies of the deceased), and then a cave with hanging coffins and more tau-tau. So the coffins are not only on the ground, they are also above you.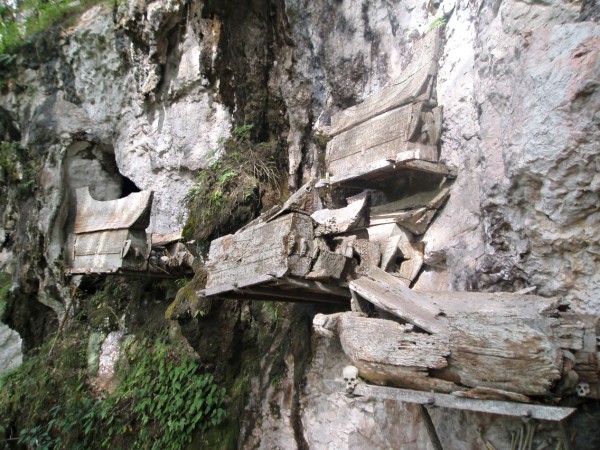 The baby grave at Kambira was especially interesting. In previous times if a child died before they had grown any teeth, a space was hollowed out in the trunk of tree and the baby placed inside. It was believed that the baby would then still grow, as long as the tree was still alive and growing.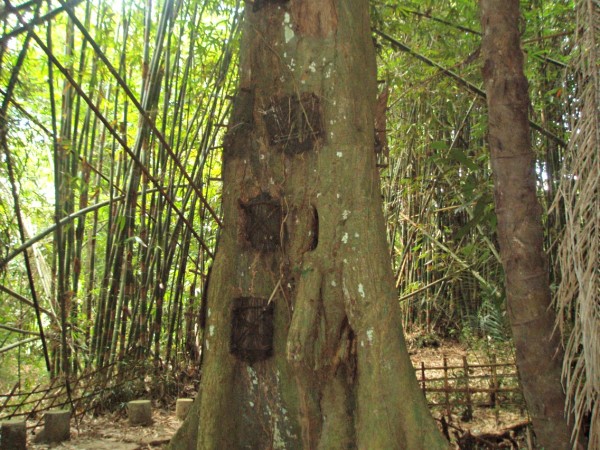 Tana Toraja has started to receive more tourists after being hit badly by impact of the financial crisis in 1998, the Bali bombing in 2002 and avian flu. So, the hotels are getting busier every year, especially during the holiday season in July and August.
People usually ask themselves when is the best time to visit this special island. During the dry season from April to October, there is a lot of ceremonies: funeral, wedding, harvest thanksgiving and more. During the rainy season from October to April, the terraced rice fields are green and lush, the rainbow will usually appear across the valley. So, take your pick!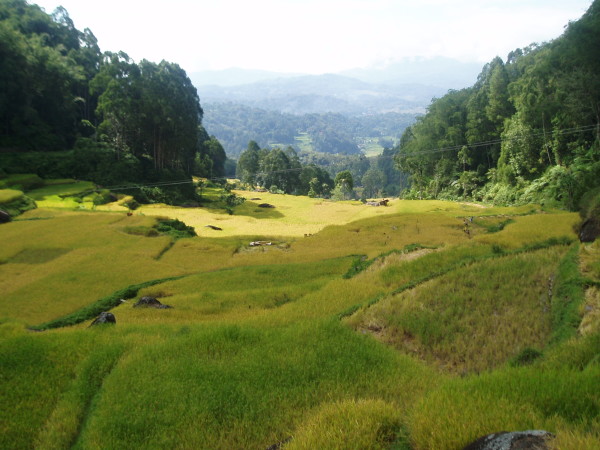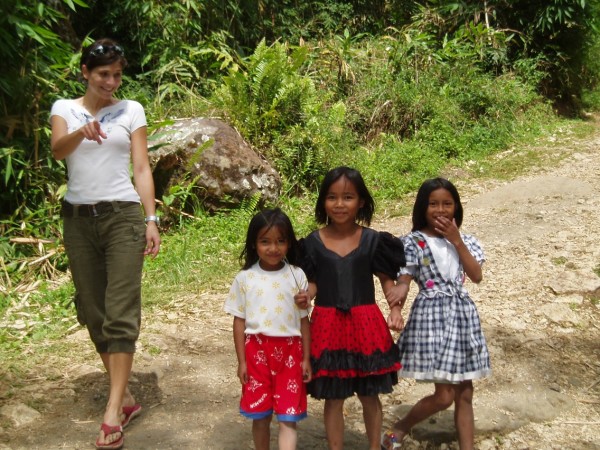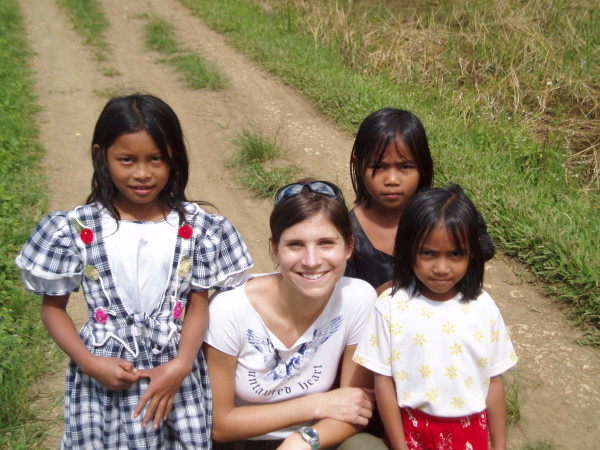 What can you do in Tana Toraja? You can hike from village to village. You can go white water rafting. You can visit the biggest cattle market this side of the world, which happens every six days. You can try the different foods of Tana Toraja, or you can simply get lost in their rich culture. Whatever your reason are to come here, you won't regret it.